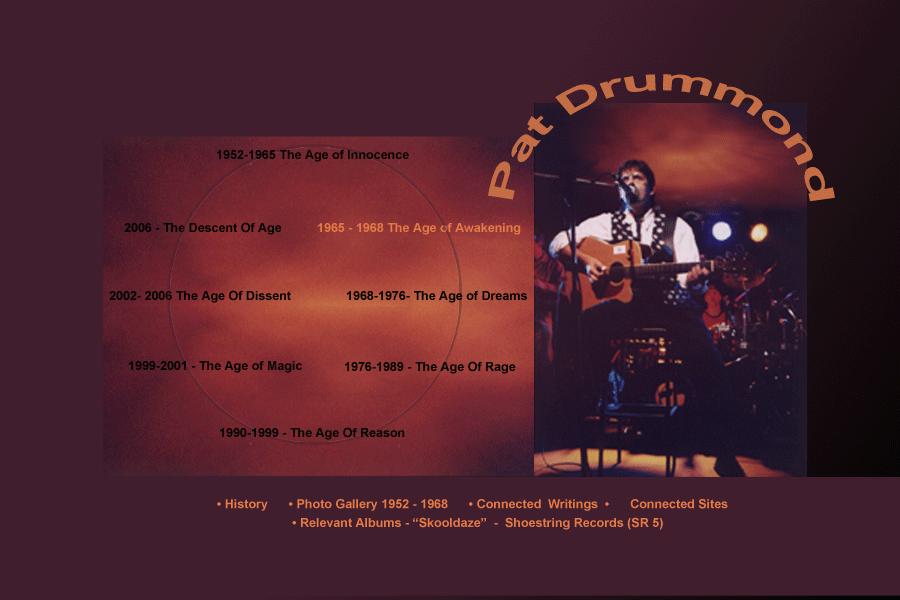 SCROLL DOWN
The Age Of Awakening
After what were very happy years in Infants and Primary School, Pat's Junior High School (7-10) years became very difficult and threatening. Although he graduated as Dux of his grade in Primary school throughout junior high school he became seriously alienated and his work and behaviour rapidly deteriorated. He finished junior high in the bottom streams of his grade. Throughout this time he was violently bullied by a gang of other similarly alienated boys and this became a structural long term problem eventually resulting in his near drowning at Ashfield Pool in 1967.
Many of these experiences were later to became the basis of his Rock Opera "Skooldaze" released in 1986.
After completing junior high, his life improved a little as many of his more violent tormenters left school to persue apprenticeships. Pat continued with just enough of his grades intact to enter Senior High but his activist nature brought him again into conflict...this time with the new college administration itself over their withdrawal of certain privileges for Senior School students.
As a result of organising a 'work to rule' student campaign in what is now Year 11, he was ordered to submit to corporal punishment (The Strap). He refused to allow himself to be 'assaulted', and was expelled.
Literally, the next day he landed a job and went on to spend 2 years working for an essence manufacturer, Alfred Lawrence and Company in Sussex Street, Sydney as a clerk.
Meanwhile, unknown to him a group of dissident teachers from his former college who had been disturbed by the circumstances of his expulsion had submitted his name for a scholarship to a newly established De la Salle 'progressive' college in Bankstown called Benilde.
Returning home from work one night late in the year, he was handed a letter by his mother that offered him the opportunity to return to Senior High and matriculate. He accepted and completed his Higher School Certificate at Benilde in 1970. Re-involving himself in student politics during this time, he ran for election and served on the newly established School Council for the full two years that he was there.
More importantly it was here he also came under the influence of Bros. Martin Blackman and Bros. Pat McCarthy who were to be enormous and positive influences on his life and it was also here that he first met his life long friend and wife-to-be, Carol Gronlund, who was attending a secretarial college near Benilde.
After graduation Pat joined radical Christian Communes at Pemmel St, Newtown and then in Dick Street, Chippendale immersing himself in the fiery student politics of the Vietnam era.
Throughout these years, Pat continued working in folk and pop bands with his brothers. Ron, Danny, Geoff and Steve. By now the influences also included Bob Dylan, Judy Collins, Woody and Arlo Guthrie.
At the height of the Vietnam War, Pat joined the draft resistance movement. In the full knowlege that the inevitable result was to be an 18 months prison sentence, he publicly refused to register for military service; and took the further provocative action of presenting himself to the Draft board as an anti-war activist . Proceedings were immediately instituted against him. In the period leading up to his trial, he and his brothers played a number of large anti-war rallies in and around Sydney, notably at Victoria Park and The Domain. He also appeared at 'demos' at universities in Brisbane and across Regional NSW. (Letter To ADB)
After a period of seperation brought on by Pat's uncertainty about his future, it was during this time that he and Carol finally married. Whether imprisonment lay ahead for Pat or not, they decided that they would face whatever the future held together. Fate, as it turned out, was destined to be kind.
A year later, by the time Pat's prosecution had progressed to 'Stage One' the couple had had their first child, Matthew.
At his trial Pat refused to recognise the validity of the National Service ACT and on that basis refused to plead. He was found guilty of intentionally failing to Register for the Draft and convicted.
But, as things turned out, Pat was never to actually serve any time at all in prison. The long awaited political change that The Draft Resistors Union and so many others had fought so long and hard for, finally swept across Australia in 1972. The Whitlam Labor government swept to power the very week Pat was due to begin his sentence and it was quashed by the incoming government.
Ironically, although Pat was never to serve one day in prison, the magistrate who sentenced him was not to be so fortunate.
Years later, Chief Magistrate Murray Farquhar was found guilty of attempting to pervert the course of justice and was sentenced to four years in Gaol. His alleged role in a series of corruption scandals with the infamous Sgt. Roger Rogerson and the unprecedented abuse of police powers in NSW later became the subject of the ABC series "Blue Murder".
Continue to Main Menu