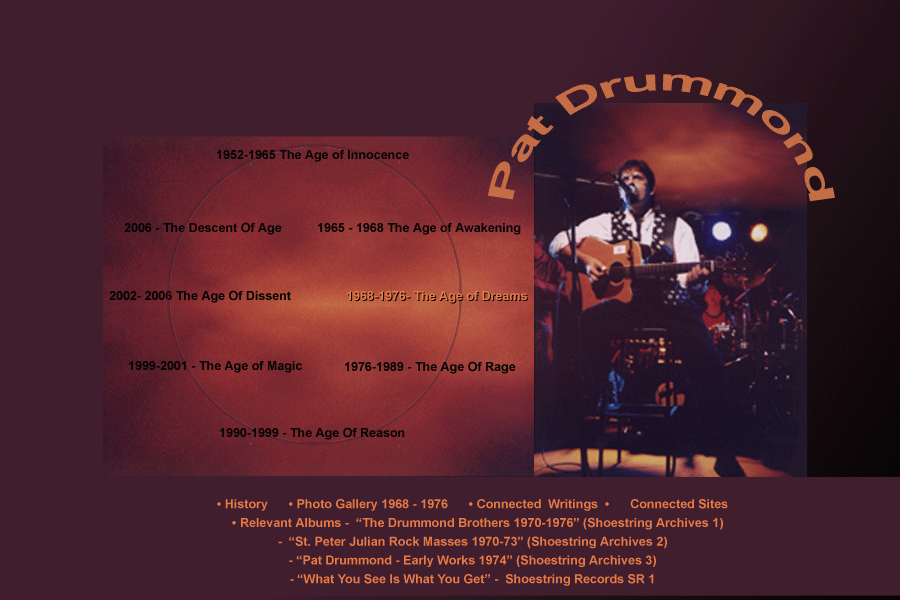 Scroll Down
The Age Of Dreams
Following the withdrawal of Australian troops from Vietnam by The Whitlam Government Pat and Carol returned to a calmer domestic life. Pat landed a regular job as an employee of the MLC Insurance Company for about a year, but found he could not settle. In 1973 he applied for and was awarded a teaching scholarship to Westmead Teachers College (later Nepean CAE and eventually The University Of Western Sydney)
At College he took the lead roles in a number of musicals and greatly expanded his skills in composition. Dr Carlene Pierie was very influenial on his views on the education process at this time.
Reconnecting with his Benilde college mate, Peter Hunt (later Dr. Peter Hunt, noted Evironmentalist and ABC Radio's 'Earth Worm' presenter and founder). Pat began to write and score original orchestral music for Weddings and Masses and set about assembling a 26 piece orchestra called The Haymarket Players expressly for the purpose.
With he and his brothers on guitar and Vocals, Peter on Flute, Glen Barwick on Electric guitar, Ivor Davies (later of Icehouse) on oboe and Bernard James as concert master, they wove together a community of McCoys, McFaddens and Millers as string players, some of whom would later form the basis of notable Sydney folk rock band, Hatrick.
Together, Pat and Peter wrote and orchestrated masses at St Peter Julian's Catholic Church in the Haymarket for over three years. Under the influence of their young friend , Father Peter Collins, these masses were groundbreaking and are now widely regarded as having been the first Rockmasses ever staged in Sydney.
With so many 'Peters' in the mix it was no wonder that Pat and Carol named their second son, born during this time... Peter.
And with so much music in the blood it was also little wonder that Pete Drummond would one day grow up to be regarded as one of Australia's finest drummers.
Throughout these years, Pat continued working in acoustic and electric bands with his brothers. Ron, Danny, Geoff and Steve. Now it was Ralph McTell, Joni Mtchell, Jim Croche and Jimmy Buffet that were the dominant influences so it was almost inevitable when the Wine Bar circuit appeared in Sydney in the late 1970's that Pat would be drawns to that scene also. The Wine Bars shared a common intimacy and size with the coffee houses of the Folk boom's early years.
Pat's direction, however, had changed and although the comedy and originality was still there, now the emphasis was most definitely Rock.
And it would be as a soloist that Pat would achieve a new level of notoriety.
Continue to Main Menu