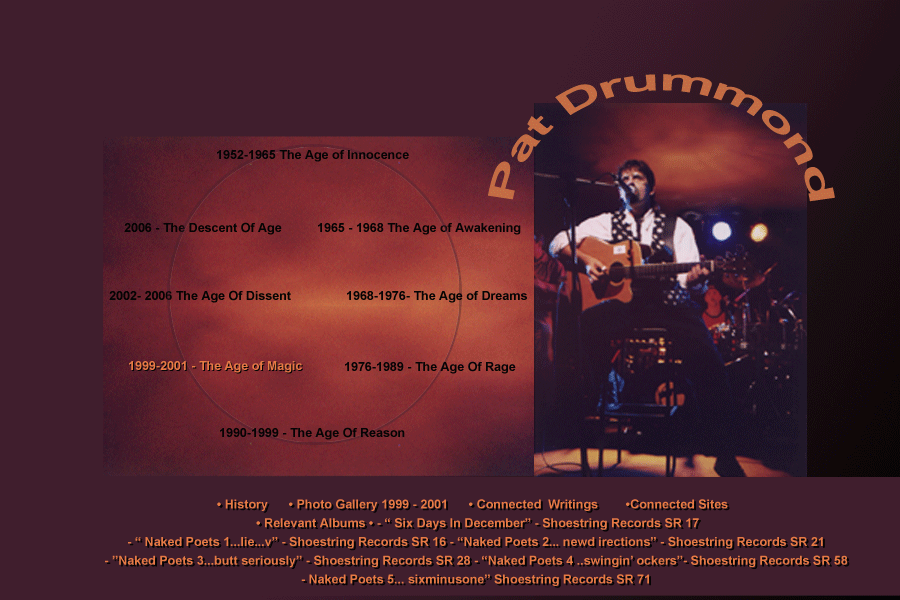 Scroll Down
The Age Of Magic
Throughout the late nineties Pat became regular performer at Folk, Bush and Country Music Festivals around the country and in October 2000 he was awarded the Australian Independent Country Music Artist of the Year;
At The prestigious Mildura Awards which were broadcast across Australia where he was presented with the award, Pat was described as -:
"part journalist , part singer; a songwriter whose passionate commitment to Australia and her people has captured the face of this country in Song; and for whom the year 2000 has been his most prolific yet.
His own solo album "Through the Cracks", received nominations for Song of the Year in the Australian Country Music "Golden Guitar" Awards and his last release, a delightful if somewhat unusual collaboration album with Karen Lynne, brought an entirely new and somewhat romantic side of his writing to the attention of Country Music fans.
Finally, to top his year off, Pat has been an integral part of the "Naked Poets" comedy/poetry troupe whose phenomenally successful comedy album "The Naked Poets Lie..v" and Naked Poets 2...newdirections have barnstormed the country charts recently becoming the most ordered album in ABC Shops and centres around the country."
The same year Pat also became winner of the TSA Song First The Song Awards; at one time holding both the Stan Coster and Kerry Flood Memorial Awards.
It was big year for Drummond. At The National Folk Festival that year Pat also celebrated his 4000th performance publishing the full list on his ever expanding WEB site.
Pat's association with vocalist Karen Lynne (Frencham) also blossomed during this period. Their association had begun in 1998 when Pat had been sent a Demo of her debut album, "Labour Of Love".
Drummond was enormously impressed with her crystal clear voice and what he described as ' an aching vulnerability' in what he still insists is country music's finest voice. He began making regular trips to the South Coast to perform with her at Shellharbour workers Club and at Folk and Country venues and festivals. By 2000 she and her new husband, banjo virtuoso, Martin Louis had moved to the Blue Mountains, partially to be close to Pat, and the creative partnership bloomed. During the next few years the pair toured extensively together an working relationship that culminated in the recording of a romantic duo album produced by legendary Australian Country Producer Rod Coe, called "Six Days in December".
As songwriters, their 2001 award for Contemporary Country Song of the Year with a co-written duet called "The Rush", left the pair jubilant. This song was the first single from their duet album 'Six Days in December' had previously taken out 2 sections of the Queensland Songwriting competition and prevailed in a strong field which included Slim Dustys tour de force, "Looking Forward, Looking Back" penned by ex Cold Chisel veteran Don Walker.
Meanwhile yet another strand in Drummonds remarkable career was about to deliver his most ourtlandish and unexpected success to date. Since "Laughter Like A Shield" in 1993 each of Pat's albums had incorporated at least one poem with his "Wheels and Wires" CD(1996) yeilding the strikingly beautiful "Colours Of The Cross" . By 1998 Pat's long standing interest in spoken word led to what was to be a gigantically successful association with The Naked Poets; a gathering of 5 of Bush Poetry's preeminent comedic performers .
The group featuring Marco Gliori, Shirley Friend, Murray Hartin, Ray Essery and Bobby Miller first performed with Pat at The Tamworth Golf Club in 1998- 1999 where the first recordings of their performances were made.
Again it was Pat's fascination with new technologies that led to his recording their combined show on a digital mini disc. The subsequent files were substantially edited, time aligned and enhanced using Apple Macintosh computers and The Pro Tools editing suites at Barry Henniger's Soundview studios in Wentworth Falls. Barry and Pat shared a common love of Apple Macintosh computers since their inception and had worked together sporadically over twenty years; Barry having laid Pat's first recorded tracks at his home studio in Warrawee during the early 1970's when Pat was at Teachers College.
The total initial recording budget for Naked Poets lie...v was less than $30.00. With subsequent studio and manfacturing costs the entire outlay for 1200 units delivered was $6,000.00.
What followed, however, was nothing less than a market phenomenon with the Lie...v (Naked Poets 1) album becoming the most ordered item in ABC Shops and Centres across Australia several times the following year. With sales in the tens of thousands nationally it would have been a significant release for any major Austraian label but for Pat and his wife Carol's independent record company, Shoestring, it was an overwhelming success.
The hit single, Murray Hartin's, "Turbulence" went on to win The Australian Bush Laureate Award - Best Single Performance in 2000.
The following year, the Naked Poet's second album, Newdirections followed up by winning both the Album of the Year category and Best Single Performance for a poem written & performed by Marco Gliori.
The runaway success of these albums at a retail level greatly expanded Shoestring's operations as record comapny and led to the radical development of it's roster. By 2002, the company had a roster of 32 albums, was representing 10 acts and was supplying over 600 shops across the breadth of the Australia.
Pat was inducted into the Australian Country Music Hands of Fame in 2003, the same year that Shoestring was awarded 'Country Music Independent Record Company of the Year' at the gala Industry Achievers Awards in Sydney.
Continue to Main Menu