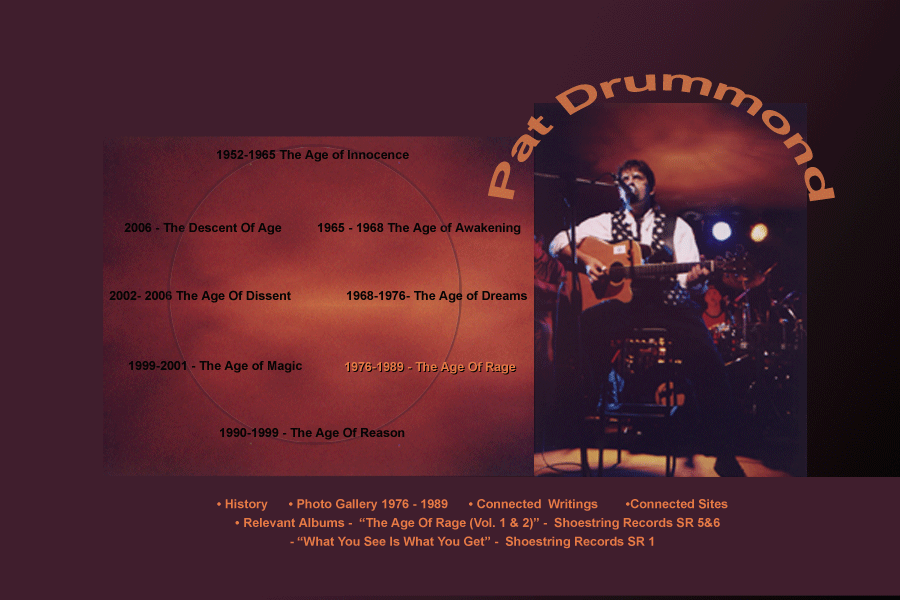 Scroll Down
The Age Of Rage
While training as a teacher in late 1976, Drummond and his friends went to see (a then unknown) Paul Kelly from Melbourne who was booked to play The Journey's End Wine Bar in Forbes Street, Woolloomooloo. A Kelly no-show sent Pat's fellow draft resister, go-getter friend (and future Nuclear Disarmament Party Senator) Robert Wood into action. Wood soon tapped him on the shoulder and told him: 'You're on.' Seven years later, Pat Drummond was still performing there every Sunday.
'It was just an accident. I went to see Paul Kelly play, he didn't turn up,' Pat says now of how a three-decade fulltime music career got started. It may have begun as an accident, but Pat Drummond's one-man shows went on to become the stuff of legend, most infamously at The Rest Hotel, nestled beside the northern exit of the Sydney Harbour Bridge. It was there that Drummond took the 'stage' on Friday nights for more than a decade and recorded a live album that captured the last gasp of an older Sydney.
Unafraid of the emerging technology Pat immersed himself in developing the punchiest Solo show ever seen in Sydney. Mounds of Phase Linears, J.B.L.'s, equalisation and effects somehow squeezed onto tiny stages. Tearing the guts out of a defunct Hammond Organ to build a prototype, he introduced drum synths into Sydney venues, weathered a storm of criticism from 'purist' musicians (many of whom now also use them) and within six months had dominated the scene totally. (Onstage Photo Gallery and Reviews 1976-1989)
While he was at it, Pat Drummond also managed to 'accidentally' invent the truly independent record in this country.
'When I went to CBS (now Sony) they'd never heard of anyone putting out their own album, let alone buying 5000 of them,' he says of the early vinyl cuts that established his successful country/ folk label Shoestring Records. 'I wasn't trying to pioneer an industry, it was another accident but it worked out, so I guess other people began doing it as well.'
By 1979 the bars had become too small and Pat moved into the Rock venues. Selina's, Didi's, The Tivoli, The Betsy...few escaped Pat's unique blend of Rock/Humour.
His contribution to the reintroduction of comedy into Rock venues was recognised early by Rodney Rude who invited him to perform at the Comedy Store soon after its inception in early 1980.
Two albums ("What you See is What You Get" & "Pat Drummond") spread his appeal further, but Pat was still looking for opportunities to advance his writing.
In 1983 he began work on the Rock Opera "Skooldaze". Pat's total dedication to live performance made it imperative, however, that every song work live. To this end "Skooldaze" was literally written on the road; new songs being added night by night; formats changed; comedy and characters rewritten as necessary with one aim only... to produce a larger work with the same sense of inherent fun and vision which has characterised everything Pat has done.
Using a six piece band including his brothers, Steve and Ron, along with Michael Smith(ex Scandal) on Bass and George Faithful a budding part time stand up comedian on keyboards they staged the show in most of the major Sydney venues, working both as a headliner and as support to Marcia Hines, Cold Chisel and the Radiators. By Jan 1985 the lineup had expanded to include Aldo Civitico on Drums which liberated Steve to take a more active role in the performance of what was rapidly becoming a full blown Rock opera. David Scotland joined soon after as the final lead guitarist in the show, replacing Chris Phantom. The result of that effort was an Album called "Skooldaze" recorded and produced by Richard Batchens (Cold Chisel, Richard Clapton etc.) which was released in May 1985.
The album was well received but the strains of touring a band as well the financial constraints of keeping such a large operation on the road saw the eventual demise of the concept in mid 1986
In September 1985 Pat was invited to join the Bushwackers as guest guitar player during Tommy Emmanuel's absence, and in January 1986 shared a spectacularly successful East Coast Tour with Redgum. (Photos here)
1986 also saw Pat and close friend at the time, Roger Corbett (Bass player with the Bushwackers) instituting and organising the Contemporary Acoustic Performers Organisation. This influential Association included the cream of the Acoustic music industry in New South Wales and stages joint concerts every month featuring high quality performers such as Judy Small, Trevor Knight, Hattrick, Alan Caswell, Margaret Roadknight, Skewiff etc......
That same year Pat also began "Currawong", an acoustic band which attracted considerable and favourable comment in Venues around The Blue Mountains where Pat with his wife, Carol and their children had settled. Featuring Dawn Egan (Irish Harp and Vocals) Nigel Foote (Acoustic Guitars and Vocals) Ron Drummond (Vocals) and Pat (Guitars, Sequenced Synthesisers, Drum machines and Vocals) the band was an elegant and gentle mixture of traditional and original folk music with an unexpectedly modern sound. Soaring harmonies and a delightful blending of different influences made it an irresistible combination at the Summer Fairs that the band found to be their natural niche.
January 1987 also saw Pat teamed with Malcolm McCallum (another successful solo performer and a regular on the Ray Martin Show) for what would prove to be a pivital nationwide Tour which introduced him to British Singer/Songwriter Ralph McTell. Taking in all the capital cities and a few of the larger country towns this tour brought Pat's formidable talents as a writer to an even wider audience.
After this tour he was invited to contribute to the Larikin compilation album "Never Underestimate the Power of a Song", an album which drew on the talents of Australia's finest writers including Eric Bogle, Redgum, Judy Small, Doug Ashdown and Nigel Foote. This album was released in December 1987.
The tour was the beginning of a renewed interest in concert performance for Pat which was to prove overwhelming in the following years. Returning to Sydney's Pub circuit he continued to the Solo Show format which first established his popularity and by 1988 had staged his 2500th Solo performance but with the decline of the Pub Music circuit in general and his own growing desire to return to concert work it was clear that change was in the wind.

March 1989 saw the release of the Live Double Set "The Age Of Rage - Live At the Rest Hotel" , recorded before the end of Pat's record- breaking residency at the famous city venue which was demolished in that year. "The Age of Rage" was an groundbreaking recording, which demonstrated Pat's superb rapport with any audience and would become his largest selling album yet with over half the initial run selling out on release.
His first album which had been released in 1979 had showcased his writing and the storytelling style was very evident in songs like 'Macca McCoy ' and despite changes in musical style throughout the decade, this had remained a constant thread in over a dozen LP's, singles and CDs he had released in the ensuing years. It was now about to come to the fore again.
By the time the Rest Hotel had been demolished, Drummond had built up a tremendous personal following which had remained very loyal but even the most loyal of fans were not quite prepared for the radical shift that now seemed underway.
The live performances, once very party-like in structure, took on a more serious and even earnest tone. Some of his former fans had difficulty with these changes and attendances at his pub based venues began to decline.
But if this new incarnation confused or concerned many in his university and pub based following, it found a strong resonance with festival audiences and Pat's reputation as a formidable and passionate songwriter began to grow strongly in this market over the following twelve months.
Continue to Main Menu