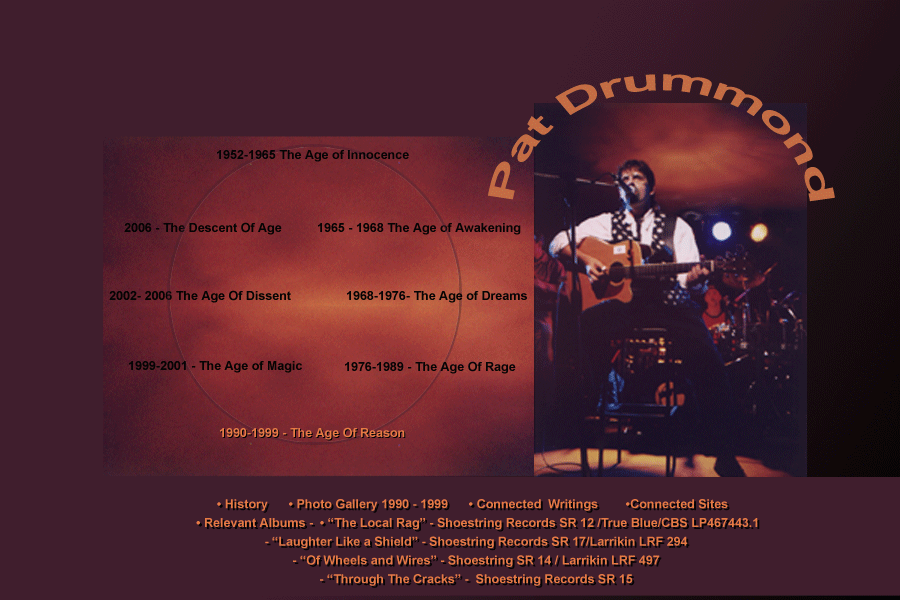 Scroll Down
The Age Of Reason
The saturation media attention that accompanied the demise of the Rest Hotel and it's epic and utimately successful, if posthumous, legal battle with Australian business tycoon, Alan Bond, had also brought Pat to the attention of Tim Kirkland and Maree Morris at Peak Promotions.
They assumed his management and under their influence he was invited to perform at The Longyard and Buttercup Concerts at The Tamworth Country Music Festival in 1989.
Australian Country Music was going through a metamorphosis itself during those years as it struggled to find it's own Australian style and attempted to develop a more contemporary image. Australian nationalism through the music of John Williamson, The Bushwackers and Ted Egan was having a resurgence in Bicentenniel Year of European Settlement and Pat's music seemed to fit easily into this genre with it's stories of heroism and stoicism; what Bruce Elder called a 'gritty realism....An Australian Damon Runyon style." For Morris and Kirkland, Pat was the logical successor to Williamson, an act they had part-managed in the early 1980's and whose agency worked they retained until 1988.
It was also through the influence of Kirkland and Morris that Drummond was signed to Music Sales Publishing Australia in 1989 in a deal which brought him a substantial advance, enabling him to mount a full studio album the following year.

With the release of his "Tales from the Local Rag' in 1990, Pat adopted the on-stage persona of a 1940's newspaperman (complete with a 'Tamworth Daily Leader' press card in the hat band), highlighting the narrative nature of many of his 'true story' songs. It was theatrical and dramatic move that firmly associated him with the Australian Folk and Country Music fraternity.
In what was an untried and ground breaking strategy, he began to 'live out the part' through a series of erratic tours across Australia working for community based organisations, schools, preschools, Toy Libraries, church groups and service clubs staging fundraising concerts. From Pat's point of view they were a conscious attempt to break the inevitable connection that had grown up between the entertainment and alcohol industries, as well as being a tremendous forum for meeting a broad cross section of Australians and gathering the kind of stories that were to become the basis of the next 5 albums.
On stage and off he dressed at The Reporter for his fictional paper, 'The Local Rag', interviewing at every opportunity those who subsequently became the subjects of his songs.
The tours were remarkably succesful. In 1996 South Dubbo Rotary sold over six hundred tickets to one of Pat's show at Dundullimall Homestead in Dubbo. By involving local media and community networking the financial outcomes for these groups and their recipient charities proved to be excellent. So successful were some of these fundraiser concerts that they sometimes became the springboard for the development of whole tours or even festivals as was the case with The VISE Tours, The Dubbo Ralston Homes Country Concert and most spectacularly The Galston Country Music Festival which still remains Sydney's largest Country Music Event.
The exercise was highly innovative and successful at a performance level but more importantly it became the means by which he gathered the community based true stories which became the basis of the "Tales from The Local Rag" Show
Eric Bogle, Australia's Premier folk writer of the time assummed Pat up as "an original and witty songwriter. His deft lyrical and melodic touch, allied to his clear-eyed yet compassionate view of the human condition ensures that his songs have a quality that sets them apart from, and above, most other songs you will hear."
By 1993 he had been Joint Winner of Male Vocal of the Year at the Australian Bush Music Festival and was Grand Finalist for Album of the Year, Producer of the Year, Heritage Award and Country Song of the Year in the Toyota CMAA Australian Country Music Awards(The Golden Guitars).
International tours to New Zealand and Japan, representing Australia, and another National tour with England's premier songwriter Ralph McTell, this time solo, further enhanced his reputation as a formidable writer and entertainer.
For those who saw Drummond on stage during this period the reasons were obvious. He was first and foremost a communicator who wrote true stories about characters that were instantly recognisable; characters whose experiences reflected the lives of just about every Australian, from the sophisticated city-dwellers of the Double Bay social set to the no-nonsense bush people of The Outback.
Perhaps it was that common touch, that sense of what it was to be an Australian which ran through all his work, that made his songs so accessible. He was, at the same time, a performer with an innate sense of fun and an astonishing capacity to entertain and involve an audience, and a songwriter, whose passionate commitment to his country and its people, produced songs which were often more like one-act plays, concise and self contained; detailed social snapshots of ordinary Australians caught in the act of living.
The albums released during this period were, in order, 'Tales From The Local Rag', 'Laughter Like A Shield'. 'Of Wheels and Wires' and 'Through The Cracks'
Photo Gallery 1989-2006 / Newsletters 1989-2006
Continue to Main Menu