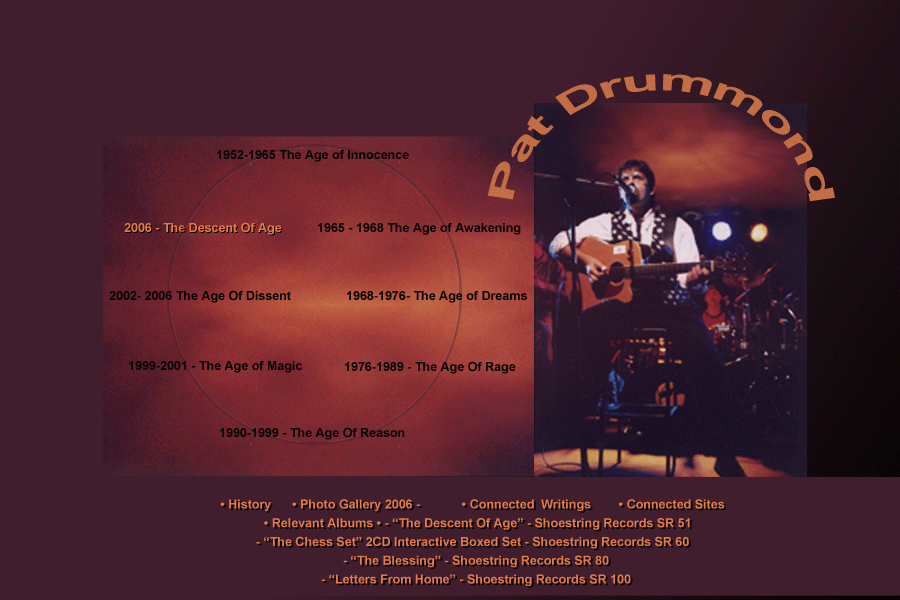 Scroll Down
The Descent of Age
With the change of The Federal Government in Australia in 2007 many of the contentious policies instituted by The Howard administration were reversed and the controversies addressed by the Chess Set show began to fade into history.
Following the death of his much loved older brother Ron (The Great Ronaldo) in 2003 Pat had been promising himself a year slowing down the pace of the road touring in favour of spending more time with his family and 2006-2007 honorured that pledge, but any hopes of a more permanent slowing for Pat , were short lived.
A Series Of Shows to celebrate his 30 Years in the Business were held at Sydney's Harp Hotel in 2006 and by 2007 he was back and solidly touring nationally, as the Gig Guides of the time show. Inevitably the tours brought a welter of brand new journalistic songs and in April 2008 a new duo album with Karen Lynne "The Long Journey Home" hit the ABC airwaves and was immediately embraced by Country Music Broadcasters nationally.
And..., In typical 'Flood or a famine' style barely three months later, in July 2008 Pat's new close harmony three-piece comedy outfit, the BBQ Kings was signed to ABC/Universal. Back in comedy mode (and in the dress up box) with fellow songwriters, Tony Williams and Chris O'Leary, the show was set around three old mates who meet at a BBQ after not having seen each other for nearly a decade and ....they all have issues!!!
Their first album 'The Fellowship of the Grill' chronicles the triumphs and tragedy of the middle aged male. Complete with BBQ aprons, the piano set in to the BBQ sixburner and lots of laughs the show became an immediate favourite with Corporates and Rotary clubs around the Australia.
When will he stop? Well, Pat says, "It's all about never stopping, always changing and growing older creatively"
Pat turns 57 on April 2nd, 2009. In July 2006 he played his 5,500th gig at Eastside Arts in Paddington. In retropect he lists managing to avoid 'a real job' for thirty years as his finest achievement. But there are others who may disagree. Many in the Industry consider him to be the quintessential Independent Artist. Everything from his independently forged concert circuit around Australia to his highly successful recording and distribution company were independently built.
His industry efforts on behalf of independents generally have certainly made him famous. His political opponentsmay perhaps even say infamous. His unflagging abilty to engage and harness new technologies has always given him a competitive edge.
I asked him recently about the secret of his longevity in the Australian Music Industry.
" Staying in the industry without some other kind of job for thirty years and managing to raise a family and stay, not only viable but profitable in that time is a real rarity in Australia, I guess." he said
"But I can assure you that not only is it possible to forge a life in this vague and uncertain industry; but it is almost invariably more possible when you remain largely independent"
Acts should certainly never sign away their songs, their APRA royalties and their recordings unless they KNOW it will be to their advantage. They should be constantly on guard against recording deals where all sorts of extraneous costs are recouped from their share of the royalties; but they should also stay positive, be constantly open to new opportunities wherever they occur and make sure they are skilled to take advantage of them when they appear."
Pat's current shows feature music from all of his previous incarnations and a splendid and challenging time is guaranteed for all. Bring your brain, your voices and your foot-en' tappin' shoes. You'll need them all.

See Also Independent Recording Vs A Major Record Deal at Pat's 'Shoestring Records Australia' Site
Return To Main Menu
/ Return To Pat Drummond Home Page