Pat Drummond
'35 years without a Real Job!'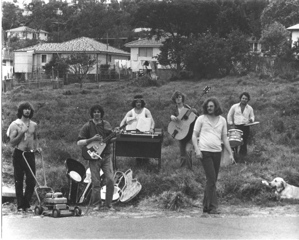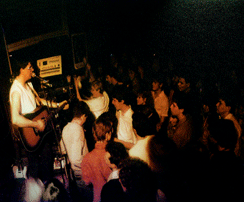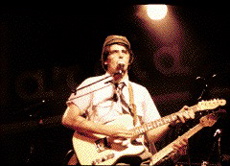 Link to new 30 Years Retrospective website
---
Pat's amazing three and a half decade long career has seen him pass through a half dozen 'reincarnations' that have produced an incredible body of original work in as many different musical genres.
Beginning with his spectacular stints as Sydney's 'king of the hill' in the anarchic 'sing-along uni/ bar/ pub' scene of the late 70's and early 80's, Pat became renowned for writing what were effectively musical mini-operas that included whole sections scripted for and performed by the crowds.
Although the music was actually ' folk rock', it was a very punk philosophy of performing in which the whole emphasis was on breaking down the' barrier' between the crowd and the stage. For many in Sydney, his 10 year Friday night residency at Sydney's Rest Hotel was a 'rite of passage' and the pub saw well over three hundred thousand fans pass through it's doors during that time. The night before it's demolition 'in the mid eighties the whole amazing soundscape was captured by Sony on the Double CD, 'Live at The Rest Hotel' in a gig that saw over 2000 people turn up to a pub that only held 350; and traffic brought to a standstill in the surrounding North Sydney streets.

Always of a theatrical bent , it was natural that Pat's next project was the 1986 Rock opera 'Skooldaze'. And it was this show that provided his next 'character driven' reinvention. The show, which saw Pat and his six piece Rock outfit in short pants and full Schoolboy Regalia, toured with Cold Chisel and Marcia Heinz in 1985 /1986 and explored the concept of 'hidden curriculum ' (the lessons that children often actually learn from the school experience as opposed to ones we think we are teaching them.)
With the demise of 'Skooldaze' Pat was press-ganged by friend, Roger Corbett into a revived version of the Bushwackers and shortly after became a duo partner to John Schumann after having supported Redgum on a national tour. Immersing himself in the nationalist Australian bush music style, it wasn't long before his next 'character' emerged.
With the release of his "Tales from the Local Rag' CD in 1990, Pat adopted the on-stage persona of an 1940's newspaperman (complete with a 'Tamworth Daily Leader' press card in the hat band). On stage and off he dressed at The Reporter for his fictional paper, 'The Local Rag', interviewing at every opportunity those people who subsequently became the subjects of his songs. In what was an untried and ground breaking strategy, he began to 'live out the part' through a series of erratic tours across Australia working for community based organisations, schools, preschools, toy libraries, church groups and service clubs, staging fundraising concerts.
It was a theatrical and dramatic move that saw him firmly adopted by the Australian Folk and Country Music fraternity. By 1993 he had been Joint Winner of Male Vocal of the Year at the Australian Bush Music Festival and was Grand Finalist for Album of the Year, Producer of the Year, Heritage Award and Country Song of the Year in the Toyota CMAA Australian Country Music Awards (The Golden Guitars).
From Pat's point of view they were a conscious attempt to break the inevitable connection that had grown up between the entertainment and alcohol industries, as well as being a tremendous forum for meeting a broad cross section of Australians and gathering the kind of stories that were to become the basis of the next 5 albums.
The tours were remarkably successful. In 1996 South Dubbo Rotary sold over six hundred tickets to one of Pat's show at Dundullimall Homestead in Dubbo. By involving local media and community networking the financial outcomes for these groups and their recipient charities proved to be excellent. So successful were some of these fundraiser concerts that they sometimes became the springboard for the development of whole tours or even festivals as was the case with The VISE Tours, The Dubbo Ralston Homes Country Concert and most spectacularly The Galston Country Music Festival which 10 years on still remains Sydney's largest Country Music Event. In October 2000 Pat was awarded the Australian Independent Country Music Artist of the Year.
Meanwhile yet another strand in Drummond's remarkable career was about to deliver his most ourtlandish and unexpected success to date. Since "Laughter Like A Shield" in 1993 each of Pat's albums had incorporated at least one poem with his "Wheels and Wires" CD(1996) yeilding the strikingly beautiful "Colours Of The Cross" . By 1998 Pat's long standing interest in spoken word led to what was to be a gigantically successful association with The Naked Poets; a gathering of 5 of Bush Poetry's preeminent comedic performers .
The group featuring Marco Gliori, Shirley Friend, Murray Hartin, Ray Essery and Bobby Miller first performed with Pat at The Tamworth Golf Club in 1998- 1999 and again it was Pat's fascination wih new technologies that led to his producing and recording their combined show on a digital mini disc.
What followed was nothing less than a market phenomenon with the Lie...v (Naked Poets 1) album becoming the most ordered item in ABC Shops and centres across Australia several times the following year. With sales in the tens of thousands nationally it would have been a significant release for any major Australian label but for Pat, and his wife, Carol's independent record company, Shoestring, it was an overwhelming success.
The hit single, Murray Hartin's, "Turbulence" went on to win The Australian Bush Laureate Award - Best Single Performance in 2000 and the following year, the Naked Poet's second album, 'Newdirections' followed up by winning both the Album of the Year category and Best Single Performance for a poem written & performed by Marco Gliori.
The runaway success of these albums at a retail level greatly expanded Shoestring's operations as record company and led to the radical development of it's roster. By 2005, the company had a roster of 73 albums, was representing 10 acts and was supplying over 600 shops across Australia.
Meantime Pat's immersion in commercial country had shifted his songwriting style again... this time to a romantic country duets album with 2002 Independent Female Country Vocalist 'Karen Lynne'. Produced by legendary Australian Country Producer Rod Coe, "Six Days in December" saw them pick up the 2001 award for Contemporary Country Song of the Year with a duet called "The Rush", which had previously already taken out 2 sections of the Queensland Songwriting competition and prevailed in a strong field which included Slim Dusty's tour de force, "Looking Forward, Looking Back" penned by ex Cold Chisel veteran Don Walker.
What next? Well..... politics it seemed.
In 2001, restless yet again, Pat confronted his following with an astonishing bipolar theatrical metamorphosis... The Chess Set, which created not one, but two new characters. Dressed half in white ... half in black.... with half a beard, Pat began an in-depth musical examination of the political divisions that had emerged throughout Australia in the first half of the current decade.
In a series of highly charged political songs almost calculated to completely alienate his conservative country music following, The Left Wing Black Knight and The Right Wing White Knight took up the cudgels over issues such as Australia's involvement Iraq Waq, The Refugee Detention Centres, Reconciliation and more..
For those who had been drawn to his comedic appartion in the Naked Poets it was a very challenging contrast. A double boxed interactive CD which featured 26 new songs and enough script, background briefing and political speeches to fill a book, was released in 2004-2005 and Pat's live 4 - 1/2 hour one man theatre show from the project featured at The Blue Mountains Folk Festival and The National Folk Festivals in 2006.
With the change of The Federal Government in Australia in 2007 many of the contentious policies instituted by The Howard administration were reversed and the controversies addressed by the Chess Set show began to fade into history, but any hopes of slowing down for Pat were almost immediately discarded.
A new duo album with Karen Lynne "The Long Journey Home" hit the ABC airwaves in April 2008 with a welter of brand new journalistic songs and was immediately embraced by Country Music Broadcasters nationally.
And...barely three months later, In July 2008 Pat's new close harmony three-piece comedy outfit, the BBQ Kings was signed to ABC/Universal. Back in comedy mode (and in the dress up box) with fellow songwriters, Tony Williams and Chris O'Leary, the show is set around three old mates who meet at a BBQ after not having seen each other for nearly a decade and ....they all have issues!!!
Their first album 'The Fellowship of the Grill' which chronicled the triumphs and tragedy of the middle aged male became a grand Finalst in the Comedy Album of The Year at The 2009 ARIA Awards. Complete with BBQ aprons, the piano set in to the BBQ sixburner and lots of laughs the show became an immediate favourite with Corporates and Rotary clubs around the Australia.
When will he stop? Well, Pat says, "It's all about never stopping, always changing and growing older creatively"
Pat's current shows feature music from all of his previous incarnations and a splendid and challenging time is guaranteed for all. Bring your brain, your voices and your foot-en' tappin' shoes. You'll need them all.