Galston Country Music Festival 2002
presents
Wayne Law

Sunday 8th September at Fagan Park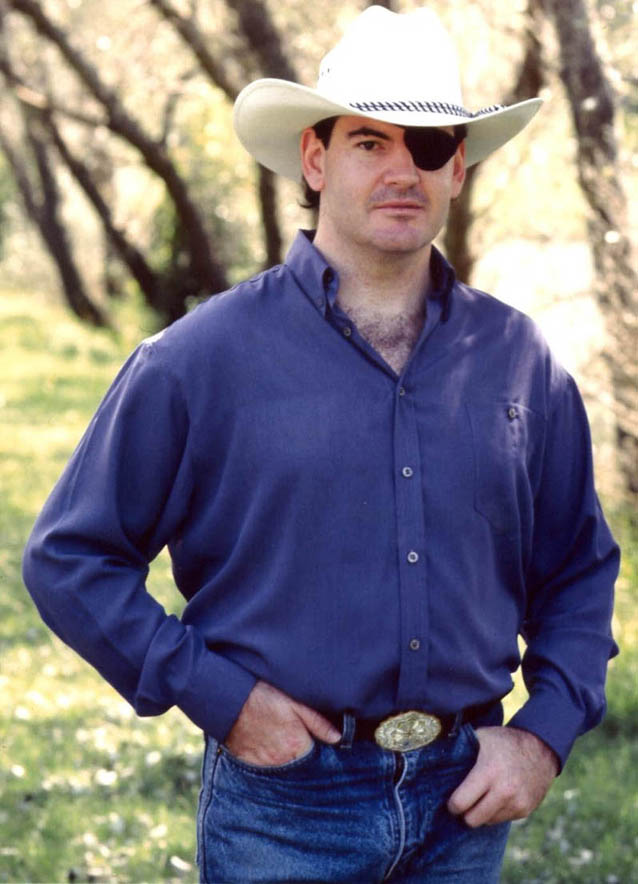 download a 3.4MG colour tiff here
Wayne Law

Singer / songwriter Wayne Law's music is his biography; he has lived his songs and paints a vivid picture for the listener to connect with.
Born in Dubbo, Wayne's early life took him to many parts of rural New South Wales. Today, he lives in Oberon, a farming and forestry community, with his wife, Jodie-Lea, daughter, Sara-Grace and son, Ethan Brooks Taylor. Yes, Ethan's middle names are a nod to the influence of Garth Brooks and James Taylor on Wayne's song writing and eventual career path.
"I had not written one song until I heard the Garth Brooks/No Fences double album. I heard how intelligent, passionate and emotive, yet still real and honest, country music could be," said Wayne. " It unlocked something in me because within two months I had written my first album, 'Small Town Dreamer'. Of course James Taylor's work needs no explanation. I don't see his style in my writing, I'm not that clever, but I would love to achieve something so full of atmosphere and imagery as 'Copperline' or 'Enough To Be On Your Way'. I am a song writer, and proud of it, but some guys are just a cut above like J.T."
With his real country upbringing and listening to Charley Pride, Don Gibson, (who Wayne calls the 'Master of the perfect 3 minute Pop-Country song'), Webb Pierce and now Garth Brooks and George Strait, Wayne has created his own distinct style of music that reflects his personality; honest, perceptive and down to earth.
Wayne came to notice initially as a Star Maker and 1997 Best New Talent Golden Guitar Finalist. In 1998 he was awarded Best New Talent by the Victorian Country Music Association. Wayne was also inducted into the South Australian 'Hands of Fame' Park in 1999. In March of 2002, 'The International Frank Ifield Spur' Award was bestowed upon Wayne, which promotes the release of his music to over 800 radio stations across Europe and the United Kingdom, in May. Wayne recently received an 'Honour Award' in the 'Great American Song Contest' for his beautiful ballad, 'A House Full Of Angels'. He was one of only four international artists to be recognised with this award this year.
Wayne's brand new album, 'Lessons', already is receiving widespread critical acclaim. As Wayne had no choice economically but to produce 'Lessons' himself, this is a particularly pleasing result for this first time producer.
Wayne has toured with and shared the stage with some of the biggest names in Australian music including Slim Dusty, Billy Thorpe, Marcia Hines, Gina Jeffreys, James Blundell, Mental as Anything and Kasey Chambers & The Dead Ringer Band.
He has a well-earned and well-respected reputation as a great performer and is recognised industry wide as one of the most gifted singer/songwriters in Australian Country Music today.
A rare talent, Wayne has created a place in country music with his deep, insightful and forceful songs reflecting his experiences, while delivering them with passion and warmth in his high-energy performances. His new single, 'UP' has just been released to country radio across Australia to immediate acclaim. A young and inspired artist, Wayne Law is poised to make a huge impact on the Country Music world.

Wayne Law History / Return To About The Galston Festival / Galston Festival Stage 1 2002