Galston Country Music Festival 2003

Sunday 14th September, 2003 at Fagan Park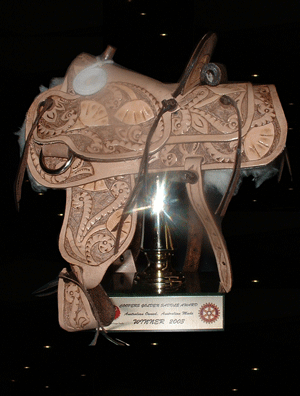 PRESS RELEASE

FOR IMMEDIATE RELEASE - 15th September 2003
AND THE WINNER IS!!!!
The Galston Country Music Festival 2003 was once again the Highlight of the year in the Hills when many thousands of excited Patrons witnessed yet again the incredible talents of the Grand finalists of the Coopers Golden Saddle Awards.
This very Prestigious Award is handed out each year to an outstanding Professional Independent Artist who has been chosen in the first place by Industry "Spotters" Australia wide. The Rotary Club of Galston had the unenviable task of choosing three Grand Finalists from an incredible line-up of Finalists this year. These three Grand Finalists were invited to come to Sydney last Sunday September 14, to perform two songs for Industry Judges, where one lucky winner was chosen.
.
This year's Grand Finalists were Peter Pratt from Illabo NSW, Billy Bridge from Laverton Vic and Mark Tempany from Sunnybank Qld
All three Grand Finalists demonstrated their incredible ability to the Fans, making the Judges job just about impossible. Three completely different styles and all just fantastic was definitely the decision of the Audience. The Judges decision was very close and while everyone waited for their decision, the Audience was treated to a wonderful performance from this years Special Guest Presenter LUCKY STARR. After much deliberation it was decided that this year's winner of the COOPERS GOLDEN SADDLE AWARD for 2003 is ­
**MARK TEMPANY**
Mark was presented with a prize package consisting of ­
*From Coopers Brewery a cheque for $600, a Certificate and a beautiful handcrafted Golden Saddle Award.
*From Gray Label Studios Recording Time.
*From the Independent Country Music Bulletin a Publicity Package.
*From the GALSTON COUNTRY MUSIC FESTIVAL Mark will receive Promotion and an invitation to be a Special Guest in 2004.
Runners up Billy Bridge and Peter Pratt each received courtesy of COOPER'S BREWERY an Appearance Fee of $150, a Certificate and a beautiful Golden Saddle Trophy. The Festival would also like to extend to both Peter and Billy their heartfelt congratulations on being chosen from such an incredible line-up of Finalists this year and thank them for being part of our very special Festival. The Coopers Golden Saddle Award is of such a high standard now that it has become a most exciting and incredibly enjoyable event and one that no one wants to miss. Mark will also take his place with the growing list of winners attributed to the Galston Country Music Festival over the last seven years.
Thank you to our Judges-
Shelley Juner ­ CEO ACMEC Records
Rita Schneider ­ Writer/Recording Artist and part of the very famous Schneider Sisters Duo of radio and Television fame.
Lester V Coombs ­ Producer/Writer/Recording Artist and Entertainment Manager for Captain Cook Cruises and Sweeneys at Scenic Hills
Bob Howe ­ Award winning Performer and Producer of Canterbury Country and Columnist for Capital News.
Geoff Long ­ CEO Galston Club.
A final thanks, to our very special Guest Presenter, LUCKY STARR.
*** See you all next year ***
HELEN KAY
Director
Coopers Golden Saddle Award 2003
02 9651 1741
helenkay2@bigpond.com
The Galston Country Music Festival is an activity of the Rotary Club of Galston and all Proceeds aid the Cancer Patients Assistance Society of NSW and local Charities- PO Box 103 Galston NSW 2159
Tony & Vikki Page 02 9653 2483 or 0419 466 994 fax 02 9653 3330
FESTIVAL PATRON ­ FRANK IFIELD
End
---
MARK TEMPANY WINS 2003 GOLDEN SADDLE AWARD - story courtesy Bob Kirchner CMAA Website
MARK TEMPANY has been announced as winner of the 2003 Coopers Golden Saddle Award, part of the Galston (NSW) Country Music Festival.
In front of a crowd of more than 20,000 at the Festival yesterday (Sunday), Mark won the final vote against strong competition from Peter Pratt and Billy Bridge.
Accepting the award, Mark noted the enormous support offered to him in the past by the Galston Festival. "This is the finest festival in Australia without doubt and everyone who's come along and been part of it has been made to feel like part of a close family," he said.
Mark's prize includes a cash bonus, a recording package at GrayLabel studio's in Sydney plus advertising sponsorship from the Independent Country Music Bulletin and general career support from the Festival itself over the next 12 months.
But, in Mark's words "best of all" he will now return to the Galston CM Festival in 2004 as a major guest artist.
After his Galston success, Mark now moves to the Telstra Southern Stars (Australian Independent Country Music Awards) at Mildura where he is nominated for Best Male Vocal.
His latest single (a duet with Vanya) is Rollin' was released on NfS 81 and has been gaining significant airplay.
Photo (by Bob Howe) shows Mark with special Festival guest Lucky Starr.
For further information
Please contact-
Helen Kay
Director- Coopers Golden Saddle Award 2003
Helenkay2@bigpond.com
Ph/Fx 029651 1741
www.galstonfestival.com
Festival Patron ­ Frank Ifield


Back to Galston 2003