Galston Country Music Festival 2005

Sunday 11th September, 2005 at Fagan Park

PRESS RELEASE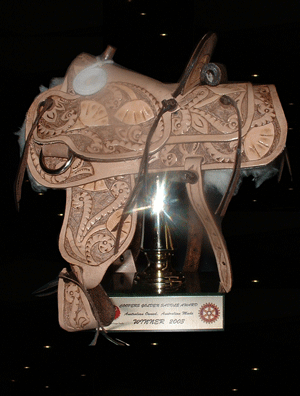 And Ther Winner Is......
DARREN COLSTON - TOCUMWAL NSW,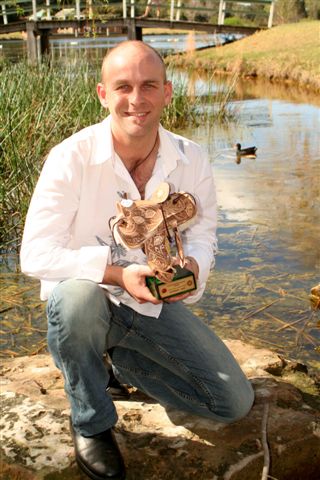 DARREN COLSTON
WINS COOPER'S GOLDEN SADDLE AWARD AT GALSTON
The Winner of the Cooper's Golden Saddle Award for 2005 is Darren Colston from Tocumwal NSW. Darren absolutely enthralled everyone with his fantastic songs and great style and was a very popular winner.
Darren was presented his award by International Recording Star John Rowles who also performed as well singing many of his well known hit songs. Later on John was kept busy signing autographs and chatting to excited fans for the rest of the afternoon.
The Grand Finalists this year were Darren Colston, Sally Anne Whitten and Paul Costa. Each Grand Finalists gave a stunning performance but Darren Colston was chosen the winner by our Judges. He was presented with a cheque, various prize packages thanks to our sponsors, certificate of excellence and a Cooper's Golden Saddle Award. He will also be invited back in 2006 as a very special guest for the festival's ten year celebrations. Sally-Anne and Paul each received a cheque, certificate of excellence a beautiful Golden Saddle and our heartfelt congratulations on reaching the Grand Finals this year.
The Galston Country Music Festival celebrated nine years this year and the Cooper's Golden Saddle Award its eighth. The first year was a simple local talent quest. The award has now grown on a national scale and is listed as a premier event not to be missed. The Cooper's Golden Saddle award acknowledges the great Australian talent within our ranks and ads support.
The Rotary Club of Galston would like to thank Sponsors Cooper's Brewery, The Independent Country Music Bulletin, Ramrod Recording Studios, Captain Cook Cruises and Rum Entertainment for their support as well as Judges Tony Brentnall (Cooper's Brewery), Lester V Coombs (Captain Cook Cruises), Geoff Long (Galston Club) Herm Kovac (Ramrod Recording Studios) and Shelley Juner from ACMEC for their support of the Awards
A final thanks, to our very special Guest Presenter, John Rowles
HELEN KAY
Director
Coopers Golden Saddle Award 2005
02 9651 1741
helenkay2@bigpond.com
The Galston Country Music Festival is an activity of the Rotary Club of Galston and all Proceeds aid the Cancer Patients Assistance Society of NSW and local Charities- PO Box 103 Galston NSW 2159
Tony & Vikki Page 02 9653 2483
FESTIVAL PATRON ­ FRANK IFIELD
Our Congratulations also go to our other two very talented grand finalists
SALLY-ANNE WHITTON - TAMWORTH NSW
or
PAUL COSTA - ROBINVALE VIC
Previous winners have been Rob Wilson, Mark Tempany, Double-Decker Dave, Michael King, Dave Debs, Colin Greatorix and Tracey Faith.
**
DARREN COLSTON will return next year as an Invited Guest to perform at the Festival in September, which was part of his win in 2005.
**
HELEN KAY
Director
Coopers Golden Saddle Award 2005
02 9651 1741
helenkay2@bigpond.com
The Galston Country Music Festival is an activity of the Rotary Club of Galston and all Proceeds aid the Cancer Patients Assistance Society of NSW and local Charities- PO Box 103 Galston NSW 2159
Tony & Vikki Page 02 9653 2483 or 0419 466 994 fax 02 9653 3330
FESTIVAL PATRON ­ FRANK IFIELD
End
---

Back to Galston 2005 / Back to Galston 2006