Galston Festival 2006 Bush Poets
Galston Festival Poetry Director, Graeme Johnson
GALSTON COUNTRY MUSIC FESTIVAL 2006
ARTISTS BIO'S
POETS BREAKFAST THEME:
THE IRISH INVASION
9AM - 11.30AM
MAIN FEATURED ARTIST NO1
click on photo to download print quality image
NOEL STALLARD (As JOHN O'BRIEN)
John O'Brien was the pen-name of the pioneer poet Monsignore Patrick Hartigan of "Around the Boree Log" fame. For the past 11 years Multi-Award Winning Bush Poet Noel Stallard has lived the life of this character after which the "John O'Brien Festival" held annually in Narrandera is based. Noel combines his own witticisms & colourful personality with the writings & recitations of John O'Brien to present one of the Country's premiere touring shows. Noel Stallard can "do the Irish" like no other. Noel is also the current Australian Bush Poets Association President.
---
SUPPORTING ARTIST NO 1
THE RHYMER FROM RYDE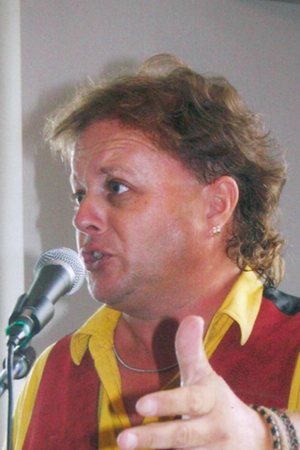 click on photo to download print quality image
Graeme Johnson-"The Rhymer from Ryde"
A wonderfully eargrabbing Bush Poet and "stretcher of the truth" extraordinaire, Graeme's performances are renowned for their vibrancy, humour and heartfelt emotion.
In the true larrikin style his reciting covers everything from the silly to the serious, Traditional to Contemporary.
Since 1995 he's received over 80 commendations for his spoken and written work and has been included in 16 Anthologies of Australian Poetry.
He recently won two of Australia's most prestigious Literary Awards in the Banjo Paterson Bush Poetry Competition in 2004. & the Leonard Teale Spoken Word Award 2005.
He is also much sought after as an Mc in his own right and his standing within the Bush Poets fraternity has seen him judge at the NSW, VIC & SA State titles.
He has released 2 books, 2 cassettes and 2 CD's.
"Lager, Laughs & Lies-Live" is available through
Shoestring Records. (02 4788 1577) $25 + P&H
Bookings: (M) 0419 415 137
E-Mail: TheRhymerfromRyde@bigpond.com
Website: www.therhymerfromryde.com
---
SUPPORTING ARTIST NO 2
click on photo to download print quality image
CLAIRE REYNOLDS
A life time lover of Bush Verse, Claire Reynolds performs a mix of her own original poems with traditional and contemporary favourites thrown in for good measure. Her life on the farm and the last 3 years traveling around Australia in a caravan have provided the necessary inspiration for her writing. Claire is also the winner of many titles and awards including being the current New South Wales Female Bush Poetry Champion. A born performer!
****************************************************************
SUPPORTING ARTIST NO 3
click on photo to download print quality image
TIM COLLINS
Although only a relative newcomer on the Bush Poetry circuit Tim was one of the prizewinners at this years prestigious Henry Lawson Awards. He comes from a "Live" Theatre background that he uses to great effect to bring his poems to life.
---
Return To About The Galston Festival
/ home / Back to Galston 2006