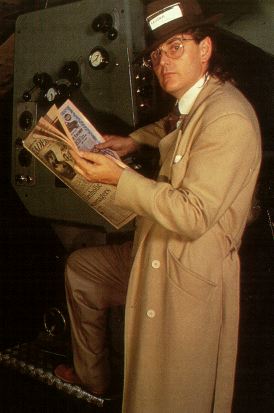 PAT DRUMMOND INTERVIEWS DON MACLEAN
Age sits more graciously with some people than it does with others. For many of Rock's former heroes it serves only to belittle and parody them. In Don Maclean's case it has produced a far more relaxed, thoughtful and honest individual; I liked the change. I first met Maclean in 1982. It was a sleet grey morning at the Sebel Town House and I was sharing the interview with several bored members of the Sydney Rock Press. It was blatantly apparent that most of them knew little or nothing of Maclean's work since 'American Pie'.
It may have been the early hour or the quality of the Press contingent, but he came across as an arrogant, tetchy and evasive man. Now, years later, as he relaxed in the State Suite of the Southern Cross Hotel with his family around him, he was pleasant and communicative; positively expansive.
As a journeyman of fifteen albums and 30 years experience, Maclean has had a formidable career. 'American Pie', 'Dreidel' 'Vincent' and 'Crying' have all given him international chart success, while the albums from which they were lifted have always sold steadily. It's given him a credible perspective from which to comment on the changing face of youth subculture. What I found interesting was how profoundly alienated from it he now seemed to feel.
Maclean; 'The whole thing is so souless, so antiseptic now, I actually feel it's played itself out for a little while."
Drummond; Coming from the man who so effectively, almost 20 years ago, lionized 'pop culture' in 'American Pie'; I must admit I find that just a little ironic. Why do you feel there is such a paucity of ideas in '90's pop music?
Maclean; Well, part of the problem is that the whole underground aspect is gone. There used to be places where an individual could develop his talent in the dark without being discovered. There were places where the media didn't go. The Deep South, or the Far West, for example. So you could have an Elvis Presley creating pandemonium there before anyone else knew who he was. You could have a James Brown who'd being playing the black circuit; and when the college kids in the 60's discovered him he'd already been around for 15 years, he'd already been putting out great records that no-one knew about. Today they want 'instant' stars. It's mostly looks, because they don't have the time to develop as artists; and the whole video thing enhances and legitimises that aspect. That's the New Pop. It's looks, it's fashion, not repertoire. It's music, but only in the background."
Drummond; On the new 'Headroom' album you make some pretty scathing comments about the whole tie up between 'pop culture' and pre-packaged image particularly in a track called 'Fashion Victim', but surely you'd agree that fashion always been an integral part of the statement that is 'youth culture'.
Maclean; "Yes, but it's a matter of balance between style and content. Before you ever saw Little Richard you heard the record and it blew you away. Now you can have really crumby records but the kids respond to the video and so it sells."
Drummond; Well, perhaps that indicates that the new 'stars' are really the producers and the directors ; the technicians and the casting agencies, the people that actually conceptualise the package.
Maclean; "Yeah, maybe that's right, unless occasionally you get a Madonna who understands all of that and consistently shows that she can push the right button or pull the right lever and make the whole thing fly. I suppose, within that context, she's a legitimate star."
Drummond; "Rock/Pop music has always been essentially an American indigenous form. It accounts I suppose, in part for the bizarre phenomenom of Australian and British Musicians singing in American Accents. Perhaps, if you feel it's played out in America, the more diverse cultural influences introduced by World Music may serve to reinvigorate it."
Maclean; "Yeah, that's good. I'll tell you what turned me on. I heard a Haitian group on the radio in a cab. It was amazing. I think there's a lot of raw third world music around that is absolutely dynamite. It's recorded in a funky way and you can't quite figure out what's happening with the beat. There are a lot of strange harmonies too . I like to listen to Mariachi orchestras back home."
Drummond; "Speaking of the Third World, have you listened to any Australian Music while you've been out here? :)
Maclean; "No, not yet but I've asked the record companies to get me some stuff, so I'll be listening to some while I'm here."
Drummond; "In the light of what we've been discussing, could you see yourself becoming more involved in World Music, along the lines of say, Paul Simon?"
Maclean; "No, I don't think so, there's too much integrity there for me to stick my 'white bred' self in the middle of it. No, I'm just enjoying what I do. There's a certain credibility now to acoustic music, perhaps as a reaction to the dishonesty of mainstream pop. To some degree people like Tracy Chapman and Michelle Shocked have made what I do contemporary again."
Some may feel that it's strange to hear Maclean voicing criticisms of the current 'youth culture' more consistent with alternative musicians and inner city bands but accoustic music through people like Suzanne Vega, John Schumann, Judy Small, Bob Dylan and Kev Carmody has always provided a reasonably radical alternative to mainstream pop. More intelligent that thrash metal and damn sight more relevant to Australians than Rap, it has a long tradition of aggressive social critique.
'Headroom', after far too long a flirtation with nostalgia in my opinion, marks a return by Maclean to the role of social commentator. Tougher, but reminiscent in a way of 'Homeless Brother', it is well worth a listen.
Pat Drummond Reprint Courtesy Of Drum Media
---
Return to Pat Drummond's Home Page / Return To Industry Pages / Return to Main Site- Fanpage / Interviews with Other Songwriters