New StudioAlbum
Six Days In December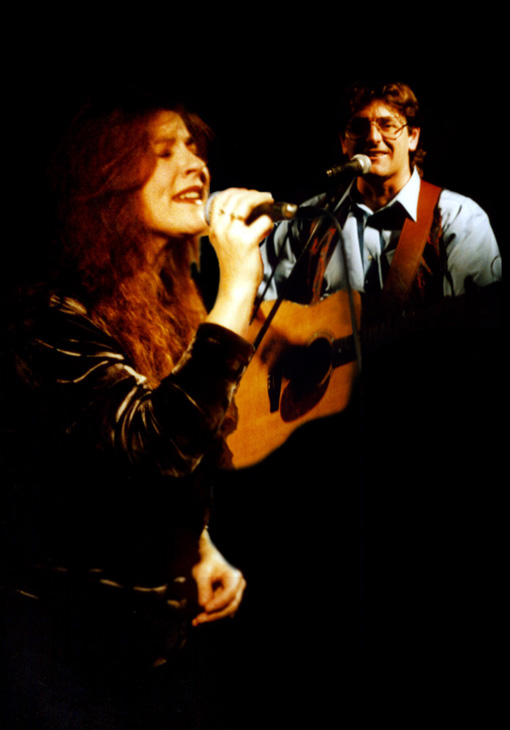 Six days In December Shoestring SR 18
Photos: Paul Thistlethwaite Image combination and retouching; Pat Drummond

Album Orders
The new studio album recorded with Karen Lynne and produced by Rod Coe at Unity Gain, Erskineville is now available through the newsletter, at the gigs or on the Web.
1. The Rush (4.32)
2. Song Of The Quilt (3.46)
3. The Old Time Country Show (4.03)
4. Everyone Was Right (2.57)
5. The Days When We Were Young (3.30)
6. Freedom In Her Eyes (4.06)
7. The Certainty Of Miracles (4.51)
8. The Honky Tonk From Hell (3.39)
9. Paradise Creek (3.06)
10. The House at 21 (4.55)
11. When you Say Goodbye (3.23)
Six Days in December- Media release
The 2000 Tamworth festival saw a lot of great CD launches. In the independent sector, it saw the fruition of what might seem initially to be an unlikely collaboration between two prominent independents Pat Drummond and Karen Lynne with a concert featuring co written songs from their new "Six Days In December" CD (Shoestring SR-18)
Karen sprang to national prominence in 1999 when tracks from her "Labour Of Love" album, went top 10 in the Country Music Charts and gained multi-finalist status in both the "Australian Country Music Awards" in Tamworth and "The Independent Country Music Awards" in Mildura. One track, "Grandma Used to Say", co-written with Heather Field and James Gillard, was nominated for the prestigious APRA Song Of The Year Award and won The TSA Country Song of The Year in 1998
At the recent Folk festivals it has been this side of Karen's work which has gained her broad acceptance from women's groups, an audience not traditionally fond of Country Music. Her frequent touring with Pat Drummond over the last year has brought her unique sound to a whole new group of fans, and the songs that have emerged that have formed the basis of the new album released at The festival.
Pat who has been a long time favourite at the Tamworth festival, has also been a multi-nominated finalist in the Gold Guitars. With ten CDs to his credit, he is also a member of the Naked Poets comedy troupe, whose Debut CD has proved such a runaway bestseller for ABC shops and centres nationally in the last few months.
The new duo album called "Six Days in December" has been, it seems, a pairing of two very complimentary talents.
Pat is a strong instrumentalist and a writer of great capability. Karen whose beautiful voice and beguilingly gentle approach has impressed so many in the radio industry over the last year, also brings her flair for writing to the project; so the new album was always going to be something special. But for fans of both acts this album will also come as something of a surprise.
"I suppose that I've become known as a writer of semi-political or philosophical songs such as The Road to Damascus" (nominated for "APRA Song Of The Year" in January) said Pat "although there has always been an element of "blokey comedy" in songs such as "The Sao Song". The new album is probably a lot gentler than what people have come to expect of me... but it was wonderful to work with Karen; particularly on those songs which related women's stories such as "The Song of the Quilt" and "The Certainty of Miracles." It was also a great challenge to write in a more romantic mainstream and collaborative way than is normal for me. Karen and I had been writing together a lot during the past year but it was when one of the songs "The Rush" won in all three categories and was selected by Greame Connors as "Australian Song of the Year" in the Queensland TSA Awards in September, that we both knew it was time to consider a duo album.
Rod Coe, EMI's legendary engineer, produced the CD and I think he's done a fantastic job. Both Karen and I brought our favorite session players to the project ; people like Tommy Grasso on pedal steel and Peter Drummond on Drums but the inclusion of Jeff Mercer in the lineup was Rod's choice and he proved to be a perfect compliment to my particular style of picking. Glen Phimister was Rod's choice for engineer too, and some of the vintage valve equipment he brought to the task has provided that wonderful warmth that is sometimes lacking on Australian productions. Actually Rod and Glen are a great team in the studio. It a pleasure to watch the way they interact... and they were very open to what we wanted as an act; which is great when you're dealing with folk like us who have produced their own albums in the past and are, I suppose, a bit opinionated about things"
"Six Days In December" is released on Shoestring Records and is available in all record shop through AEROS and The Platterlogue or by visiting
http://www.lisp.com.au/~patdrum

---
Return to Pat Drummond's Homepage
/ Return to What's New
---