Through The Cracks-Live at The Clarendon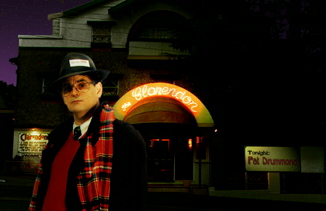 Through The Cracks- Live At The Clarendon SR15
Photos: Michael Small Retouching: Matthew Drummond and Bruce Bigalow
A Note From Uncle Pat
Over the years I have been told that my albums bear the dubious distinction of taking the patron longer to read than to listen to. Now, finally, comes an album that requires no liner notes other than the lyrics; and those only to correct, at least in written form, the words that errant memory or inebriation modified substantially in the performance. The background to the songs can be avoided by programming your CD to skip all the odd-numbered tracks. Ah, if only you could silence me so easily at gigs! There are three small observations, however, that are perhaps of interest.
Firstly, although 'live', this album is not simply a re-run of songs previously presented on studio offerings. It contains a completely new set of songs; ones which I felt would not necessarily benefit greatly from augmentation by a band, or which I felt were best 'live' and which had been somewhat lost or forgotten over the years.
Secondly, these tracks represent the last known recording of my 25 year old Maton Messiah (67-677) which I had bought new as a young man, and on which I had written so many songs; and my fabulous Brazilian Rosewood De Gruchy (417). Both were stolen from my truck some months after the recording of this album. The Angels wept. Finally, this album is fundamentally different from our last live album recorded some ten years ago for, in both venue and performance, I have deliberately sought a more intimate and sober setting in keeping with the dignity of my advancing age ( I am now 47) and the imminent arrival, of grandfatherhood.
---
Back To "Through The Cracks" Tracklist / Back to Pat Drummond Homepage
---