Pat Drummond and Karen Lynne in Concert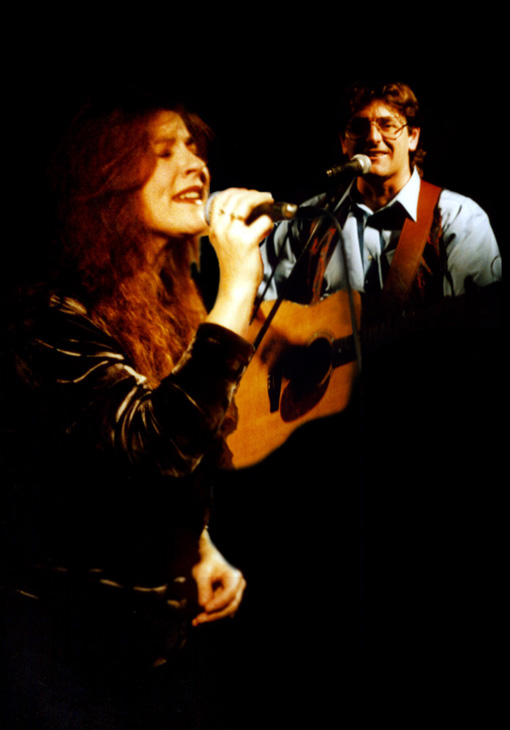 Click On Image to download Printable 1.5MG tiff
Photos: Paul Thistlethwaite Image combination and retouching; Pat Drummond
Tamworth's 2016 Songmaker of The Year; Pat Drummond is a performer with an astonishing capacity to entertain; and a songwriter, whose passionate commitment to Australia and its people has produced songs, which are almost like one-act plays; detailed social snapshots of ordinary Australians caught in the act of living. With 12 CDs out through Shoestring, Pat's unique blend of Journalism and Songwriting has produced a stunning record of Australian Life in the the past three decades.
As 2003 inductee into the Hands Of Fame, Australian Independent Country Music Artist of The Year 2000, board member for the Country Music Association of Australia, Joint Winner of Male Vocal of the Year at the Australian Bush Music Festival and Grand Finalist in Four Categories (including Album of the Year, Heritage Award and Country Song of the Year and Producer of the Year) in the Toyota CMAA Country Music Awards, the past thirty years have been tremendously rewarding for Pat Drummond. International tours to New Zealand and Japan, representing Australia, and a National tour with England's premier songwriter Ralph McTell, have further enhanced his reputation as a formidable writer and entertainer. For those who have seen Pat on stage the reasons are obvious. He is first and foremost a communicator who writes songs about characters that are instantly recognisable; characters whose experiences reflect the lives of just about every Australian, from the sophisticated city-dwellers of the Double Bay social set to the no-nonsense bush people of The Outback.
Although well known for his comic repertoire, such as "The Toilet Paper Linedance" and 'The Sao Song' which made #2 in the National Country Music Charts ,and his work with the Award Winning 'Naked Poets' Bush Poetry/ Comedy troupe, it has been the 'power punch' lyric writing in songs such as "Who Is that Refugee?", "The Road To Damascus", "The Blessing", "Vertelli's Wire", " Who Are These People?" and "Somebody Else's Slides"which has so profoundly impressed both the critics and his peers since then. (See Quote sheet) His record label, Shoestring Records which distributed 16 Country Music acts including The Naked Poets, Brent Parlane and Allan Caswell was named the 2003 Independent Record Company of the Year.
Pat is soon to bring us the year 2016 edition of 'The Local Rag', his mythical newspaper that tells the very real stories of contemporary Australia. On stage he is a performer with an innate sense of fun and an astonishing capacity to entertain As a songwriter, whose passionate commitment to this country and its people, he has produced songs which are one-act plays, detailed social snapshots of ordinary Australians caught in the act of living. A master wordsmith described by David Latta as a "Songwriter's Songwriter", his work has often inspired high praise.

Judy Small says of him that he creates "beautifully crafted songs which tell us about the legendary, the ordinary and the possible, in ways that leave us not only with our feet tapping but with our hearts singing."

Eric Bogle describes him as " an original and witty songwriter. whose deft lyrical and melodic touch, allied to his clear-eyed yet compassionate view of the human condition ensures that his songs have a quality that sets them apart from, and above, most other songs you will hear."

Bruce Elder has simply described his work as "Lyrical declaration of War"

Appearing with Pat will be the very talented Karen Lynne. Karen Lynne has taken great strides in her career as a singer/songwriter since starting out more than 20 years ago. Now, ten great albums, twelve major Award wins, over forty major Finalist Nominations, three international tours, over ten Australian Country Music Radio Chart hits and a number of overseas chart hits, and now, she also, has a place in Country Music Capital's Historic 'Hands of Fame' Park. Karen continues to demonstrate a dedication not often recognised in her field.

Karen & Pat's musical partnership has continued for over 15 years and from this partnership have come two highly acclaimed Duet Albums, 'Six Days in December', and 'Long Journey Home'. Tracks from both albums are all Australian penned and have notched up an impressive record with wins in three categories of the QLD National Songwriting Competition ­ 'General Country', 'Best Contemporary Song' and 'Overall Best Contemporary Song'. Six Days In December was a selection of Country flavoured love & story based songs of which 10 of the 11 songs were penned by Pat but also includes a couple of co-writes with Karen. One song 'The Rush', reached the Grand Finals of the TSA Australian National Country Songwriting Competition where it took out the Award for 'Contemporary Country Song of the year' in the 2001 Songwriter Salute Awards.
The Long Journey Home project is different in that it is a collection of true stories & characters, as well as some social comment songs of the type that Pat is well known for. The stories cover a vast scope, a Truck Driver on the Hay Plain, a reconciliation song based around a 2000 year old tree on Mt Warning, and a reflection on Dreams and how we grow to hold them dear as we age. The album has some of Pat's great character based songs including Trevor the sculptor, David the backpacker, Bob Scott, the spare parts salesman and a standout is the poignant tale of extraordinary forgiveness based around a mass murder that took place in the Amish community, Pennsylvania a few years ago. The sensitivity of the stories is reinforced by wonderful acoustic arrangements

An evening with Pat Drummond and Karen Lynne is not one you will easily forget .
---
Return to Pat Drummond's Homepage
/ Return to What's New
---