Fr. Peter Collins SSS. Rest In Peace
This site is to celebrate the life and work of Jesus Christ's servant, Fr. Peter Collins and is to show, in some measure, our gratitude for his ministry over the course of our lives.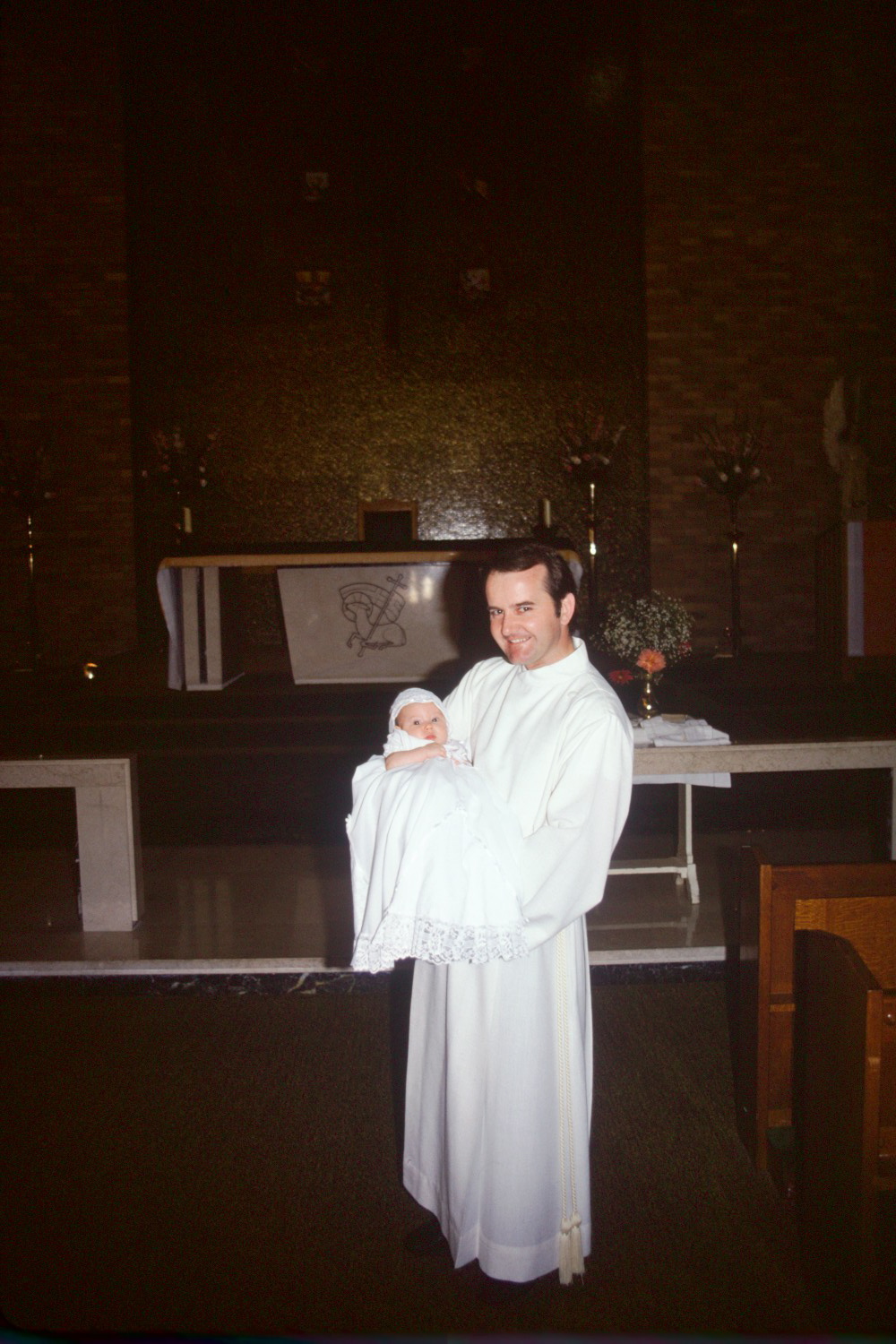 Newly appointed Deacon Peter Collins wth the first child that he ever baptised, Peter Drummond.
We invite you all to email any reminiscences, photos and tributes to patdrum@lisp.com.au for inclusion on this page
Fr. Peter passed away surrounded by his friends and family on the 1st February 2014 from the effects of inoperable cancer. We wish his family and friends to know how loved and valued he has been within our lives.
"Fr Peter Collins died peacefully aged 64 in the Palliative Care Ward of Royal Melbourne Hospital on Saturday 1 February after long illness, surrounded by loving members of his family. Professed in the Blessed Sacrament Congregation on 2 February 1969 and ordained on 8 May 1976, Peter served faithfully and generously in many different capacities in Toowoomba, Sydney, Perth and Melbourne, as well as assisting the General Administration inRome, the Congregation's Provinces in Asia, and the Provincial Administration in Australia. He endured the great pain and suffering of the last nine years with extraordinary courage and patience, assisted by the wonderful carers of Mercy Health and the nursing and medical staff of Royal Melbourne. His way of the cross now over, may the good shepherd guide him safely home." The Age, Melbourne

We ask you to contribute. Photos, remembrances and tributes are all welcome.
---
Peter Collins SSS (3/3/1949-1/2/2014)- Personal History and Reflections
An Audio Interview conducted with Peter Collins by Pat Drummond
Track 1: Some personal history and musings on the history and the future of The Church and the Order
Peter Collins 1.mp3
Track 2: Hopes and Legacies
Peter Collins 2.mp3
Peter Collins was born on 3 March 1949, the second of John and Irene Collins' seven children, and educated at Holy Name, East Preston, St Thomas', Clifton Hill, and St Bernard's, West Essendon. In early 1967, after a year of work and part-time study, he entered the Blessed Sacrament Congregation's novitiate in Toowoomba, making his first profession on 2 February 1969. He spent a year at the Passionist seminary in Lower Plenty before completing his studies under the Columban Fathers at North Turramurra in Sydney.
He was ordained on 8 May 1976 by Archbishop Frank Little at St Francis' in Melbourne.
Peter Collin's Ordination 1976
After a brief stint at St Peter Julian's Church in Sydney, he was appointed to 'The Shrine' at Toowoomba in January 1977. From then on he worked tirelessly in pasto- ral and sacramental ministry, especially with young people, and was well-known and liked. In 1981 he was elected to the Congregation's provincial leadership team and appointed National Vocation Director. In February 1982, he left Toowoomba to base
his vocational work in Sydney, but returned there as Community Leader in 1987. In 1989 a one-year formation course at St Louis, Missouri, led to his appointment as Director of Scholastics at Eymard College, Box Hill, Victoria.

In 1994, he assisted the Congregation's General Administration with a comprehensive report on initial formation and ministry in Vietnam. He oversaw the Congregation's painful withdrawal from Toowoomba in November 1995. From there he went to Perth as Community Leader and Parish Priest, only to have to preside over the Congregation's difficult departure from there also in late 1998. While still there, Peter was chosen as Australian Delegate to the Eucharistic Congress in Wroclaw, Poland.

In January 1999, Peter returned to Melbourne and headed up St Francis' for eight years. One of his key initia- tives was the introduction of a regular Mass for international students. In 2004, he became Convenor of the ecumenical group Melbourne City Churches in Action, often leading the annual Good Friday procession around the streets of Melbourne.

Peter's personal Way of the Cross began in 2002 with surgery and radiation therapy for a tumour at the base of the spine. By 2007 he had recovered enough to be appointed leader at St Peter Julian's in Sydney where he oversaw the refurbishment of church and monastery. His term was cut short in September 2009, when the ad- vance of tumours in his spine obliged him to resign. He returned to St Francis' and resumed ministry, even from a wheelchair. He was looked after at home by the carers of Mercy Health until worsening pain and paralyis compelled him to remain in the palliative care ward of Royal Melbourne. He died there in the presence of his family on 1st February 2014, aged 64, after 37 years of priesthood and on the eve of the 45th anniversary of his religious profession. Throughout his long ordeal, even in the final twelve months of intense suffering, Peter remained extraordinarily patient and positive.
As he shared in the cross of Christ, so may he share in his resurrection.

---
At St. Peter Julian's Haymarket, Sydney - The Sydney Rock Masses of the 1970's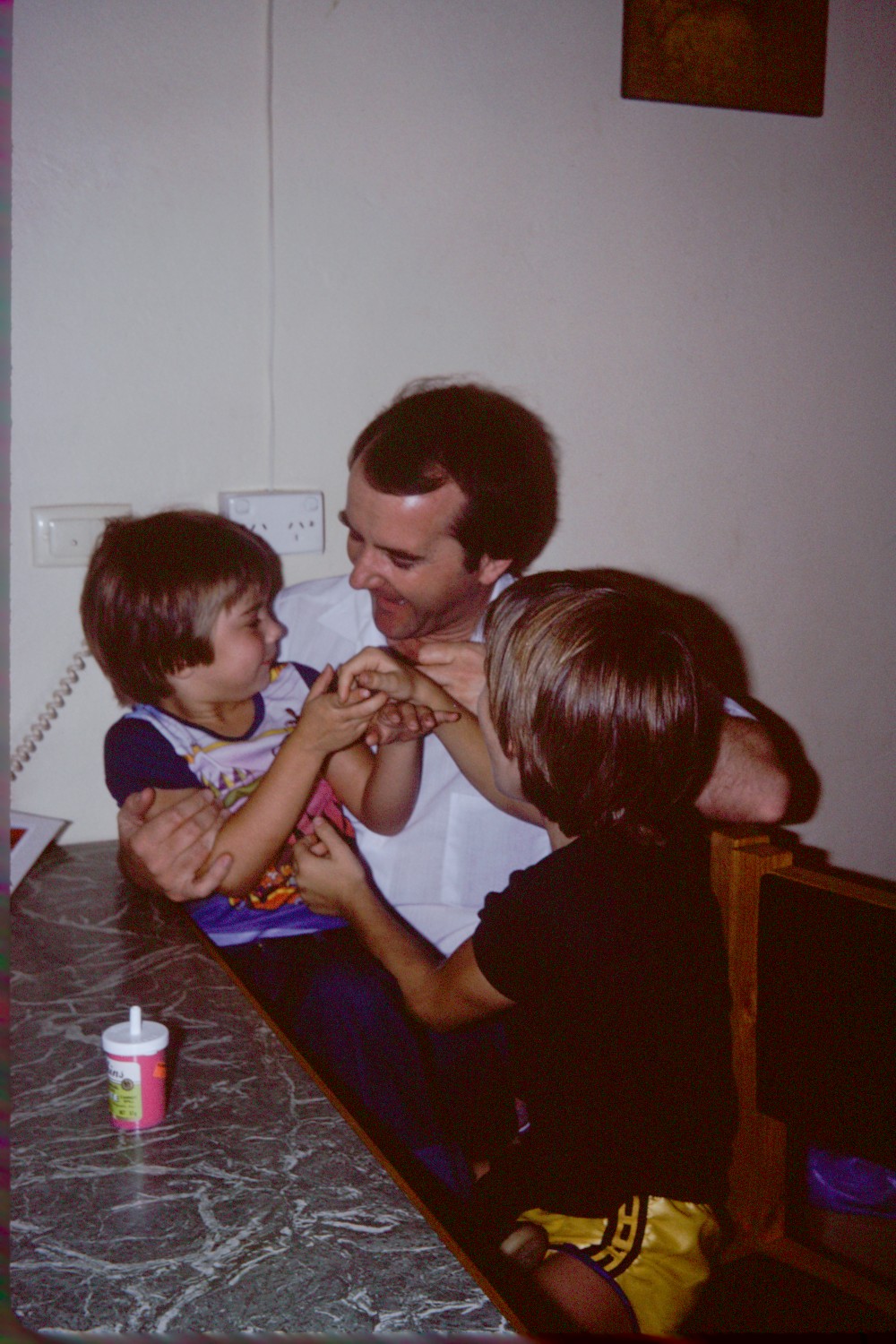 'Uncle Peter' with Matthew and Peter Drummond in the mid 1970's
Peter was a wonderful and ongoing presence in the lives of The Drummond family during the mid 1970's. It was during the time that Pat Drummond and his Benilde college mate, Peter Hunt (later Dr. Peter Hunt, noted Evironmentalist and ABC Radio's 'Earth Worm' presenter and founder) wrote and orchestrated The Rock Masses for The St Peter Julian church in The Haymarket. With Peter Collin's leadership and encouragement, they set about assembling a 26 piece orchestra called The Haymarket Players expressly for the purpose.
With Pat and his brothers, Ron, Danny, Geoff and Steve on guitar and Vocals, Peter Hunt on Flute, Glen Barwick on Electric guitar, Ivor Davies (later of Icehouse) on oboe and Bernard James as concert master, they wove together a community of McCoys, McFaddens and Millers as string players, some of whom would later form the basis of notable Sydney folk rock band, Hatrick (later to become Highly Strung)
Under Peter Collin's guidance, Pat and Peter wrote and orchestrated masses at St Peter Julian's Catholic Church for over three years. These masses were groundbreaking and are now widely regarded as having been the first Rockmasses ever staged in Sydney.
With so many 'Peters' in the mix, it was no wonder that Pat and Carol named their second son, born during this time... Peter.
And, with so much music in the blood, it was also little wonder that Pete Drummond would one day grow up to be regarded as one of Australia's finest drummers.
"Thank you Peter for all that energy, guidance and love during that period that your tradionally monastic order was opening up to the world.... and opening it's arms to the city's youth" - Pat Drummond
---
"Danny Drummond "Steve Drummond was in Melbourne and spent a number of hours with Peter on the day before he passed away. Peter will be missed by many of us- he was a passionate voice for social justice and he lived Christianity- didn't just preach it."
---
Peter officiated at many Weddings, Baptisms and other communal liturgical celebrations, Ronald and Beck Dando sent these photos of his wedding with thanks to Peter for his enhancement of their Big Day.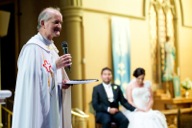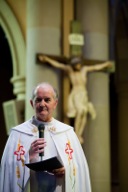 Peter, bringing together the hearts of Ronald and Beck at St Mary's Basilica on the 5th February 2011
---
At St Francis', Melbourne


Jim and I were aware that things were looking pretty grim for Fr Peter when we moved from Melbourne in mid 2012 but reading today on the internet that he had died earlier this year was just so sad.

It seems to me that it is only when someone has left this world that people say all the nice things they know and remember about him - what a nice person he was and just how much he mattered ­ but he truly was a nice person and he did matter more than he knew.

His voice had both gentleness and strength and the words he spoke were comforting to those who are seeking something better in this crazy world.

He radiated kindness and compassion. This is so obvious when one saw the young people who gravitated to him, especially those who are so far from home.

I am sure he would say that he was not perfect and that is probably right. It would be hard to find someone who is but he would have gone pretty close as far as we are concerned.

We regret that we hadn't spoken with him far more often but, when we did, Jim and I walked away with a smile and I so liked my "hello" kiss on the cheek from him.

We have listened to his homilies and were lightened by them. I suppose lightened is a funny word to use but when one is burdened and troubled listening to his sermons was almost a "time out" ­ a time to re-coup and face the world again with resolve.

There is so much of which his family and congregation can be proud. He made all welcome at St Francis. He encouraged other faiths to join with "us" and the feeling of quiet calm when one enters the church is so comforting. I feel sure that this calmness is generated by those who are there to guide us.

The numbers of people of all faiths who come to St Francis on Good Friday, Easter Sunday and Christmas is testament to how he and the other priests care for all. There is no pomp and ceremony ­ just goodness.

We particularly remember one Sunday when a disturbed person came into the church during Mass. We all looked at one another wondering what to do and then Fr Peter appeared. He spoke quietly with the man, put his arm gently around his shoulder and together they walked outside. The caring way he was with this sad person truly was what our belief should be all about.
If I had said these words to him then I would probably have fallen into a blubbering mess but I can write them.

Jim and I were so thankful for his warm smiles and friendship. We were his parishioners ­ some of the Sunday Catholics who will indeed always be indebted to him and remember him.

Carmel and Jim Marsh.



---
At Our Lady Of Dolours, Chatswood, Sydney
I remember going to the church at Chatswood in Sydney, as they had a CYO group, and the one at Lane Cove had disbanded years before. I walked into the church and there was this young deacon helping to organise the local youth group for what in those days we called a "folk mass". I went up and introduced myself and said I could play piano. I ended up playing piano at Chatswood for over 10 years, including some memorable major folk masses and Christmas celebrations. Even saw the Drummond boys at Haymarket!!
Peter was my deacon for the CYO and a dear friend. I went on a trip with many other CYO members, that we organised ourselves, to Melbourne for his ordination. We even took him out for a pre ordination dinner! From memory we visited / stayed (can't remember precisely) at a church establishment in what was then country Melbourne... (started with 'L' but can't remember the suburb) but it had the most amazing altar. Peter did a mass for us there during that week.

He was a good and holy man and could always talk to you and inspire you. I met with Peter many times over the years, both in Sydney and Melbourne; with my mum as well and he was always the same, loving and caring.

One funny anecdote.. I went to Melbourne with a mate from those CYO days and met with Peter for lunch in the late 80's early 90's. We were discussing over lunch in a restaurant in downtown Melbourne, The Church, Pope and things in general to do with his career.
He was talking about meeting the Pope ( JPII I think ) in Rome and told us of the meeting and then did this amazing impersonation of the Pope, the voice-over was great! Everyone in the restaurant turned around to look, thinking "the Pope is in the room" and, as Peter was wearing his priest's collar, the look on their faces was priceless. I think they thought the Pope was there having lunch, but when they saw his collar, that was even better. Would make a classic home video!

He was a great man and I miss his guidance.

Matthew Coombes
Chatswood 1975
---
From Fr Jo Dirks SSS. Peter's Collegue and Communal Brother
The Table
(Fr. Jo Dirks SSS)
For Peter my brother

There he sits publicly marked for sacrifice more than most
vested for the ritual enacted by Jesus on that Passover night
at a table small and sturdy, used for public exams.
But this is no three hour ordeal, but life itself;
diminished in size as the lowered table of the word;
microphone downsized; the world is shrunk,
but the spirit is expanded beyond the pain
as the words of Juan de la Cruz resound:
in the evening of life, we will be judged on love alone;
or as Sally Read put it - being Catholic is like being in love -
the Church being the ultimate poem
fleshing out God's presence on earth.
The wheelchair is silent as the ministers
serve the faithful with God's viaticum and wine.
---
Back to Pat Drummond Homepage