Balloons on Canowindra
Words & Music: Pat Drummond
For the late Frank Hackett-Jones
Dateline: Canowindra Balloon Festival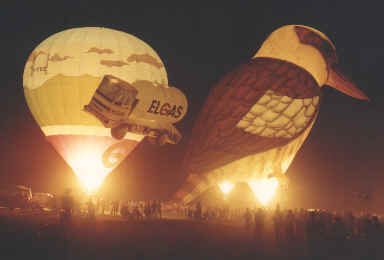 Kids on their bicycles, dogs at their feet
A century melting away
The whole population is out in the street
for there's balloons on Canowindra today
Chorus: Hot air balloons, the colours of rainbows,
hung there like moons in the clear Autumn air.
Late afternoons filled with deep purple shadows
Echoes of times passed away.
There were balloons on Canowindra today.
Mister Flynn's Store
stands with wide open doors,
and at the Garden of Roses Cafe.
The handshakes and smiles
seem to stretch out for miles
For there's balloons on Canowindra today
Chorus
And they shimmer and rise like the hopes of a child
but the dreams that will bear then away
Just as surely as Winter leads back to the Spring
will carry us home on an Eagle's wings
for I know that the winds of the future will bring
us back to Canowindra one day.
Chours
Chess Set Homepage / The Age Of Dissent / The Descent Of Age / Related Songnotes

---