The Cod That Ate The Moon
Words and Music Pat Drummond and Grant Luhrs
For Dave Williams
Dateline: The Wagga Boat Club, Wagga Wagga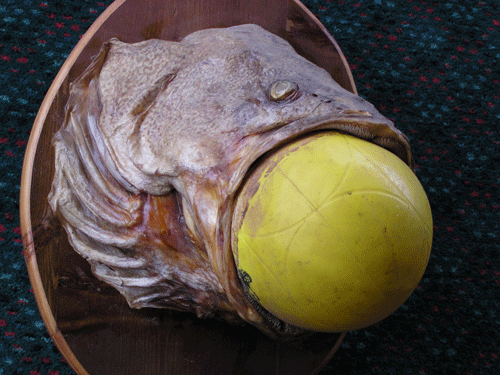 ( The Murray Cod is one of Australia's biggest inland Predators
The Boating Bouy in the picture is about 16" across which gives you some indication as to the size of this fish )
Every night he used to watch her from the bottom of the lake
as she rolled across his ripple-laden sky
A golden globe of succulent delight. Ah, would he take
her or regret it till the very day he died?
Chorus: Other cod dreamed only of the river
to shield them in the fiercest heat of noon
Other cod dreamed only of those rivers they were masters of
but Murray dreamed of nothing but the Moon
There was something Metafishical in Murray's grand obsession
Though the Bunyip called it "Fish Pie in the Sky"
He warned the cod that nothing good would ever come of his ambition
But that fish would lick his bony lips and sigh
For in Murray's fishy brain
where love and food were much the same
and where his scaly sense of scale was less than clear
He didn't comprehend despite the counsel of his friend
that things are rarely in the end what they appear
and that the moon was very big.... not very near
Chorus
On the night she fell to Earth he came upon her in the river
As the waves lapped round her lovely golden face
There was never such a moment in that fish's memory ever
As with years of lust he rose to take the prey
They found him there next morning, he was tangled in the mooring
With the yellow boating buoy jammed down his throat
And David Williams sighed, "That's not a pretty way to die!"
As he hauled that squandered life into the boat
As he cut that Murray Cod off of that float
Now they cut his spiny head off and they hung it on the wall
and, as a warning to those less than moderate few,
they left those gaping jaws wrapped round that pretty yellow ball
as a monument to what dreams lead you to.
It's a sobering adjunct to our obsessions
That the road from self deception leads to ruin.
So remember that it's possible to choke on your ambitions
And recall the fate of the Cod that ate the Moon.
(So when I see a pretty arse
swim through the bottom of my glass
and I'm tempted just to ask
her to my room
I re-adjust my codpiece and I let that moment pass
and I recall the fate of The Cod That Ate the Moon.)
Chorus:
Related Editorial and Songnotes for this Song
Chess Set Homepage / The Age Of Dissent / The Descent Of Age