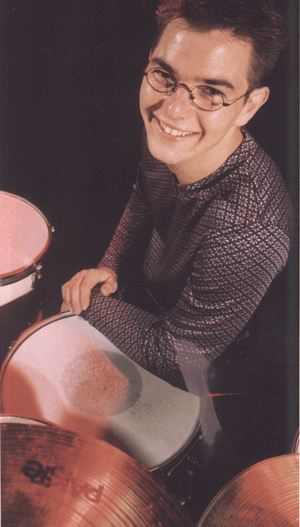 Pete Drummond, Engineering & Production, Drums, percussion, Electric Guitar, Backing Vocals, Keyboards, Blood, Sweat and Tears
Pete Drummond is being hailed as the up-and-coming force on drums in Australia. His relentless pursuit of technical mastery, and his deep-rooted musicality have caught the attention of many of the world's greatest drumming artists including: Virgil Donati, Dave Weckl, Dennis Chambers, Chad Wackerman, Jojo Meyer, David Jones, Jon Otto, Jonathan Mover, Darryn Farrugia, Andrew Gander and Gordon Rytmeister.

As one of Pearl Drums and Zildjian Cymbals major Australian artists, Pete regularly conducts clinics and master classes throughout the country. His consistantly mind-blowing playing, coupled with an abilty to convey ideas`concisely, have seen Pete grow as a favourite on the clinic trail. With recent stand-out performances at Zildjian Day Sydney, and at TUDW 2002 with Dom & Friends (also featured on the DVD), the buzz surrounding Pete is growing more rapidly than ever before.

Pete began drumming at 3 years of age. His formal training began two years later under the expert guidance of his mentor, Jess Zappia. After ten years of tutorage, Pete continued on his own, turning his attention to instructional videos, books and recordings. It was during this time that Pete was exposed to his greatest influences: Virgil Donati, Dave Weckl, Vinnie Colaiuta, Terry Bozzio, Jeff Porcaro and John Robinson.

Performing live from the early age of 6, Pete has had a lifetime of opportunities to share his abilities with many and varied artists. His recent credits are a testament to his growing reputation, performing with many prominent artists: Joan Rivers (USA), Kasey Chambers, Vanessa Amorosi, Iota, Phil Ceberano, Robertson Brothers, Not The Question, Jeff Duff and Vicious Hairy Mary.

After first making an impact with legendary folk-rock band The Bushwackers, Pete accepted invitations to tour with premiere country artists, Gina Jeffries, Troy Cassar-Daley and the Dead Ringer Band. During this time, he contributed to an extensive collection of recordings, including a live Bushwackers' recording (featuring Tommy Emmanuel), and the Dead Ringer Band's ARIA award winning record 'Homefires' (featuring Kasey Chambers).

At 17, Pete became Yamaha Drums' youngest Australian endorsed artist, and his opportunities expanded. While participating in various drumming events, he formed friendships with two of Australia's drumming giants, Gordon Rytmeister and Andrew Gander. Through this association, Pete was introduced to Sydney's elite music community; providing him with some of his most fulfilling musical experiences to date, including Jeff Duff and Peter Northcote's original project 'Alien Sex Gods', and playing on the soundtrack for the major motion picture 'My Mother Frank'.

Alongside his drumming, Pete has studied music composition and production. His first major release with 'Not The Question' (which Pete engineered, produced and mixed) has had critical acclaim for it's production values.

After being picked up by Universal & Network Records, the band's debut single 'More Than Love' was added to over 30 commercial radio stations around Australia, including: NOVA 96.9 FM (Sydney), FOX FM (Melbourne) and 96 FM (Perth). The video clip (also produced entirely by the band) was aired on Video Hits and Rage.
Pete has composed soundtracks for television and multimedia presentations, including Kraft, AATP telecommunication, Altcatel, Mullion Creek & the Sydney Morning Herald. Most recently, Pete has produced CD's for new funk/pop artist Cassidy, and pop/rock band Jeapster (who are currently enjoying major attention both here and in the USA and UK).
Recording Session photos / Pete's Website (You must be on-line to access this link)
The Musicians / Chess Set Homepage / The Age Of Dissent / The Descent Of Age / The Production Team