Galston Country Music Festival 2004

Sunday 12th September, 2004 at Fagan Park

PRESS RELEASE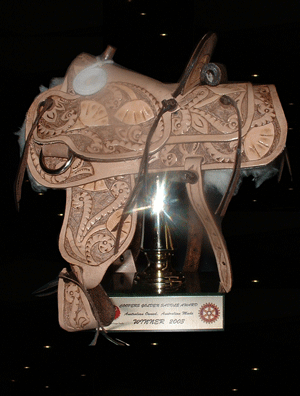 (click on picture to download larger image)
GRAND FINALISTS announced for the GOLDEN
SADDLE AWARD 2004
GALSTON COUNTRY MUSIC FESTIVAL UPDATE Saturday June 18th 2004
Festival Patron- Frank Ifield
**
With a stunning line-up of Finalists for 2004 which seems to gain momentum with each year, Galston Rotary Club have chosen as Grand Finalists the following Artists ­
**
MEGGAN CARSWELL - COOTAMUNDRA NSW
PETER PRATT - ILLABO NSW
ROB WILSON - ABERMAIN NSW
**
Finalists for this year were Tom Maxwell, Jeanette Wormald, Faith Julija, Tom Curtain, Martin Oakes, Peter Pratt, The Davidson Bros, Megan Carswell, The Coad Sisters, Anita Ree, Rob Wilson and Johanna Hemara.
**
This decision took a number of weeks of intense deliberation on the part of Galston Rotary, as the Finalists were so diverse in their composition, it made a final decision a very hard task indeed.
**
The GALSTON COUNTRY MUSIC FESTIVAL is delighted to announce that JUDY STONE, who started her career as a Country Artist here in Australia, has agreed to present this year's Special Award to the Winner and Runners-up.
**
All three Grand Finalists, will come to Sydney on September twelve 2004 to perform at Fagan Park, Galston, to compete for $5,000 worth of prizes with include, Cash, a Certificate of Excellence, Recording Time, Publicity for the next twelve months and an invitation to come back to the Festival held in 2005 as a Special Guest Artist to perform. A further prize just announced, will be an overseas Single Release courtesy of the Galston Country Music Festival and the Rotary Club of Galston.
**
Previous winners have been Mark Tempany, Double-Decker Dave, Michael King, Dave Debs, Colin Greatorix and Tracey Faith.
**
MARK TEMPANY will return this year as an Invited Guest to perform at the Festival in September, which was part of his win in 2003. Festival Organisers would like to congratulate ALL FINALISTS chosen Australia wide by four Industry "Spotters" who chose three Finalists each. To be singled out this way is a huge compliment and they too will receive a "Memento" from the Festival in due course to celebrate this fine achievement.

**
Please contact Tony & Vikki Page (02) 9653 2483 e-mail tpage@ozemail.com.au
Festival Organisers, or Helen Kay 02 9651 1741 e-mail helenkay2@bigpond.com, Director Golden Saddle Award 2004 for further information or Interviews.
---
For further interviews
In regard to the GALSTON COUNTRY MUSIC FESTIVAL,
Please contact -
Tony & Vikki Page (02) 9653 2483 e-mail tpage@ozemail.com.au
Festival Organiser
Helen Kay
Director Coopers Golden Saddle Award.
(02) 9651 1741 e-mail helenkay2@bigpond.com
---
Back to Galston 2004