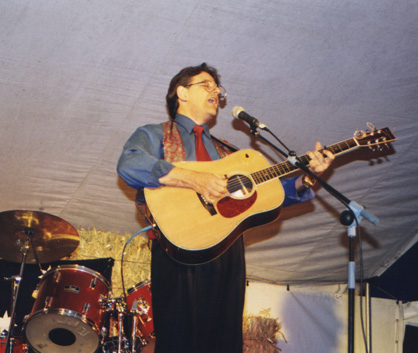 Shoestring Records at The Basement in July, Pat inducted into the Hands Of Fame, Bush Laureate Awards for Naked Poets and more.....
G'day Folks. Well, the year began in fine style with a couple of major awards at The Tamworth Festival.
It happened in one of three ways....
Version 1. The Northern Daily Leader version....
"Six new famous country music names were immortalised in concrete in Country Music Capital's Hands of Fame in Tamworth at the 2003 Awards
The 2003 Hands of Fame names were announced by the Australian Country Music Foundation at the Roll of Renown Concert . They included... Pat Drummond and long time touring partner and friend, Andrew Clermont, Andrew Clermont is one of Australia's best-known country instrumentalists. A multi Golden Guitar finalist, he has travelled all over Australia and the world playing his music and has released a number of albums. Pat Drummond was cited as " a songwriter whose songs about real people capture the Australian spirit and who has had much success as an entertainer and recording artist over the years including being named Independent Artist of the Year at the 2000 Australian Independent Country Music Awards." In a reference to Pat's label, 'Shoestring Records' and his work on the board of Country Music Association of Australia, Presenter Jim Brown also stated that Pat "had done more than any other artist to heal the divisions between Independents and Signed artists in Australian Country Music."
Version 2. Karen's account "Pat was inducted into the hands of fame in Kable park this year. In a cunningly contrived plot to get his fingerprints ASIO counted on Pat's intolerable ego to supply them with a full set of hand prints set in concrete, which they now have....serves him right"
Version 3. which seems equally (possibly even more so) from Gary, a fan from the Hunter Valley whose contribution to the Website went.....
"This "Hands of Renown" thing, mate... c'mon admit it ... you were crawling home from another late night gig and just happened to wander into the wet cement
area didn't you ... mmmmmmmm???
I can just picture the morning after, officials standing around your prostrate form nodding their collective heads and muttering "Who is this ungainly person?" then someone recognised you as being a board member and they all probably just decided it was easier to pencil in your name rather than recast the cement. (That's gotta be right up there with professing to be the "Karate Kid" on Toowoon Bay Beach New Year's morning) what an interesting and profound last month or so you've had."
The other major award came when Naked Poets 3 won "Album Of The Year" at The 2003 Bush Laureate Awards completing the hatrick for these amazingly successful albums. A capacity audience in Tamworth's famous Town Hall witnessed the seventh annual presentation of the Awards .
As The Northern Daily Leader reported
"In a moving tribute to the late Bobby Miller, the group's producer and singer/songwriter Pat Drummond, flanked by his fellow Naked Poets and Sandy Miller, told the capacity audience
"Country music is rich in tales of families who become acts and go on to become successful businesses. No less wonderful, however, are those acts that start as businesses and go on to become families. This was very much the case with Naked Poets. There is no doubt that our family has suffered a massive loss this year with the passing of Poetry Legend, Bobby Miller. But Bobby will never be entirely lost to us. He lives on in the albums we recorded together; he lives on in the poems and songs that he left us; poems that are constantly recited by fledgling Bush Poets around the nation. He lives on in the Spirit of the Bush Poetry fraternity and he will live on in the people you see standing beside me on this stage tonight. This One's for you, Bob." The poets presented the Award to Sandy Miller, Bobby's wife.
Big Events Department.
Shoestring, has in wake of the overwhelming success of the Naked Poets now expanded it's stable to include 14 other artists. If you are a fan of acoustic country/folk, you will love the other artists in the singer songwriter string.
IN JULY, the Shoestring Records Writers' Showcases featuring Allan Caswell, Pat Drummond, Brent Parlane, K'crasher, Mark Tempany and Karen Lynne.
We would ask that you make a special effort to support these gigs and help us welcome our writers to
Sydney. The events will happen over 2 nights. Firstly, in the Blue Mountains on Fri, 11 Jul 2003
at The Clarendon Guest House Theatre (where I recorded 'Through The Cracks in 2000).
And on Mon, 14 Jul 2003 we are very excited to announce that we all will be appearing at Sydney's legendary music venue, The Basement, Reiby Place, Circular Quay our first ever appearance at the Basement. Tickets will be $15.00 and bookings can be made through us on 02 4784 1950 and through the Basement direct.
Also note that The Blarney room gigs at The Crown Hotel, Revesby have been changed to Saturdays from now on starting with Sat, 28 Jun 2003. Once again we urge your support for these gigs.
Also please note that the Christmas Cruise has been booked, this year for Sat, 20 Dec 2003 at 11am
Welcome to the future Dept.
In a landmark event in Japanese pop culture,
on April 7, Japan celebrated Astro Boy's birthday.
When Astro Boy (or The Mighty Atom as he is known in Japan) was created by the legendary Osamu Tezuka back in the 1950s, he was placed in the distant future that would be home to boy robots. And so it was that he was created on April 7, 2003....which means we have all lived long enough to see his birthday.
As the Sydney Morning Herald reported, "Even Triumph Japan, the maker of intimate apparel, has joined in. As part of its program of one-off theme items, it has produced the Astro Boy bra, with the cups in the shape of Astro Boy's head. For what it is worth, he faces away from the wearer,
and unfortunately, his facial features have been omitted. This may have been the moment Astro Boy became Astro Man, but we will never know.