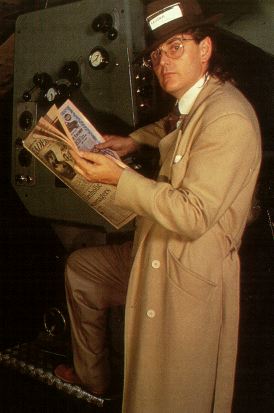 The Home Straight
G'day Folks,
It's 3AM in the Blue Mountains. Carol, Josie and Livinia are asleep and I am sitting in front of the internet... again. I always tell myself to beware of newsletters written at this time of the day and to be particularly wary of those written in the Autumn.
Alas to no avail. It is during this season,when the leaves spin crimson to gold across our darkened forest lawns, that the vagrant moon in the charred clouds sings a special song of solitary beauty to my high dormer window, It never fails to awake in me a peculiar sense of Autumnal melancholy which tends to make me more reflective and resigned than it is ever wise to be in public. Unfortunate but inevitable.
I had intended to spend the year after Ron's death a little more quietly but, as with most of my best laid plans, it didn't quite work out that way.
2004-2005 retaliated by becoming immensely busy instead. Tours to Melbourne, Perth, Tasmania, Rockhampton and of course Tamworth for the festival in January ensued. Lots of new photos at The Gallery
Looking back, the songroad stretches out in a strange looping journey that straggles behind me like a smoke trail viewed from a distance; lazy, drifting, dispersed and strangely dissconnected now, as if it all belonged to someone else.
There are fragments of bright memory, even succintness, that linger with me....writing lyrics in a garden cafe in Burnie in early January, a late afternoon concert in Cobargo with Karen laughing at my fumbling introduction to The Marilyn Monroe song... but so much of it seems dissipated now by the long languid summer that casually intervened. If there was ever any continuity, it can now only be inferred, rather than remembered.
As a consequence, my travel journal, too long neglected, regards me with a certain nagging insistance as the days pass. The voluntary nature of it's agenda gives it's accusations a certain moral indignation that I would more commonly associate with a dust covered bible than an overblown diary. Not that I've written much of anything this year. I haven't even written a newsletter for over 8 months, a fact for which I know I should apologise but can't quite raise the energy.
(Yep...that last bit was pretty damn melancholy and self indulgent. This is going to be a long night.....What would Norman Mailer do?.....more brandy perhaps........gets up....goes to decanter....returns with Waterford snifter suitably refilled with Dorville Brandy...sits at imac... taps tentatively at keyboard...pauses)
Partially such neglect is the result of the constraints of travelling at such a rapid rate and partially it is a result of my demotivated personal headspace since losing Ron.
In my defence, I have, however, immersed myself in recent weeks in finishing the Chess Set Theatre Script which forms part of a large and recently completed upgrade to that Project.
The amended, expanded Interactive, including the script and the Project overview as well asome fairly favourable recent rev iews is now on-line at http://www.patdrummond.net/thechessset/index.html and will be native to the Second Edition. Peter and I are now recording the entire script for online sound streaming later this year. Which means that it is finally finished. Thank heavens.
I should add that, thanks to your overwhelming support for what has been such an exhausting and unusual project, the first edition of The Chess Set has now completely sold out. The second Edition will be available in mid April.
"The Chess Set" certainly grabbed a fair bit attention in the Country and Folk Music Press. Major articles in Cap News , Country Update and Trad and Now sparked enough interest to launch three singles from The Age of Dissent with plans for a further two this year.
That, of course, means more touring. We will be presenting a limited number of Chess Set Theatre Shows in a number of centres around Australia this year including -: The Clarendon Katoomba, The Melbourne Trades Hall, The Yarrawarra Aboriginal Centre, Corindi (near Coffs Harbour) The Merry Muse Folk Club, Canberra in May, At The 'Hats Off Festival' In Tamworth and The Pioneer Valley Country Music Club in Brisbane in July, and at The Illawarra Folk Club In October; all of which will see me covering significant ground again.
I must admit the road has been a bit exhausting lately as the geographic leaps between the shows seem to grow more extreme.
At one level, I suppose that it has been exciting, even flattering, that the demand for the shows has become truly national in the past ten years. Whereas once, my shows were all Sydney based, now it's fairly standard to find myself in Melbourne, one weekend; Brisbane the next and Perth the week after.
Between April and August I will be on the road fairly constantly again and some of distances involved have meant that planes, rather than my truck, have become the standard mode of travel.
On another level, however, it has all come with a cost and a not unexpected one, at that. I always knew that the touring musician's existence was fairly incompatable with the demands of family life...which is why I avoided 'the road' for so long to begin with.
At home, Josie, our darling 'straggler' daughter is now ten and Livinia, our semi resident grandaughter is almost four.
Both of them were less than enthusiastic about my sudden disappearances for weeks on end this last year and I have been forced to reflect that our other three children Matthew (31), Peter (29) and Meghan (23) never had to put up with any extended abscences from me during their childhood.
The 70-80's were a time in which I never travelled at all. At one level I suppose never wanted to; and, at another, I never had to.
The Sydney Pub scene was thriving; the demand for original music was strong and, dare I say it, yes... I was younger and getting to bed after a 3AM lug out from a rock venue was not a problem.

And of course ...there was always Ron, Mal, Wayne, Brooksy, Fiona and the other friends/crew to help.
In the 90's, my natural market became the festivals and the concert circuit. The emphasis on my writing as a journal of my own (and by extension, my nation's) ethical and social life through that decade made for a much more solitary and gypsy existence.