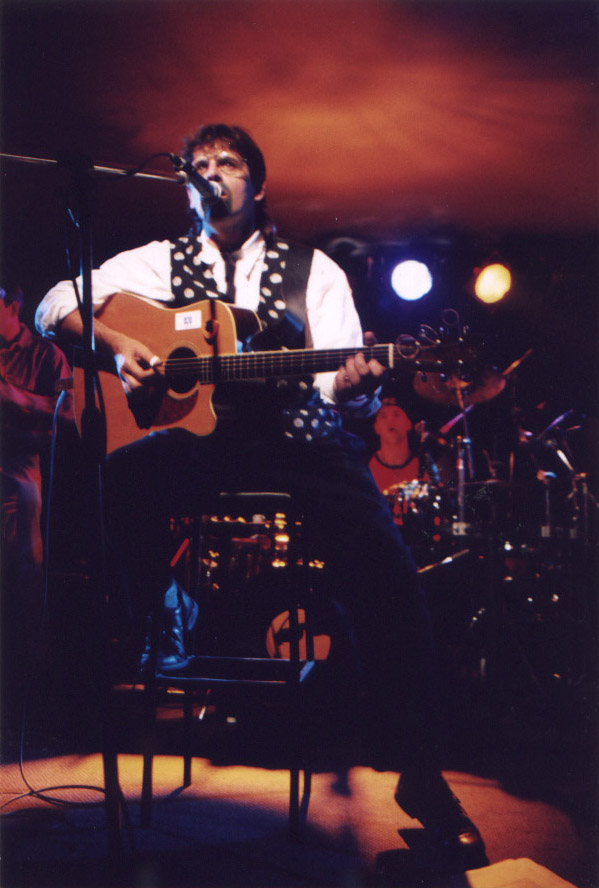 G'day Folks,
Well, The Gympie Muster was an incredible success again this year... and particularly so as a rain-making event. Dubbed locally as 'The Gympie MuDster' the event lived up to its name yet again. I was approached by a farmer in Kilkivan who asked me if it could be arranged to run country music concerts four times a year up there. When I asked him if he was that keen on Country Music, he said, "No, but every time you run that thing it rains, and we can sure use a lot more of that around here!"
Working for Clive and Phyl at the Noble Lake Side Resort on the Gold Coast was also a great experience. Lake Side Resort is one of those new breed of 'over 55' settlements that have sprung up with the aging of the 'baby boomers'.
However, far from being "a detention camp for old people" as I described it on a stage :):):) it was a very vibrant community of people who obviously had a great community spirit. I'm very much looking forward to returning to play there next year, with Karen.
The next night saw the beginning of 'The Naked Poets' third Queensland tour. In conjunction with the release of "Naked Poets 3...Butt Seriously" the tour began in Maryborough and the next four nights took us up and down the Sunshine Coast through Brisbane and Tweed Heads and on to Warwick.
It was a real thrill headlining at Twin Towns to a crowd of nearly 400 people. Warwick, the last night of the tour was also completely sold out.
A Big Thanks to Mary, Clive, Phyl, Julie, Russell and Sandy who organised the shows.
Something like a mix between The Goons and Banjo Patterson, The Naked Poets show has gone from strength to strength over the past two years. Retail Pre sales on 'Naked Poets 3' have been enormous and we now finally have accounts with HMV and Sanity as well as our stalwart supporters at The ABC Shops.
The new album features five singles starting with "Marilyn Monroe was a size 14" and "If I Die Before Keith Richards I'll be Pissed off to the Max"; songs which have been very popular over the last two years."Are you talking to me?", Murray's terrific new poem about a bloke who rings up his 'problem neighbour' and gives him "the Full Serve" only to find that he has rung the local vicar by mistake :):) is probably my favourite from the CD but there are plenty of great moments from Bobby, Shirley, Marco, Bobby and Ray, as well. By September, the support from 4AAA and John Nutting's ABC Saturday Night Country had already had a big impact on sales.
Sadly, what I was not to know, as I drove away at the end of the tour, was that it was the last time I was ever to see Bobby Miller. In what was an enormous shock to us all, our much-loved Naked Poets compatriot, passed away suddenly in November. Bobby , fondly remembered for the 'Bingo', 'The Burglar' and other such classics was a pivotal member of our troupe. His funeral in Maryborough was a moving affair, lots of tears and laughter as would befit one of Australia's funniest and most talented bush poets. The Naked Poets shows in Tamworth this year will feature a special tribute section to our mate, Bob. Our sympathies go to Sandy and the family.
Tributes to Bobby are on The Naked Poets Website at http://www.nakedpoets.com
The trip home was eventful. Travelling East from Warwick, over the hills of Woodenbong in the middle of the night, I almost ran over two young runaways looking for a ride. They had a puppy and a kitten with them and a very little else. What made matters worse was that they were also hopelessly lost. They were trying to get to Dubbo; but had for two days been travelling east toward the coast. All of which sent me off on another of my adventures and complicated my life enormously over the next two days until I was sure that they were safe with a responsible adult ...something no one has ever accused me of being!
Finally back home again, The Galston CM Festival continued it's tradition of beautiful Spring weather and great music on the 8th September. The Bullamakankas, Greg Champion and Carter and Carter were highlights, with other great performances from Wayne Law, Michael King and The Martin Sisters. The Festival has now made over $250,000 for charity since Tony, Vikki, Len, Frank and I, began it five years ago.
It is now doubtlessly Sydney's biggest Country Music Event. Thanks so much to Galston Rotary and to all the artists who have participated since 1997. I've redesigned the Website and it is now open for business at www.galstonfestival.com Check out the photos from this years event.
The Illawarra Folk Festival began the following week. Once again I compered the Children's shows with over1500 children from local schoools descending on the Festival in the early week. It's always a good chance to play some of the kids songs that I've written over the years and to try out new routines and, although sustaining that level of energy is a little tiring over two days, Karen and I had a ball. The shows and workshops towards the end of the week were a complete change of form and a welcome opportunity to showcase the more political material from the last year.
Perhaps the most uproarious event was the 'bad taste' concert where artists were invited to play their worst or most politically incorrect material. It was the only time I have ever been game to play "The Man Who Should Have Handled my Divorce" at a Folk Festival. For those we haven't heard it, it's a 'tongue in cheek' ode to King Henry the Eighth and others whose direct approach to the question of maintainance was bound to make them less than popular with the Family Law Court!!!
Speaking Of politics, 4 years on the board of the CMAA have finally yielded some satisfying results and a complete new judging system for Gold Guitars will be introduced next year. The introduction of Independent Record Company of the Year and the Independent Country Music Entertainer of the Year; a guaranteed performance spot for independents to perform at the Industry Achievers Awards at the Metro this year were also very welcome developments.
Strong safeguards incorporated into our constitution to prevent any conflict of interests in the board's dealings also make me very optimistic and confident about the future of both the awards and the CMAA as a representative membership body.
Karen Lynne and I have had some terrific gigs this last quarter as well. In late May, Karen and I travelled south for a series of shows in Canberra, Melbourne and Phillip Island. It was terrific trip full of great scenery and the wildness of The Southern Ocean; but it finished with a real marathon effort involving one of our great road leaps...from Melbourne to Moree in just 36 hours. After two years on the road together Karen has become a fabulous road musician adept at driving, packing, performing and whipping up a terrific spaghetti sauce late-night in the middle of nowhere; not to mention achieving consumate skill in the ultimate of Road challenges...finding a spare power point for the Curling Wand before the gig!