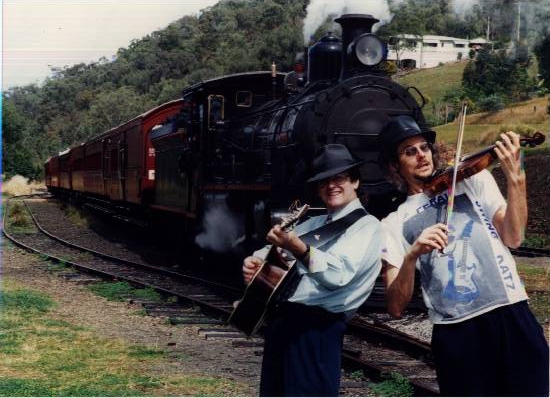 Again as we come down to new year it is diffcult to get any sort of grasp of the old one . Every month seemed to bring a new challenge and a new set of changing circumstances. I am dying to be able to one day write a newsletter which says..."Well not much happened this year.....etc"
The Naked Poets have toured substantially this year with Queensland and Northern NSW trips and with the albums now squarely launching themelves in Western Australia there is mounting pressure to tour there also. Our thanks to John Cecil and hose in the WA ABC and community radio stations for there ongong support. The albums remain gigantic sellers and even the first one shows no sign of flagging even some three years after it' s initial release.
I must say, however, that touring in recent months has become a lot harder for me. A seriously deteriorating condition in my left shoulder ( I m not sure if it's been caused by years of lifting gear of lifting tequila glasses ) has meant that the long drives will probably have to be seriously reduced in the coming years. Sadly some of our long term Sydney venues (such as The Vicar of Wakefield) have also gone through some hard times and have stopped using entertainment altogether which has made things tighter on the work front when we are not touring.
Many acts have also reported smaller crowds with venues generally suffering since Sept 11th, although I think that it's all a little surreal when you consider that Boggabri RSL is probably not a high priority terrorist target. Mind you, I did feel a little more relaxed about the alleged anthrax threat when I discovered that the motel in Lightning Ridge still puts those little strips of paper around the toilet lid to ensure guests personal protection...very hi tech, Murray and I thought.
Speaking of terrorist events, our new grandaughter Livinia is now crawling around the house with all the joy and chaos that this brings. She has taken to following 'Poppy' around the dong the orangataun crawl; a sort of half-sit/half-drag personal version of permbulation. She is contracting all the new baby colds and flues which then systematically gives to everyone else since we have not got the good sense to refuse to pick her up when she is snuffly and miserable.
I am currently lying in bed with the flu she recently gave me and yei... feeling miserable (Couldn't you tell by opening paragraphs?!) Sometimes It seems that the bulk of my current songwriting are songs to sing to her. 'The Baby in the Mirror', ' Poppy is 'THE MAN' (and he gets things done)" and 'I'm Vomiting on my Shoe' are big favorites at our house (at least with her any way)
On the bright side of things our record company " Shoestring" has gone from srength to stregnth with some really significant relases from some of our acts which now number over a dozen.
Allan Caswell 's new album "Caswell Sings Caswell" is a wonderfully refreshing 'Songwriter's own version of the big hits' affair and it has rushed up the European Independent Country Music Charts although predictably it is again " On the Inside" that th DJs have zeroed in on . The original version from the prisoner soundtrack has alrady been No1 twice in the UK. As Allan Jones pointed out in a feature on the album this week, however, there are many other superb tracks on the CD. A must for Country music lovers. '1963' is my own absolute favourite. Barry and I sweated blood on the remastering and it really does sound superb ( although we did forget to credit ourselves on the cover).
The big event this quarter for the Drummond Clan though has definitely been the Seedling project. In an absolutely ground breaking release our three eldest 'kids' Matt (now 28) Pete(26) and Meghan (19) have now released their first CD, an interctive CD ROM extravaganza which when inserted in a CD player plays as normal CD; but when inserted in any computer (Mac or PC) reveals a full multimedia presentation featuring, posters, lyrics, photo shoots, Drum clinics, the full 'Over U' clip featured on ABC 's 'Rage' in recent weeks as well many other behinds the scenes clips that show the various stages in the making of this amazing project. Web links to the soon to be opened notthequestion website with special pages for those who purchased the CD are all in place.
Simon Moor (EMI) and John O'Donnell (Sony) esimated the cost of the clip alone in the $100,000 range and were flabbergsted when told that everything including the software that powers the mutimedia presentations had been created at no cost and entirely by three band themselves. (athough The Polarfleece blue screens which enable the computer animations to be placed were sewn together by Carol)
The music is a delightful accesible blend of acoustic based modern pop with Meghan being the lead writer, vocalist and frontperson. Pete's sound production and multi instrumentation- all using real instuments, have been recorded within his computer generated 'virtual' recording studio and the sound shines. Matthew's guitar lines are unmistakeable and his mastery of computer animation and visual technology continues to amaze us. Anyone who has watched ABC's Quantum, the high tech documentries on The Discovery Channel or the hollywood blockbusters The Matrix or The Red Planet have probably already seen large slabs of his work already.
Pleasant enough on older ears to have had "If I ever" picked up by Music Country TV and modern enough to have been grabbed for airplay as of January with tripleJJJ and ninety6ix.one this probably the ideal Christmas present CD for the 12-25 yr olds in your house. The Interactive will on display at the Harbour cruise. A preview is avaialable at their website notthequestion.com
As if all this wasn't enough, my singing partner Karen Lynne and her husband of two years, Martin Louis have also released a stunning new bluegrass album "Blue Mountain Rain" through our label. This terrific CD is a mix of acoustic country and 1940's bluegrass songs presented in a traditional bluegrass style. Amazing playing from Acoustic Shock and great guest spots from Ian Simpson (ex Flying Emus) blend with beautiful soaring harmonies from Marty and the boys and, as always, the standout feaure....Karen's amazing crystal clear perfectly pitched voice.
Think a blend between The Beverly Hillbillies and The Seekers and you're on track. An absolute honey of an acoustic album delivered beautifully in a much neglected style.
Shoestring is offering a Christmas combination pack comprising 'Blue Mountain Rain', 'Caswell Sings Caswell'and Seedling's 'not the question' for $75.00 including postage a saving of $18.00!
Where has all this left my own recording? Well, sadly rght behind the eight ball. With more than two years from "Six Days" with Karen, Three years from "Through The Cracks" and an unthinkable 5 years since 'Wheels & Wires', my last solo studio effort, all sorts of alarm bells should be ringing... but the welter of Naked Poets projects and the the frenetic activity of the label make it seem that I have been constantly in the studio i that time... and it's not as if I haven't been writing .
The backlog of unrecorded tracks is now enormous; a fact for which I do apoogise. But I am booking ino the studio in February to complete at least of the albums that have been sporadically begun over the last three years so don't give up hope entirely and expect some new product next year.