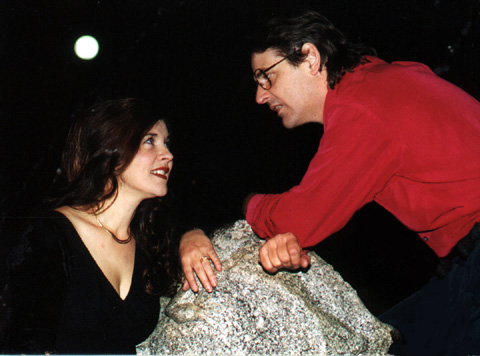 Pat Drummond between a rock and a very bossy place with Karen Lynne!!
Pat and Karen Win TSA Contemporary Country Song Of The Year

G'day Folks,
Wow, a newsletter at last! Sorry, but as you'll see we've had so much happening; the mailout fell through the cracks last quarter.
Following hot on the heels of The Independent Artist of the Year award last year, Shoestring has recieved a string of awards in the wake of the success of "Through The Cracks", "Six Days In December" and the two Naked Poets albums.
"The Rush" from the "Six Days In December" album won the "TSA 2001 Contemporary Country Song Of The Year" Award against a very strong field that included Slim Dusty' s tour de force 'Looking Forward Looking Back' (penned by rock luminary and ex- Cold Chisel Keyboard man Don Walker). Karen and I were absolutely thrilled with the award which was presented at the TSA Awards at Wests Leagues in Tamworth Festival in January.
"Writing for us has always been the main game," said Karen at the Awards, "so this is a great honour indeed." "The Rush", a duet specifically written by Pat and Karen for their duets project had already been awarded both the 2000 Stan Coster Award and The Kerry Flood Memorial Awards last year in Charters Towers.
Naked Poets Clean Up at Bush Laureate Awards
The Naked Poets, the smash hit comedy troupe whose album "Lie..v" racked up sales in the tens of thousands in record shops around Australia this year, won "Album of the Year" and "Best Single Performance" at The Bush Laureate Awards in Tamworth for their sequel album, "Naked Poets 2 newdirections". As the musical end of the troupe and their record producer, I received the Album Of The Year Award on behalf of what has become a 'Dream Team' of comedy Bush Poets. Marco Gliori, Murray Hartin, Shirley Freind, Bobby Miller and Ray Essery who rounded off an amazing year with the Awards blitz. Marco repeated Murray's barnstorming performance with 'Turbulence" last year by taking out 'Best Single Performance' with his tale of outback Olympic chaos, "The Other Homebush Games" in the gala event at Tamworth Town Hall,
As a troupe we toured Queensland coastal centres in March and Early April and it was a great success. Concentrating on the large cultural Centres and ticketed by Ticketek the tour sold out completely in Brisbane and did large numbers at Entertainment Centres along the North Coast. It was rounded off wonderfully by our headlining at The Oracles of The Bush Festival in Tenterfield.
ONYA Internet Award Nomination
Finally in the award stakles our Homepage at http://www.lisp.com.au/~patdrum
has been nominated in The prestigious ONYA internet Awards for the first time. If you have been a visitor to our pages over the past 6 years and would like to vote for us you might like to visit our site again and we''ll direct you to ONYA PAges. We have always kept our site very text-based to allow for quick downloads. Next year however with arrival of ADSL and cable in alot of homes we will be offering a high end site as well.
February/March was spent mainly in the studio. The success of the Naked Poets has led to a substantial expansion of artists on the Shoestring label. New albums for the Naked Poets, Len Knight and Cathy Miller and a new one from ABC radio's Blue The Shearer to be recorded live at the Merry Muse in Canberra on the second and third of August . Len Knight's new album, recorded last year will be launched on Saturday June 23rd at the Travelers Rest Motel in Cessnock.
Cathy Miller, from Canada, has also released a beautiful album' on our label. "One Stitch at a Time" entirely composed of quilting songs. Those of you who loved Karen's version of my song, The Song Of The Quilt on "Six Days InDecember" will find Cathy's album an absolute joy. Marco Gliori also has a new solo offering called "Live Loud and Ludicrous" which will be released at The Gympie Muster in August. The Naked Poets 3... Butt Seriously" album will be released at The Tamworth Festival in 2002
As if that wasn't enough 'the kids' Matthew, 27 Peter, 25 and Meghan 19 under the name 'Seedling' are releasing their first album 'Photographs' in September. It is quite extraordinary. Very current and 'poppy' in its delivery and supported by a group of stunning clips produced by Matthew, the album has already been scheduled for airplay on 96.1 FM, Music Country and Channel V here in Sydney. For those of you who remember their performances as children at The MLC Tavern and The Victoria Cross Bar and wonder how the years have changed them this CD which includes the clips will be available through us from September 1st.
In addition, 'The kids' have been producing other things beside music this last year.

On the home front it's been raining babies!!!

Peter and his wife, Rebecca's ' produced' their 1st child (and our 2nd grandchild). Ethan Isaac Drummond arrived safe and sound at King George the Vth Hospital, Camperdown on Wed, 7 Mar 2001. At 7lb 12oz he was a hefty little tyke and he looks almost exactly like Peter at that age. Rebecca and babe were well and 'over the moon' after a drug free birth.

Meanwhile daughter, Meghan, completely rearranged our house in preparation for the birth of her first child on Tue, 24 Apr 2001. A gorgeous little girl, Livinia Hope Drummond weighing 8lb 7oz was delivered in a very easy (that's easy for a bloke to say!) labour at Blue Mountains Memorial Hospital at 7.40AM. Josie, our straggler is very thrilled to be now three times an aunt at age 6.