Industry, Agency and Bookers Links 2

To help you get what you want quickly. These linkpages are designed to guide you to useful material for your purpose in what has become a fairly large and interactive site. Bookers, Festival Organisers Agents and Journalists looking to promote upcoming gigs might care to download the following items
Older But still significant News.........
Shoestring Records Wins CMAA Independent Record Company Of The Year 2003!!
Record Company of the Year, Independent
Shoestring Records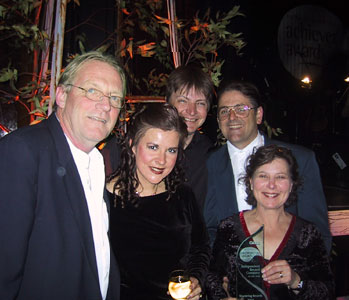 Artists Allan Caswell, Karen Lynne & Mark Tempany
with label owners Carol & Pat Drummond Photos (Photos by Bob Howe)
KASEY CHAMBERS and Carter & Carter have been named Australia's top entertainers at this year's Australian Country Music Achiever Awards in Sydney.
In a repeat of last year's presentations, Kasey was named Toyota Entertainer of the Year for the second year running, as were Carter & Carter with the Independent Entertainer of the Year title (Entertainer of the Year is for acts signed to major labels or distribution while the Independent award is for those without major signing or distribution).
Grenville Turner, owner/operator of leading Australian music distributor One Stop Entertainment, was named winner of the prestigious Industry Achiever Award.
Dynamic record label Compass Bros Records was named winner of the Capital News Major Record Company of the Year award while Shoestring Records won Independent Record Company of the Year.
ABC Music Publishing took out Pages Event Equipment Publishing Company of the Year, also for the second year running, while leading record producer Rod McCormack was named Producer of the Year.
Cori Hopper, a relative newcomer to the country music scene, took out the Country Music Channel Video Director of the Year title while Mike Smith, owner/operator of NfS Publicity and Editor of Country Music Capital News, was named winner of Media Achiever of the Year.
The Brisbane-based Country Music Store took out the Retailer of the Year award, also for the second time running, while Kasey Chambers was named winner of the PPCA (Phonographic Performance Company of Australia) Award for Most Broadcast Country Artist.
Winners were announced during a gala presentation tonight (Monday, September 15) at the Canterbury-Hurlstone Park RSL Club.
.. top : Shoestring Records Allan Caswell, Karen Lynne & Mark Tempany
with label owners Carol & Pat Drummond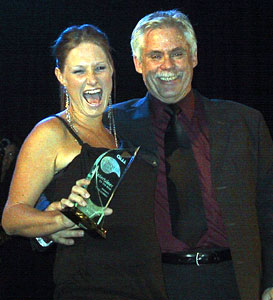 Kasey Chambers and partner Cori Hopper who between them took home three awards;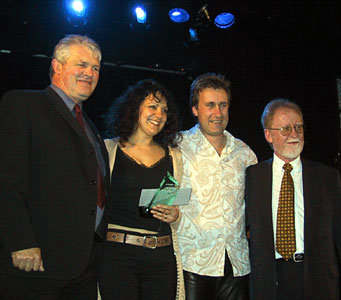 bottom (from left) CMAA Vice President John Arnold with Independent Entertainers of the Year Merelyn and David Carter and Denis McNamara from Canterbuty Hurlstone Park RSL Club.
---
Pat and Andrew Inducted into Australian Country Music Hands Of Fame 2003!!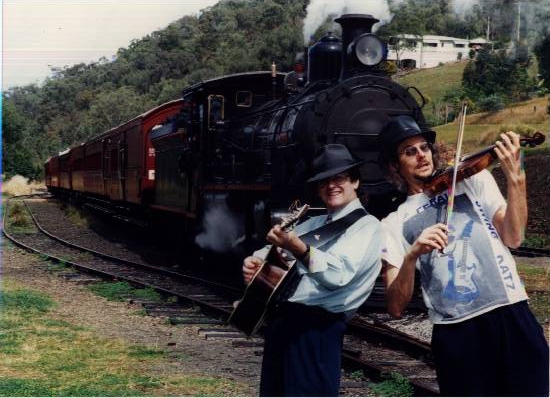 "Six new famous country music names were immortalised in concrete in Country Music Capital's Hands of Fame in Tamworth at the 2003 Awards
The 2003 Hands of Fame names were announced by the Australian Country Music Foundation at the Roll of Renown Concert . They included... Pat Drummond and long time touring partner and friend, Andrew Clermont, Andrew Clermont is one of Australia's best-known country instrumentalists. A multi Golden Guitar finalist, he has travelled all over Australia and the world playing his music and has released a number of albums. Pat Drummond was cited as " a songwriter whose songs about real people capture the Australian spirit and who has had much success as an entertainer and recording artist over the years including being named Independent Artist of the Year at the 2000 Australian Independent Country Music Awards." In a reference to Pat's label, 'Shoestring Records' and his work on the board of Country Music Association of Australia, Presenter Jim Brown also stated that Pat "had done more than any other artist to heal the divisions between Independents and Signed artists in Australian Country Music."
The Country Music Hands Of Fame Cornerstone was established in Tamworth, Australia's Country Music Capital, in 1977 as a tribute to people who had made a name for themselves in Australian country music. Inductees are determined by the Australian Country Music Foundation (ACMF) on behalf of Tamworth City Council and announced at the annual Roll of Renown Concert during the January country music festival in Tamworth. The cornerstone is located in Hands of Fame Park (originally CWA Park) at the corner of Kable Avenue and Brisbane Street, Tamworth. Hand imprinting takes place during the annual Carlton Tamworth Country Music Festival each January on the main Saturday of the Festival at 9.15am
---
Naked Poets win Bush Laureate Award Album Of The Year 2003!!
The other major award came when Naked Poets 3 won "Album Of The Year" at The 2003 Bush Laureate Awards completing the hatrick for these amazingly successful albums. A capacity audience in Tamworth's famous Town Hall witnessed the seventh annual presentation of the Awards .
As The Northern Daily Leader reported
"In a moving tribute to the late Bobby Miller, the group's producer and singer/songwriter member Pat Drummond, flanked by his fellow Naked Poets and Sandy Miller, told the capacity audience
"Country music is rich in tales of families who become acts and go on to become successful businesses. No less wonderful, however, are those acts that start as businesses and go on to become families. This was very much the case with Naked Poets. There is no doubt that our family has suffered a massive loss this year with the passing of Poetry Legend, Bobby Miller. But Bobby will never be entirely lost to us. He lives on in the albums we recorded together; he lives on in the poems and songs that he left us; poems that are constantly recited by fledgling Bush Poets around the nation. He lives on in the Spirit of the Bush Poetry fraternity and he will live on in the people you see standing beside me on this stage tonight. This One's for you, Bob." The poets presented the Award to Sandy Miller, Bobby's wife.
---
Pat and Karen Win TSA Contemporary Country Song Of The Year 2001

"The Rush" from the "Six Days In December" album has won the "TSA 2001 Contemporary Country Song Of The Year" Award against a very strong field that included Slim Dusty' s tour de force 'Looking Forward Looking Back' (penned by rock luminary and ex- Cold Chisel Keyboard man Don Walker). Karen and Pat were absolutely thrilled with the award which was presented at the TSA Awards at Wests Leagues in Tamworth Festival in January. "Writing for us has always been the main game," said Pat at the Awards, "so this is a great honour indeed." "The Rush", a duet specifically written by Pat and Karen for their duets project had already been awarded both the 2000 Stan Coster Award and The Kerry Flood Memorial Awards last year in Charters Towers .
---

Pat Wins Independent Country Music Artist Of The Year 2000!!
Pat at The National Broadcast of The Australian Independent Country Music Awards
"Outstanding singer/songwriter Pat Drummond was selected as Independent Artist of the Year in a popular decision which paid
tribute to Pat's amazing recording output in the last 12 months with three solo or collaboration albums, a heavy touring schedule and a total commitment to the Independent sector of the Australian country music industry."(Cap News)
---

What's Hot? Current Items of Promotional interest
---
Naked Poets Clean Up at Bush Laureate Awards
---
Naked Poets Tour of Queensland
The Naked Poets , tour Victoria NSW and Queens land in May; following up last years highly succesful national tour. That tour which concentrated on the large Regional cultural Centres and ticketed by Ticketek saw them selling out completely in Brisbane and doing large numbers at Entertainment Centres along the North Coast. Tour photos at http://www.nakedpoets.com
---
Samples
Discography
Soundbytes
Lyrics
Opinion- Pat's Editorials on Australian issues
Life imitates Art- Pat interviews other writers for The Local Rag
---
Special Packages
The Community Concert Program - An innovative Fundraiser Concert Programme for School Sports Church and Charity groups
---
Current Gig Guide

---
Galston Country Music Festival
About The Galston Country Music Festival...
---
Shoestring Productions Pty Ltd
P.O. Box 7013, Leura
N.S.W. 2780 AUSTRALIA
Phone: 02 4788 1157
mobile 0407 891 466
N.B. International callers should replace 02 with 61 2
or email us at : patdrum@lisp.com.au for prices, a bigger photo file,for answers to specific interview questions or regarding submissions for The Galston Country Music Festival
---
Return to Pat Drummond's Home Page / Back To Industry Booker's Page Current