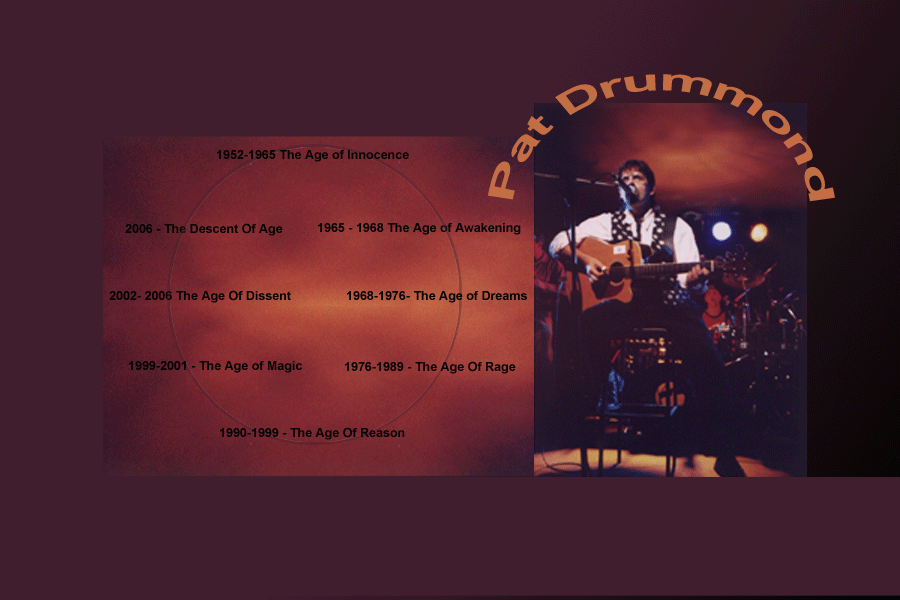 The Age Of Innocence
Relevant Albums "The Shark In The Bath and Other Tails" SR 80
Relevant Links
Related Writings photos and Reviews
Born Patrick Edward Drummond on Apr. 2nd, 1952 at Macdonaldtown, NSW,
He went to school at Holy Innocents Infants School, Croydon where his parents moved in the late fifties, and then to De la Salle, Ashfield where he remained until 1967.
In the mid sixties, Pat began working in acoustic bands with his brothers. Ron, Danny, Geoff and Steve.
Growing up during the height of the acoustic music folkboom in Sydney, The Drummond brothers were drawn to the close harmony work of Peter, Paul and Mary, Simon and Garfunkel and The Everly Brothers. Under the influence of their eldest brother, Ron, they were drawn into the Folk scene at the PACT FOLK centre in the old Corn Exchange building in Sussex Street, Sydney and later in YMCA Cellar In Liverpool Street. Their heroes were people like Mike McClellan, Doug Ashdown, Gary Shearston, Marion Henderson, Jeannie Lewis and Margaret Roadknight who played the Folk venues of the era.
Sneaking out with his older brothers to 'The Square' coffee house in Strathfield, the brothers were regulars at gigs featuring Phyl Lobl, The Charade, Warren Fahey and many other folk luminaries.
In time, Ron and his brothers including Pat, along with 12 string guitar whiz kid, Fred Pilcher, formed a Folk/Jug Band called "Toot, Whistle, Plunk and Boom" (from Ward Kimball's 1953 Disney animation classic 'Adventures In Music'), which with the support of Frank and Marion French, 'the most influential promoters of Sydney's Folk boom' worked very successfully in those venues.
Fred taught Pat the basics of double thumb ragtime picking and the dye was well and truly cast. With Pat on a capoed fingerstyle F100 six string Maton, Geoff on a Maton Bindara acoustic Bass that Ron had bought and Fred on an open Maton F150 12 string the richly woven sound provided the perfect background to Ron and Danny's lead vocals.
The enormous five-way harmony sound of the band attracted immediate attention and the boys were approached by Philips Records to sign as 'The New Seekers', on the condition that Ron and Danny were replaced by two girl vocalists of the company's choosing . It was to be the first, but by no means the last time, that Pat and Geoff told a multi national recording company to simply get lost.
The brothers were inseperable.
Over time, Pat and Geoff became the main writers for the band while Fred worked overtime as guitar tutor, harmony trainer and the general social glue in what was often a fiesty family mix. (Return to Top/Main Menu)
The Age Of Awakening
Relevant Albums "Skooldaze"
Relevant Links
Related Writings photos and Reviews
After what were very happy years in Infants and Primary School, Pat's Junior High School (7-10) years became very difficult and threatening. Although he graduated as Dux of his grade in Primary school throughout junior high school he became seriously alienated and his work and behaviour rapidly deteriorated. He finished junior high in the bottom streams of his grade. Throughout this time he was violently bullied by a gang of other similarly alienated boys and this became a structural long term problem eventually resulting in his near drowning at Ashfield Pool in 1967.
Many of these experiences were later to became the basis of his Rock Opera "Skooldaze" released in 1986.
After completing junior high, his life improved a little as many of his more violent tormenters left school to persue apprenticeships. Pat continued with just enough of his grades intact to enter Senior High but his activist nature brought him again into conflict...this time with the new college administration itself over their withdrawal of certain privileges for Senior School students.
As a result of organising a 'work to rule' student campaign in what is now Year 11, he was ordered to submit to corporal punishment (The Strap). He refused to allow himself to be 'assaulted', and was expelled.
Literally, the next day he landed a job and went on to spend 2 years working for an essence manufacturer, Alfred Lawrence and Company in Sussex Street, Sydney as a clerk.
Meanwhile, unknown to him a group of dissident teachers from his former college who had been disturbed by the circumstances of his expulsion had submitted his name for a scholarship to a newly established De la Salle 'progressive' college in Bankstown called Benilde.
Returning home from work one night late in the year, he was handed a letter by his mother that offered him the opportunity to return to Senior High and matriculate. He accepted and completed his Higher School Certificate at Benilde in 1970. Re-involving himself in student politics during this time, he ran for election and served on the newly established School Council for the full two years that he was there.
More importantly it was here he also came under the influence of Bros. Martin Blackman and Bros. Pat McCarthy who were to be enormous and positive influences on his life and it was also here that he first met his life long friend and wife-to-be, Carol Gronlund, who was attending a secretarial college near Benilde.
After graduation Pat joined radical Christian Communes at Pemmel St, Newtown and then in Dick Street, Chippendale immersing himself in the fiery student politics of the Vietnam era.
Throughout these years, Pat continued working in folk and pop bands with his brothers. Ron, Danny, Geoff and Steve. By now the influences also included Bob Dylan, Judy Collins, Woody and Arlo Guthrie.
At the height of the Vietnam War, Pat joined the draft resistance movement. In the full knowlege that the inevitable result was to be an 18 months prison sentence, he publicly refused to register for military service; and took the further provocative action of presenting himself to the Draft board as an anti-war activist . Proceedings were immediately instituted against him. In the period leading up to his trial, he and his brothers played a number of large anti-war rallies in and around Sydney, notably at Victoria Park and The Domain. He also appeared at 'demos' at universities in Brisbane and across Regional NSW. (Letter To ADB)
After a period of seperation brought on by Pat's uncertainty about his future, it was during this time that he and Carol finally married. Whether imprisonment lay ahead for Pat or not, they decided that they would face whatever the future held together. Fate, as it turned out, was destined to be kind.
A year later, by the time Pat's prosecution had progressed to 'Stage One' the couple had had their first child, Matthew.
At his trial Pat refused to recognise the validity of the National Service ACT and on that basis refused to plead. He was found guilty of intentionally failing to Register for the Draft and convicted.
But, as things turned out, Pat was never gaoled. The long awaited political change that The Draft Resistors Union and so many others had fought so long and hard for, finally swept across Australia in 1972. The Whitlam Labor government swept to power the very week Pat was due to begin his sentence and it was quashed by the incoming government.
Ironically, although Pat was never to serve one day in prison, the magistrate who sentenced him was not to be so fortunate.
Years later, Chief Magistrate Murray Farquhar was found guilty of attempting to pervert the course of justice and was sentenced to four years in Gaol. His alleged role in a series of corruption scandals with the infamous Sgt. Roger Rogerson and the unprecedented abuse of police powers in NSW later became the subject of the ABC series "Blue Murder". (Return to Top/Main Menu)
Whitlam/ Murphy Press Release / Pat's Letter From Lionel Murphy / Draft Resistance/


The Age Of Dreams
Relevant Albums "The Early Years 1971-1975" - "What You See is What You Get"
Relevant Links
Related Writings photos and Reviews
Following the withdrawal of Australian troops from Vietnam by The Whitlam Government Pat and Carol returned to a calmer domestic life. Pat landed a regular job as an employee of the MLC Insurance Company for about a year, but found he could not settle. In 1973 he applied for and was awarded a teaching scholarship to Westmead Teachers College (later Nepean CAE and eventually The University Of Western Sydney)
At College he took the lead roles in a number of musicals and greatly expanded his skills in composition. Dr Carlene Pierie was very influenial on his views on the education process at this time.
Reconnecting with his Benilde college mate, Peter Hunt (later Dr. Peter Hunt, noted Evironmentalist and ABC Radio's 'Earth Worm' presenter and founder). Pat began to write and score original orchestral music for Weddings and Masses and set about assembling a 26 piece orchestra called The Haymarket Players expressly for the purpose.
With he and his brothers on guitar and Vocals, Peter on Flute, Glen Barwick on Electric guitar, Ivor Davies (later of Icehouse) on oboe and Bernard James as concert master, they wove together a community of McCoys, McFaddens and Millers as string players, some of whom would later form the basis of notable Sydney folk rock band, Hatrick.
Together, Pat and Peter wrote and orchestrated masses at St Peter Julian's Catholic Church in the Haymarket for over three years. Under the influence of their young friend , Father Peter Collins, these masses were groundbreaking and are now widely regarded as having been the first Rockmasses ever staged in Sydney.
With so many 'Peters' in the mix it was no wonder that Pat and Carol named their second son, born during this time... Peter.
And with so much music in the blood it was also little wonder that Pete Drummond would one day grow up to be regarded as one of Australia's finest drummers.
Throughout these years, Pat continued working in acoustic and electric bands with his brothers. Ron, Danny, Geoff and Steve. Now it was Ralph McTell, Joni Mtchell, Jim Croche and Jimmy Buffet that were the dominant influences so it was almost inevitable when the Wine Bar circuit appeared in Sydney in the late 1970's that Pat would be drawns to that scene also. The Wine Bars shared a common intimacy and size with the coffee houses of the Folk boom's early years.
Pat's direction, however, had changed and although the comedy and originality was still there, now the emphasis was most definitely Rock.
And it would be as a soloist that Pat would achieve a new level of notoriety. (Return to Top/Main Menu)
The Age Of Rage
Relevant Albums " The Age Of Rage- Live At The Rest Hotel 1976-1989" SR 5&6
"Pat Drummond - A Sampler" SRT 7
Relevant Links
Related Writings photos and Reviews
While training as a teacher in late 1976, Drummond and his friends went to see (a then unknown) Paul Kelly from Melbourne who was booked to play The Journey's End Wine Bar in Forbes Street, Woolloomooloo. A Kelly no-show sent Pat's fellow draft resister, go-getter friend (and future Nuclear Disarmament Party Senator) Robert Wood into action. Wood soon tapped him on the shoulder and told him: 'You're on.' Seven years later, Pat Drummond was still performing there every Sunday.
'It was just an accident. I went to see Paul Kelly play, he didn't turn up,' Pat says now of how a three-decade fulltime music career got started. It may have begun as an accident, but Pat Drummond's one-man shows went on to become the stuff of legend, most infamously at The Rest Hotel, nestled beside the northern exit of the Sydney Harbour Bridge. It was there that Drummond took the 'stage' on Friday nights for more than a decade and recorded a live album that captured the last gasp of an older Sydney.
In the late 70's and early 80's, Pat became renowned for writing what were effectively musical mini-operas that included whole sections scripted for and performed by the crowds.
Although the music was actually ' folk rock', it was a very punk philosophy of performing in which the whole emphasis was on breaking down the' barrier' between the crowd and the stage. Self effacing and comic, Drummond's personal style was an approach that audiences instantly recognised as 'anti cool' and it came as a refreshing relief from the scowling self obsession of 70's and 80's Rock.

Unafraid of the emerging technology Pat immersed himself in developing the punchiest Solo show ever seen in Sydney. Mounds of Phase Linears, J.B.L.'s, equalisation and effects somehow squeezed onto tiny stages. Tearing the guts out of a defunct Hammond Organ to build a prototype, he introduced drum synths into Sydney venues, weathered a storm of criticism from 'purist' musicians (many of whom now also use them) and within six months had dominated the scene totally.
For many in Sydney, Pat's Rest Hotel residency was to become a 'rite of passage' and the pub saw well over three hundred thousand fans pass through it's doors during it's decade long run. The night before it's demolition 'in the mid eighties the whole amazing soundscape was captured on the Double CD, 'Live at The Rest Hotel' in a gig that saw over 2000 people turn up to a pub that only held 350; and traffic brought to a standstill in the surrounding North Sydney streets.
(Onstage Photo Gallery and Reviews 1976-1989)
While he was 'accidentally' having a highly successful performance career, Pat Drummond also managed to 'accidentally' help invent the truly independent record in this country.
'When I went to CBS (now Sony) they'd never heard of anyone putting out their own album, let alone buying 5000 of them,' he says of the early vinyl cuts that established his successful country/ folk label Shoestring Records. 'I wasn't trying to pioneer an industry, it was another accident but it worked out, so I guess other people began doing it as well.'
By 1979 the bars had become too small and Pat moved into the Rock venues. Selina's, Didi's, The Tivoli, The Betsy...few escaped Pat's unique blend of Rock/Humour.
His contribution to the reintroduction of comedy into Rock venues was recognised early by Rodney Rude who invited him to perform at the Comedy Store soon after its inception in early 1980.
Two albums ("What you See is What You Get" & "Pat Drummond") spread his appeal further, but Pat was still looking for opportunities to advance his writing.
In 1983 he began work on the Rock Opera "Skooldaze". Pat's total dedication to live performance made it imperative, however, that every song work live. To this end "Skooldaze" was literally written on the road; new songs being added night by night; formats changed; comedy and characters rewritten as necessary with one aim only... to produce a larger work with the same sense of inherent fun and vision which has characterised everything Pat has done.
Using a six piece band including his brothers, Steve and Ron, along with Michael Smith (ex Scandal) on Bass and George Faithful a budding part time stand up comedian on keyboards they staged the show in most of the major Sydney venues, working both as a headliner and as support to Marcia Hines, Cold Chisel and the Radiators. By Jan 1985 the lineup had expanded to include Aldo Civitico on Drums which liberated Steve to take a more active role in the performance of what was rapidly becoming a full blown Rock opera. David Scotland joined soon after as the final lead guitarist in the show, replacing Chris Phantom. The result of that effort was an Album called "Skooldaze" recorded and produced by Richard Batchens (Cold Chisel, Richard Clapton etc.) which was released in May 1985.
The album was well received but the strains of touring a band as well the financial constraints of keeping such a large operation on the road saw the eventual demise of the concept in mid 1986
In September 1985 Pat was invited to join the Bushwackers as guest guitar player during Tommy Emmanuel's absence, and in January 1986 shared a spectacularly successful East Coast Tour with Redgum. (Photos here)
1986 also saw Pat and close friend at the time, Roger Corbett (Bass player with the Bushwackers) instituting and organising the Contemporary Acoustic Performers Organisation. This influential Association included the cream of the Acoustic music industry in New South Wales and staged joint concerts every month featuring high quality performers such as Judy Small, Trevor Knight, Hattrick, Allan Caswell, Margaret Roadknight, Skewiff etc......
That same year Pat also began "Currawong", (Photos here) an acoustic band which attracted considerable and favourable comment in Venues around The Blue Mountains where Pat with his wife, Carol and their children had settled. Featuring Dawn Egan (Irish Harp and Vocals) Nigel Foote (Acoustic Guitars and Vocals) Ron Drummond (Vocals) and Pat (Guitars, Sequenced Synthesisers, Drum machines and Vocals) the band was an elegant and gentle mixture of traditional and original folk music with an unexpectedly modern sound. Soaring harmonies and a delightful blending of different influences made it an irresistible combination at the Summer Fairs that the band found to be their natural niche.
January 1987 also saw Pat teamed with Malcolm McCallum (another successful solo performer and a regular on the Ray Martin Show) for what would prove to be a pivital nationwide Tour which introduced him to British Singer/Songwriter Ralph McTell. Taking in all the capital cities and a few of the larger country towns this tour brought Pat's formidable talents as a writer to an even wider audience. (Photo)
After this tour he was invited to contribute to the Larikin compilation album "Never Underestimate the Power of a Song", an album which drew on the talents of Australia's finest writers including Eric Bogle, Redgum, Judy Small, Doug Ashdown and Nigel Foote. This album was released in December 1987.
The tour was the beginning of a renewed interest in concert performance for Pat which was to prove overwhelming in the following years. Returning to Sydney's Pub circuit he continued to the Solo Show format which first established his popularity and by 1988 had staged his 2500th Solo performance but with the decline of the Pub Music circuit in general and his own growing desire to return to concert work it was clear that change was in the wind.

March 1989 saw the release of the Live Double Set "The Age Of Rage - Live At the Rest Hotel" , recorded before the end of Pat's record- breaking residency at the famous city venue which was demolished in that year. "The Age of Rage" was an groundbreaking recording, which demonstrated Pat's superb rapport with any audience and would become his largest selling album yet with over half the initial run selling out on release.
His first album which had been released in 1979 had showcased his writing and the storytelling style was very evident in songs like 'Macca McCoy ' and despite changes in musical style throughout the decade, this had remained a constant thread in over a dozen LP's, singles and CDs he had released in the ensuing years. It was now about to come to the fore again.
By the time the Rest Hotel had been demolished, Drummond had built up a tremendous personal following which had remained very loyal but even the most loyal of fans were not quite prepared for the radical shift that now seemed underway.
The live performances, once very party-like in structure, took on a more serious and even earnest tone. Some of his former fans had difficulty with these changes and attendances at his pub based venues began to decline.
But if this new incarnation confused or concerned many in his university and pub based following, it found a strong resonance with festival audiences and Pat's reputation as a formidable and passionate songwriter began to grow strongly in this market over the following twelve months. (Return to Top/Main Menu)
The Age Of Reason
Relevant Albums "Tales From The Local Rag" - "Laughter Like A Shield" - "Of Wheels And Wires" - "Through The Cracks"
Relevant Links
Related Writings photos and Reviews
The saturation media attention that accompanied the demise of the Rest Hotel and it's epic and utimately successful, if posthumous, legal battle with Australian business tycoon, Alan Bond, had also brought Pat to the attention of Tim Kirkland and Maree Morris at Peak Promotions.
They assumed his management and under their influence he was invited to perform at The Longyard and Buttercup Concerts at The Tamworth Country Music Festival in 1989.
Australian Country Music was going through a metamorphosis itself during those years as it struggled to find it's own Australian style and attempted to develop a more contemporary image. Australian nationalism through the music of John Williamson, The Bushwackers and Ted Egan was having a resurgence in Bicentenniel Year of European Settlement and Pat's music seemed to fit easily into this genre with it's stories of heroism and stoicism; what Bruce Elder called a 'gritty realism....An Australian Damon Runyon style." For Morris and Kirkland, Pat was the logical successor to Williamson, an act they had part-managed in the early 1980's and whose agency work they retained until 1988.
It was also through the influence of Kirkland and Morris that Drummond was signed to Music Sales Publishing Australia in 1989 in a deal which brought him a substantial advance, enabling him to mount a full studio album the following year.

With the release of his "Tales from the Local Rag' in 1990, Pat adopted the on-stage persona of a 1940's newspaperman (complete with a 'Tamworth Daily Leader' press card in the hat band), highlighting the narrative nature of many of his 'true story' songs. It was theatrical and dramatic move that firmly associated him with the Australian Folk and Country Music fraternity.
In what was an untried and ground breaking strategy, he began to 'live out the part' through a series of erratic tours across Australia working for community based organisations, schools, preschools, Toy Libraries, church groups and service clubs staging fundraising concerts. From Pat's point of view they were a conscious attempt to break the inevitable connection that had grown up between the entertainment and alcohol industries, as well as being a tremendous forum for meeting a broad cross section of Australians and gathering the kind of stories that were to become the basis of the next 5 albums.
On stage and off he dressed at The Reporter for his fictional paper, 'The Local Rag', interviewing at every opportunity those who subsequently became the subjects of his songs.
The tours were remarkably succesful. In1996 South Dubbo Rotary sold over six hundred tickets to one of Pat's show at Dundullimall Homestead in Dubbo. By involving local media and community networking the financial outcomes for these groups and their recipient charities proved to be excellent. So successful were some of these fundraiser concerts that they sometimes became the springboard for the development of whole tours or even festivals as was the case with The VISE Tours, The Dubbo Ralston Homes Country Concert and most spectacularly The Galston Country Music Festival which became Sydney's largest Country Music Event.
The exercise was highly innovative and successful at a performance level but more importantly it became the means by which he gathered the community based true stories which became the basis of the "Tales from The Local Rag" Show
Eric Bogle, Australia's Premier folk writer of the time summed Pat up as "an original and witty songwriter. His deft lyrical and melodic touch, allied to his clear-eyed yet compassionate view of the human condition ensures that his songs have a quality that sets them apart from, and above, most other songs you will hear."
By 1993 he had been Joint Winner of Male Vocal of the Year at the Australian Bush Music Festival and was Grand Finalist for Album of the Year, Producer of the Year, Heritage Award and Country Song of the Year in the Toyota CMAA Australian Country Music Awards(The Golden Guitars).
International tours to New Zealand and Japan, representing Australia, and another National tour with England's premier songwriter Ralph McTell, this time solo, further enhanced his reputation as a formidable writer and entertainer.
For those who saw Drummond on stage during this period the reasons were obvious. He was first and foremost a communicator who wrote true stories about characters that were instantly recognisable; characters whose experiences reflected the lives of just about every Australian, from the sophisticated city-dwellers of the Double Bay social set to the no-nonsense bush people of The Outback.
Perhaps it was that common touch, that sense of what it was to be an Australian which ran through all his work, that made his songs so accessible. He was, at the same time, a performer with an innate sense of fun and an astonishing capacity to entertain and involve an audience, and a songwriter, whose passionate commitment to his country and its people, produced songs which were often more like one-act plays, concise and self contained; detailed social snapshots of ordinary Australians caught in the act of living.
The albums released during this period were, in order, 'Tales From The Local Rag', 'Laughter Like A Shield'. 'Of Wheels and Wires' and 'Through The Cracks'
Photo Gallery 1989-2006 / Newsletters 1989-2006 / (Return to Top/Main Menu)
The Age Of Magic
Relevant Albums "Six Days In December" - "Naked Poets 1 lie....v" - "Naked Poets2 newdirections"
- "Naked Poets 3 butt...seriously" - "Naked Poets 4 swingin'ockers"
Relevant Links
Related Writings photos and Reviews
Throughout the late nineties Pat became regular performer at Folk, Bush and Country Music Festivals around the country and in October 2000 he was awarded the Australian Independent Country Music Artist of the Year;
At The prestigious Mildura Awards which were broadcast across Australia where he was presented with the award, Pat was described as -:
"part journalist , part singer; a songwriter whose passionate commitment to Australia and her people has captured the face of this country in Song; and for whom the year 2000 has been his most prolific yet.
His own solo album "Through the Cracks", received nominations for Song of the Year in the Australian Country Music "Golden Guitar" Awards and his last release, a delightful if somewhat unusual collaboration album with Karen Lynne, brought an entirely new and somewhat romantic side of his writing to the attention of Country Music fans.
Finally, to top his year off, Pat has been an integral part of the "Naked Poets" comedy/poetry troupe whose phenomenally successful comedy album "The Naked Poets Lie..v" and Naked Poets 2...newdirections have barnstormed the country charts recently becoming the most ordered album in ABC Shops and centres around the country."
The same year Pat also became winner of the TSA Song First The Song Awards; at one time holding both the Stan Coster and Kerry Flood Memorial Awards.
It was big year for Drummond. At The National Folk Festival that year Pat also celebrated his 4000th performance publishing the full list on his ever expanding WEB site.
Pat's association with vocalist Karen Lynne (Frencham) also blossomed during this period. Their association had begun in 1998 when Pat had been sent a Demo of her debut album, "Labour Of Love" and signed her to the Shoestring Label.
Drummond was enormously impressed with her crystal clear voice and what he described as ' an aching vulnerability' in what he still insists is country music's finest voice. He began making regular trips to the South Coast to perform with her at Shellharbour workers Club and at Folk and Country venues and festivals. By 2000 she and her new husband, banjo virtuoso, Martin Louis had moved to the Blue Mountains and the creative partnership bloomed. During the next few years, Pat and Karen toured extensively together an working relationship that culminated in the recording of a romantic duo album produced by legendary Australian Country Producer Rod Coe, called "Six Days in December".
Pat and Karen On The Road Photo Gallery 1998-2005
As songwriters, their 2001 award for Contemporary Country Song of the Year with a co-written duet called "The Rush", left the pair jubilant. This song was the first single from their duet album 'Six Days in December' had previously taken out 2 sections of the Queensland Songwriting competition and prevailed in a strong field which included Slim Dustys tour de force, "Looking Forward, Looking Back" penned by ex Cold Chisel veteran Don Walker.
Meanwhile yet another strand in Drummonds remarkable career was about to deliver his most outlandish and unexpected success to date. Since "Laughter Like A Shield" in 1993 each of Pat's albums had incorporated at least one poem with his "Wheels and Wires" CD(1996) yeilding the strikingly beautiful "Colours Of The Cross" . By 1998 Pat's long standing interest in spoken word led to what was to be a gigantically successful association with The Naked Poets; a gathering of 5 of Bush Poetry's preeminent comedic performers .
The group featuring Marco Gliori, Shirley Friend, Murray Hartin, Ray Essery and Bobby Miller first performed with Pat at The Tamworth Golf Club in 1998- 1999 where the first recordings of their performances were made.
Again it was Pat's fascination with new technologies that led to his recording their combined show on a digital mini disc. The subsequent files were substantially edited, time aligned and enhanced using Apple Macintosh computers and The Pro Tools editing suites at Barry Henniger's Soundview studios in Wentworth Falls. Barry and Pat shared a common love of Apple Macintosh computers since their inception and had worked together sporadically over twenty years; Barry having laid Pat's first recorded tracks at his home studio in Warrawee during the early 1970's when Pat was at Teachers College.
The total initial recording budget for Naked Poets lie...v was less than $30.00. With subsequent studio and manfacturing costs the entire outlay for 1200 units delivered was $6,000.00.
What followed, however, was nothing less than a market phenomenon with the Lie...v (Naked Poets 1) album becoming the most ordered item in ABC Shops and Centres across Australia several times the following year. With sales in the tens of thousands nationally it would have been a significant release for any major Austraian label but for Pat and his wife Carol's independent record company, Shoestring, it was an overwhelming success.
The hit single, Murray Hartin's, "Turbulence" went on to win The Australian Bush Laureate Award - Best Single Performance in 2000.
The following year, the Naked Poet's second album, Newdirections followed up by winning both the Album of the Year category and Best Single Performance for a poem written & performed by Marco Gliori.
The runaway success of these albums at a retail level greatly expanded Shoestring's operations as record comapny and led to the radical development of it's roster. By 2002, the company had a roster of 32 albums, was representing 10 acts and was supplying over 600 shops across the breadth of the Australia.
Pat was inducted into the Australian Country Music Hands of Fame in 2003, the same year that Shoestring was awarded 'Country Music Independent Record Company of the Year' at the gala Industry Achievers Awards in Sydney. (2003 A year Of Awards)
The Age Of Dissent
Relevant Albums - "The Chess Set Part 1 - The Age of Dissent" SR 50
Relevant Links
Related Writings photos and Reviews
What next? Well politics it seemed. During the late nineties, Pat had become more concerned about what he percieved to be the manipulation of The Country Music Association of Australia by a few major record Company and Agency interests. In an Association where over the 80% of the membership were not associated with these industry sectors, Pat was determined to make the peak body more representative of it's core membership.
He was elected to the Board of The Country Music Association of Australia in November 1999, in somewhat fiesty political circumstances, and became a fierce advocate for the Independents within that national organisation throughout the early years of the next decade.
His early use of the internet as a medium to garner and focus political action was probably the most innovative thing ever to happen to CMAA politics in those years.
Major developments for the Independents over the next few years were the establishment of The CMAA Independent Sub Committee to advise the Board on matters important to independents; the establishment of a guaranteed place on The Industry Achiever Awards for Independent Performers; the establishment of the Independents Hoedown Concert at The Hats Off Festival in Tamworth in June (which outsold the Fanfest Concert staged by the majors!) and the removal of membership numbers from voting slips to assure the integrity of Board elections.
The implementation of a one tiered voting system for the Industry Achiever Awards; the establishment of the CMAA Independent Country Music Entertainer of the Year Award, and the Independent Record Company of the Year Award, were also major gains in prestige and recognition for the independent sector.
At The 2001 AGM a motion amending the CMAA's constitution was successfully moved by Pat which formally required Board members to declare their interest in; and to refrain from voting on; matters which affected their own pecuniary interests. Over the next four years the balance on the CMAA board policy came to reflect a broader representation of the Country Music Industry and it's membership.
Drummond's political effectiveness at board level, and that of several likeminded co-directors, was perhaps most dramatically underlined by the resignations from the board of many of the formerly dominant industry players and the subsequent formation their own industry body to exclusively represent their interests; a move which effectively ended their previous domination of the CMAA Board. The judging system for the Golden Guitars was completely restructured in 2003 from a model drafted by Pat with amendments by Nick Erby and other members of the Judging Subcommittee.
And the music? Well..... politics it seemed was now the order of the day and his next logical incarnation.
In 2001, restless yet again, Pat confronted his following with an astonishing bipolar theatrical metamorphosis... The Chess Set, which created not one, but two new characters. Dressed half in white ... half in black.... with half a beard, Pat began an in-depth musical examination of the political divisions that had emerged throughout Australia in the first half of the current decade. His website featured a series controversial Editorials which brought fiery responses from all over the world.
In a series of highly political songs which seemed almost calculated to completely alienate his conservative country music following, The Left Wing Black Knight and The Right Wing White Knight took up the cudgels over issues such as Australia's involvement in The Iraq War, the controversial Refugee detention centres, The History Wars, Reconciliation and more..
For those who had been drawn to his comedic appartion in the Naked Poets it was a very challenging contrast. A double boxed interactive CD which featured 26 new songs and enough script, background briefing and political speeches to fill a book, was released in 2004-2005 and Pat's live 4 - 1/2 hour one man theatre show from the project featured at The Blue Mountains Folk Festival and The National Folk Festivals in 2006.
Pat went even further, copting his friend Marcus Holden, he began playing in Australia's controversial refugee Detention prisons. He ran and appeared at a series of fundraiser and promotional events for Refugee Advocates and Labour organisations throughout this period. They were events which seemed far more reminiscent of his early student days than the hedonistic Rest Hotel years or the more gentle Country Music incarnation that he had developed.
In another strange twist of fate; just when his music was returning to it's radical roots, his legendary Maton Messiah, stolen many years before and on which he written so many of his early songs, was returned to him. It was yet another of the rapidly closing circles that were filling his history.
The Descent of Age
Relevant Albums "The Chess Set Part 1 - The Descent of Age" SR 51
"Songs From The Cabin"
The Long Journey Home" (with Karen Lynne) - SR 75
"The Fellowship Of The Grill" - The BBQ Kings
Relevant Links
Related Writings photos and Reviews
With the change of The Federal Government in Australia in 2007 many of the contentious policies instituted by The Howard administration were reversed and the controversies addressed by the Chess Set show began to fade into history.
Following the death of his much loved older brother Ron (The Great Ronaldo) in 2003 Pat had been promising himself a year slowing down the pace of the road touring in favour of spending more time with his family and 2006-2007 honorured that pledge, but any hopes of a more permanent slowing for Pat , were short lived.
A Series Of Shows to celebrate his 30 Years in the Business were held at Sydney's Harp Hotel in 2006 and by 2007 he was back and solidly touring nationally, as the Gig Guides of the time show. Inevitably the tours brought a welter of brand new journalistic songs and in April 2008 a new duo album with Karen Lynne "The Long Journey Home" hit the ABC airwaves and was immediately embraced by Country Music Broadcasters nationally.
And..., In typical 'Flood or a famine' style barely three months later, in July 2008 Pat's new close harmony three-piece comedy outfit, the BBQ Kings was signed to ABC/Universal. Back in comedy mode (and in the dress up box) with fellow songwriters, Tony Williams and Chris O'Leary, the show was set around three old mates who meet at a BBQ after not having seen each other for nearly a decade and ....they all have issues!!!
Their first album 'The Fellowship of the Grill' which chronicled the triumphs and tragedy of the middle aged male. Complete with BBQ aprons, the piano set in to the BBQ sixburner and lots of laughs the show became an immediate favourite with Corporates and Rotary clubs around the Australia and finished by winning a final five nomination in the 2009 ARIA Awards, Australia's equivalent of the EMMYs.
When will he stop? Well, Pat says, "It's all about never stopping, always changing and growing older creatively"
Pat turns 62 on April 2nd, 2014. In July 2006 he played his 5,500th gig at Eastside Arts in Paddington. In retropect he lists managing to avoid 'a real job' for thirty years as his finest achievement. But there are others who may disagree. Many in the Industry consider him to be the quintessential Independent Artist. Everything from his independently forged concert circuit around Australia to his highly successful recording and distribution company were independently built.
His industry efforts on behalf of independents generally have certainly made him famous. His political opponents may perhaps even say infamous. His unflagging abilty to engage and harness new technologies has always given him a competitive edge.
I asked him recently about the secret of his longevity in the Australian Music Industry.

" Staying in the industry without some other kind of job for nearly 40 years and managing to raise a family and stay, not only viable but profitable in that time is a real rarity in Australia, I guess." he said

"But I can assure you that not only is it possible to forge a life in this vague and uncertain industry; but it is almost invariably more possible when you remain largely independent"

Acts should certainly never sign away their songs, their APRA royalties and their recordings unless they KNOW it will be to their advantage. They should be constantly on guard against recording deals where all sorts of extraneous costs are recouped from their share of the royalties; but they should also stay positive, be constantly open to new opportunities wherever they occur and make sure they are skilled to take advantage of them when they appear."
Pat's current shows feature music from all of his previous incarnations and a splendid and challenging time is guaranteed for all. Bring your brain, your voices and your foot-en' tappin' shoes. You'll need them all.
See Also Independent Recording Vs A Major Record Deal at Pat's 'Shoestring Records Australia' Site
Return To Pat Drummond Homepage / Return To What's new page / Return to Top of page