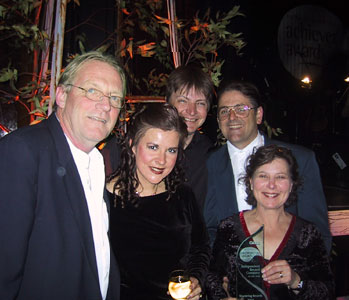 Yet More Awards Dept.
G'day Folks,
2003 has certainly been a big year in the Awards department. Following hard on the heels of the January successes, (See last newsletter) Shoestring Records has recently been named the 2003 Independent Record Company Of The Year at the prestigious CMAA Achievers Awards held in Sydney in September.
Mark Tempany more than did his bit for the team by picking up The Golden Saddle Award in Sydney while Karen Lynne made it the hat trick by taking
out a BIG gong as Independent Female Vocalist Of The Year 2003 in Mildura this week.
My congratulations go to Carol, Julie, and Marco in
the record company and to all our artists for
making it possible and to Mark and Karen on their recent wins.
The last quarter also brought some interesting gigs.
The Centenary Celebrations in The Livingstone
Shire in Northern Queensland saw Allan Caswell, Felicity and myself brought together with son , Peter and all star band on the beach at Yeppoon, North of Rockhampton. Three hours of Country music underneath the stars and Fireworks over the
Ocean on a beautiful subtropical night. Magic.
Queensland seemed to be the order of the month, as I was back again three weeks later for the Gympie Muster...and for once it didn't rain. My favourite Muster gigs were the Bellbird Cafe Songwriters in
the Round where I was teamed on various days with Carter and Carter, Michael King and Canadian
writer,
When long time family friend, Kasey Chambers, hit the stage there were over 56,000 people in front of mainstage alone. The muster is now Country Music's biggest event in Australia and the 9th biggest music event of any sort in the world.
Although not on anywhere near that scale (yet), the fledgling Galston Festival that Len Knight , Tony and Vicki Page, Frank Ifield and I started with Galston Rotary eight years ago has now grown into Sydney's biggest Country Music Event attracting nearly 20,000 people again this year.
Of course it helped that this year's headliner Troy Casser-Daly was featured on This Is your Life on national television two days before the event.
In recognition of Galston's growing importance, The Country Music Association Of Australia scheduled the Industry Achievers Awards to dovetail with Festival.
That event saw great performances from Karen Lynne, Troy Casser-Daly and the newly formed, Anam Cara, who stole the show with stunning three way harmony combinations from former Starmaker winners Kate Balantyne and Lyn Bowtell and gorgeous Lead vocals from the incredibly talented Karen O'Shea. You are going to hear a lot about this group in the near future.
Big Events Department.
A Big Thanks to all those who turned up for our Shoestring Songwriter's Showcase nights in August. The Basement was a little thin on the ground for numbers, but The Clarendon in Katoomba was just about full and it was a terrific buzz to get all the writers together for the event.
K'Crasher was a real revelation to most folks. Her quirky on-stage delivery, wonderful songs and superb musicianship won her a lot of fans. The interactions between the writers was also fruitful Allan and K'crash have now completed a number of great songs together and we are looking forward to showcasing some of them at the next event.
In the Upcoming events Dept, don't forget that we are now taking bookings for The annual Shoestring Christmas Cruise. This year it is scheduled for Sat, 20 Dec 2003 at 11am.
Home and Hearth Dept.
Well, firstly please note our new postal address.
A new address... after all these years, I hear you cry?!?! What?!?!
Well... yes, you see... one of the big reasons I haven't been all that active with touring in the last three months is that we are currently moving, having sold our big old Edwardian double brick mountain house in Leura. Over the 25 years that we have lived here the area has gradually changed from a quiet country village to a bustling commercial tourist precinct. Coaches are now permanently parked along Megalong Street on the weekends. Our resident granddaughter, Livinia, recently escaped a couple of times onto the now quite busy road, with all the predicable screeching of brakes and near heart attacks for everyone concerned.
Even fencing the entire backyard proved no real obstacle for the intrepid 'toddler terrorist' whose penchant for escape rivals that of Houdini; and whose love of conducting long conversations with total strangers would qualify her for public office in most towns in the Bush. They say that moving is the third most stressful experience a relationship can ever undergo and I'm here to tell you that they're right. Especially when the 'Girls Committee' is running the agenda.
They have been collectively working on me for about 4 years now to sign the vendor papers but, having personally renovated so much of the old house myself over the years, I had steadily and successfully resisted all threats and inducements.
In the end Carol stated flatly that I'd be " signing one set of papers or the other...."
I wasn't exactly sure what she meant by that but it sounded expensive and final; so, discretion being the better part of valour, I put all sorts of impossible conditions on the sale (including a 5 months settlement) and fled south with The Naked Poets to Victoria for Mulawala Festival. I foolishly thought that I had saved the day yet again by "Baffling them with Bulldust".
This time, however, they were not going to be so easily diverted. They sold the house in less than three days and by the time I returned, Carol had apparently reverted to her Scandinavian Roots by selecting what looks like a ski lodge in The Black Forest as our new 'digs.'
Whatever happened to a "Home among the Gumtrees" for a "Boy from the Bush"? I'm now apparently being moved into a large log cabin in a Radiata pine (weed..er.. ) tree (infestation...er..) forest; planted, it seems, by Mark Foy (the man who built the Hydro Majestic Hotel last century.)
One positive piece of foresight, however, was that he made everyone sign The Mark Foy Covenant (a binding legal agreement which, in perpetuity, precludes anyone from starting a hospitality business anywhere in the small pocket of land that forms the suburb.) Medlow Bath is otherwise completely surrounded by National Park and Water Board Land, so there is some hope that it won't be overdeveloped in quite the same way that the high street of Leura has now been.
Anyway, to cut a short story long, by the time I got home(?) the deal was done. Meg and Livinia were moving into our other house in North Leura and Carol, Josie and I were moving to "sleepy hollow", the local name for our new suburb
I must admit that, log cabin or not, it is a charming spot and the girls have gleefully embarked on an extended course of 'retail therapy' (on my credit card naturally) decorating it to their taste.
Mind you, I can't help but wonder if the girls will be so enthusiastic about their Shangrai-La when the bushfire season starts again in December.