Fan Feedback pages 1 2 3 4 5 6 7 8 9 10
---
Pink Ears!!???

From:
"Bob Howe" <bob@shownet.com.au>
To:
"Pat Drummond" <patdrum@lisp.com.au>
Pat
The picture is attached!???!!! Explanation required.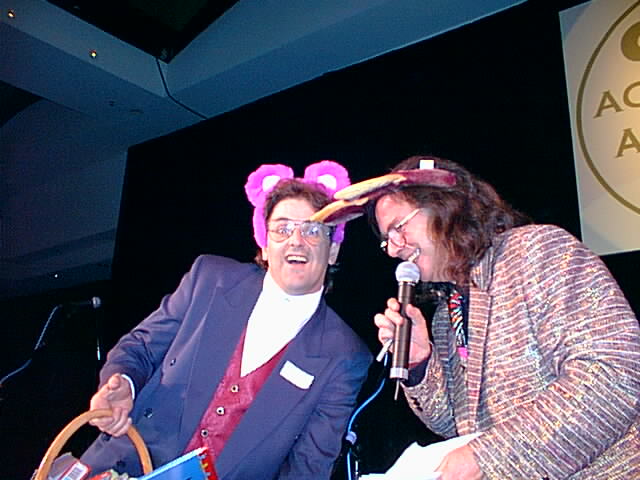 Hi Bob,
My explanation is that we were showcasing ABC For Kids Product at The CMAA Industry Awards Function and I had been drinking. Dobe (Bushwackers) Newton was compering, however, and was therefore rumoured to be sober at the time so I think it is HE that needs to explain. (Pat)
---
Subject:
Hello Pat

From:
"Olga & Robert Kirby" <olga_kirby@pacific.net.au>
To:
<patdrum@lisp.com.au>Hello Pat,

I am still playing your albums on air and listeners are asking where I get the music and it is something different all the time. I have 3 of your albums up to now and still love them.

As I was writing up my show I am playing one of your tracks on Monday as I have been asked to fill in for another presenter and thought I must drop you a line and just update all the bits and pieces.

Laughter Like A Shield" "Of Wheels And Wires" & "Through The Cracks" are the albums I play and I absolutely love ""When you say goodbye" & it is requested quite a lot."The toilet paper line dance" is the best and highest requested on my show & "The spider song" they are the ones that come to mind at the moment. When I get requested for them I usually throw in another one from another of your albums because then the listerners know that there is more to you than just these three tracks.

All the very best Pat to you and your family.
Regards

Ollie KLUFINSKI-KIRBY
MELBOURNE
VICTORIA
" OLLIE,S COUNTRY"
every Tuesday >From 12.00 noon till 3.00pm
WYN fm 88.9
---
Hello Pat,
Finally I have got the time to send you a BIG THANK YOU for the concert that you did for us at Banfield Theatre. ( Please accept my apologies for not writing sooner, since your concert I have been flat out studying and completing exams). Our thoughts were with you the next day as you travelled the long haul home and we thank you for "going on with the show" under the circumstances.
The night was a great success, we managed to raise close to $1400.00, and have a great time in the process. Everyone has been raving aboutyour performance - I think they're hooked! Our carers at Kids House have been busy getting together their wish lists, and hopefully we will be able to fill some of their requests with the money that we raised. The kids will be thrilled to see some new equipment.
What normally happens with the concerts, do you go to Wagga or "South"in general around the same time each year? We would love to talk to you again about the possibility of a repeat performance next year, so please keep us in mind when you are working out your itinery, and coming in this direction. Once again thank you, thank you, THANK YOU!!!
Leigh Nash
23 McKenzie Road
COWES 3922
PH: 03 59525570


---

Subject:
6 days in December
From:
"Howard & Mary Cox" <coxhm@pnc.com.au>
To:
"Pat Drummond" <patdrum@lisp.com.au>
Hi Pat!!

Enjoyed you, Karen and Billy Bass at Wiseman's Ferry recently! Have since seen Billy bloody EVERYWHERE, but never did he seem so happy as down by the riverside at your gig!!

I was just wondering what the title of the CD meant?
It refers to the amount of time Karen and I were locked up together in the studio.... she felt she deserved an endurance award for putting up with me..... I felt I deserved it for putting up with her. Rod Coe (our producer) won it for putting up with both of us. (Pat)

I have shared the lyrics of 'Song of the Quilt' with some quilting friends (and introduced them to your music)--hope that is OK. These are hardcore, died-in-the-wool quilters, and your song moved them deeply. Congratulations on touching yet another precious nerve in peoples' lives.

Forgive my pettiness, but the lyrics say 'when you take it's folds around you'--and it should be 'its'!!
Sorry! Stuff like that just jumps out at me!!
I love your music!!

Sincerely,
Mary Cox
That's alright, Mary. I ,too, live with a quilter. It turns them into obsessive perfectionists.!!!!!! I could try and blame my computer for the typo but it's even more pedantic than a quilter!! (Pat)
---
Subject:
Hi!From The Sweeney Family
:

From:
"Jim Sweeney" <Uppagumtree@bigpond.com>
To:
<patdrum@lisp.com.au>
Hi Pat,
JUst a long note to say that we are now on the web....finally and that I (Debbie) have become a HUGE fan in the last year or so.I have been lucky to see a few concerts,talk
to you(I get a bit shy)and we are thoroughly enjoyning Six Days.The last song When You say Goodbye is one of those that just makes me nearly cry.Jim says ..so don't play it as he's not into sad songs,movies etc. etc.

Pat,you are giving me so much joy and laughter and pleasure with your brilliant music.Especially now that I'm struggling to bring up our two littlies I find that your songs lighten up things a bit.The kids and I dance around to"in the Grain".

Some things touch the heart so much and we have been to some of the places mentioned in the songs- the Lookout over Richmond,the ferry at Wisemans,we live near
Breeza having come from sydney.Maybe it's because you are in a similar age group but we can view things from the same perspective and find that ,like many talented
songwriters,you can put things into words and music that are deeply felt.

IN other words thanks for the fun and joy and keep it up.Dodrop in one day to our household of mayhem on the way to Tamworth.

Best wishes,Debbie & Jim
---
Subject:
Naked Poets and other things

From:
Tom Thompson <tomt@pcug.org.au>
To:
patdrum@lisp.com.au
Dear Pat,
You don't know me but I'm a fan from that great waste of a good sheep station - Canberra!
I first heard you on a couple of the early "The Winners" Albums - "Laughter Like Shield" and "The Ballad of Geordie Johnson" and then saw you performing a freebie show at Parramatta one day - and was mightily impressed.
We went up to Marulan a few years ago to see you there (I come from out west of Marulan - a little bump on the map called Big Hill - but it was so miserable that we retreated to the pub (our daughter was only about 5 or 6 at the time - that's our excuse anyway)! My dear old (now departed) Mum used to sum up that part of the world quite simply - "hot and windy or cold and windy".
I mentioned you to some cousins who are lovers of great Aussie music and they happened upon you at Jamberoo a few months ago and also fell under your spell.
Cheers and thanks for helping make us proud to be Aussies.
Tom Thompson.
---
Subject:
Not very much
From:
"Anthony John Hill" <SEXYLION@bigpond.com>
To:
<patdrum@lisp.com.au>
CC:
<SEXYLION@bigpond.com.au>

Gday pat

Just got online and came straight to your site. Keep up the great work you are doing in letting Aussies see and here of themselves in song.

Tony Hill




---

bject:
Mandates etc
From:
Cathy Rytmeister <crytmeis@efs.mq.edu.au>
To:
patdrum@lisp.com.au

Hi Pat - I've been enjoying your editorials.

It's late and I really shouldn't be sitting up reading stuff on the Net, so just a very brief comment for now:

Not only did the majority of non-Liberals in the current Senate actively campaign against the GST, many of the Liberals did too. Because only
half of the Senate was elected at the last election, the Liberal members from the election before (not sure of the numbers, but they'd be roughly
50/50) campaigned on the "never, never" platform with which Howard was elected the first time.

As you point out, the (Liberal) Opposition's behaviour in 1975 indicates an acceptance that any mandate exists in both the Lower and Upper
Houses, and in that case about half of the Liberal members of the current Senate have a mandate to OPPOSE the GST.

But this "mandate" stuff is just semantics. They will do whatever they can get away with. The Democrats have lost a great deal of support
because of their vote on the GST, and this will be exacerbated once the new tax takes effect. So where to now?

(I vote Green in the Upper House and I think you can guess where my Lower House vote goes, although when you live in Bennelong it doesn't
make much difference!)

Cathy Rytmeister.

PS How about an editorial on education - school and higher ed - and the damage both State and Federal Governements are doing to the educational
opportunities of Australians. Heard Gus Nossal on this topic today - eminently sensible and forthright as usual. Cheers.

PPS See you at BMFF.

---

Subject:
thank you
From:
"Terri Robinson" <tkrob@dragnet.com.au>
To:
"pat Drummond" <Patdrum@lisp.com.au>

Hi Pat,

Just had to email you and thank you for the cd's. "Six days in December" I love it. You and Karen have really out done yourselves this time. It was money well spent. I also like the "Naked Poet" cd. Like your songs on there as well as "The Mr.Whippy Ripoff" and "Turbulence". I will give Mr Short and Colin there's tomorrow at school. I gave Traceys to her already. Karen and your voices sound so good together.

Let me know when new cd's come out. Would love to buy them. The kids have already told me to buy the kids one when it comes out.

Congratulations again to both of you.

regards Terri

---
Fan Feedback pages 1 2 3 4 5 6 7 8 9 10