Fan Feedback pages 1 2 3 4 5 6 7 8 9 10
---
Subject:
Congratulations!!

From:
"Debbie Sweeney" <uppagumtree@ozemail.com.au>
To:
<patdrum@lisp.com.au>
Dear Pat,

A soft heart heart here, with a love of good music,and this lovely country. You have no idea just how much the other night in Tamworth meant to me,or maybe you have....The talk and friendship meant a lot to me.
The song about Marlowe's Cottage " Coming Home" is astounding, the lovely music and story with its amazing glimpses of English, and then Australian landscapes just wonderful,magical stuff.

Keep on touring and bringing your voice ,talents and passions to the attention of us everyday Australians. Do continue to take 'the road less travelled.'

Take good care,

Debbie and Jim Sweeney
Tamworth NSW

---
Subject:
One piece of the Jig Saw

From:
"wyles@msn.com.au" <weyles@msn.com.au>
To:
<patdrum@lisp.com.au>
Dear Pat,
Caught the show yesterday. The polished style of The Wiseman's Ferry concert was certainly a contrast to those first frenetic days of the Hero Of Waterloo days back in 1978. I thought It would be remiss of me not to share some of my snapshots of you back from those early days.
The winter of '78 was my first year in Sydney having come from the good side of the divide. It was by accident I stumbled into the Hero of Waterloo
one Thursday night. There I first saw your performance. My jaw was a permanent fixture on the beer stained carpet. That night was a tonic and an inspiration. From 1978 until roughly 1982 I went to Dr Red Birds, The Rest and Journeys End. Indeed I carried your speakers out into your old green Cortina Wagon and eventually acquainted myself with Ronaldo and a fellow whose name I think was Wayne. He is on the cover of your first album. After every gig my throat was also hoarse!!!

Who can forget those nights at the Journeys End on Sunday nights when one had to pay a one dollar note to get in then suffer the indignity of drinking cider.I brought my one year old son one Sunday night and he slept through the whole show. He now tinkers with the guitar, such was your influence.

The Rest Hotel was always a great night. I made a point of arriving early then sitting on the large box to the right of the door. There I could see everyone and also pull faces at you during those deep and meaningful moments. At the Hero I met a fellow called Mick, a pommie fellow. You and he shared the odd port. The interesting thing about those days was your ability to bring together such awide range of individuals and make them one, you the conductor, us the instruments.
What a great time what a rage again many characters with you the school master conducting his students. There was the Sth Curl Curl Surf Club for a 21st when you let me have a play and sing, there was The Bridge Hotel, Sydney University, Paddington Green plus you and John FARNHAM at the San Miguel in 1981 before his big comeback. Magic!

My memories are many. I thoroughly enjoyed Sunday at Wisemans Ferry and admire how you have advanced as a story teller. That is enough of the sucking up.
This'll jerk you back to reality. I have attached three photographs from the Journey's End taken in 1979-80. I hope they provide a memory.

All the best,

Bill & Faye EYLES (weyles@msn.com.au)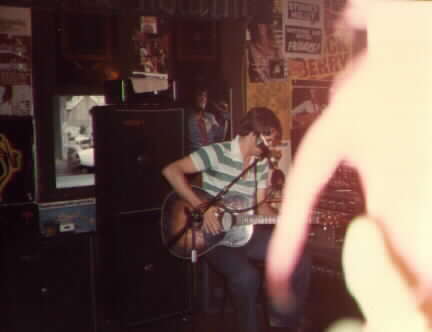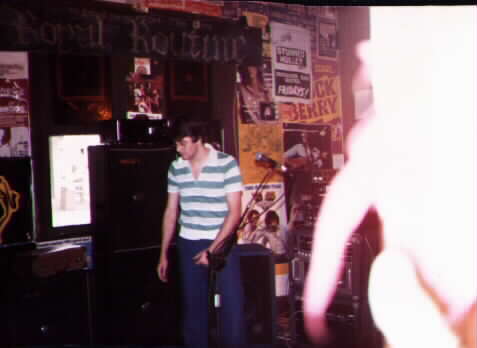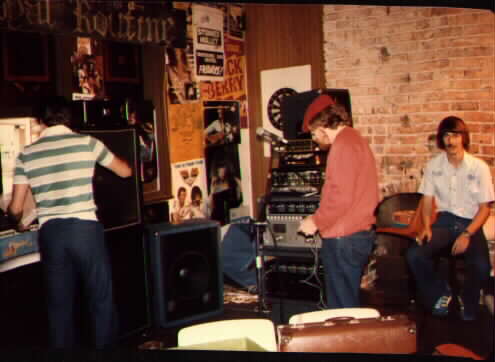 ---
Subject:
spaceshipdaze

From:
"victor altavilla" <vaaltavilla@hotmail.com>
To:
patdrum@lisp.com.au


dear pat,
I was surfing the net the other night and found your website, (i must have been surfing the sex sites.)

Its great to hear that you're doing so well and congrats on your recent awards. looking through your fan mail i came across the one from Bill and Faye, They brought back alot of memories with the photos of journeys end. i often check the gig guides to see when you're playing in Sydney but you're always bloody out west or on tour and I'm a Bondi boy.


Steve would probably remember me. I remember when he sang at Waynes 21st, great night.

I haven't seen Wayne ( Wayne Carroll was our very first Roadie circa 1977) for a couple of months but Wayne is still wayne, working at the fish markets and betting on horses,

We'd love to come to one of your gigs soon. Are you heading to the east at all? ( We have'nt had a regular since noise pollution closed the beer garden at The The Coogee Bay several years ago. We hopefully have some Sunday arvos at The Bondi Hotel Beer Garden coming up soon, mate. Pressure your local publican!) I'll also have to get a hold of some of your new material.

from:- ex member of the pat drummonds debauched tabernacle choir of background singers.

VICTOR Altavilla
---
Subject:
"The Rush"
From:
rimmusic <rimmusic@fan.net.au>
To:
"'patdrum@lisp.com.au'" <patdrum@lisp.com.au>
Dear Pat
Congratulations to you and Karen Lynn on your TSA Contemporary Song of the Year Award for "The Rush" .
I recall saying to Karen Lynne back on the 2nd March last year "There is a certain chemistry in "The Rush" that makes this a truly beautiful song."
Well done indeed.
Sincerely
Geoff Bell
---
Subject:
Thankyou
From:
"Tamara Stewart" <tamarastewart@optusnet.com.au>
To:
<patdrum@lisp.com.au>
Pat,

I just wanted to drop you a quick note to say thankyou once again for giving me a copy of your "Through the cracks" album. (When we were with John Nutting at ABC in Sydney)

My favourite song is 'somebody else's slides' and I just want to say that the many times I have listened to it since you gave it to me. I am still moved by the way you've told this remarkable tale.

Thanks Pat, I just wanted you to know that your generous gift is very inspiring. And I congratulate you on that song, and the rest of the album

Tamara Stewart
---
Subject:
thanks for the memories

From:
"Craig" <cpmonsta@iprimus.com.au>
To:
<patdrum@lisp.com.au>
Hi Pat,

is there an album that documents your years spent at the Rest Hotel? I am 36 years old and remember the good old days where the place was so packed no one could get to the bar so folks would hand over their money to bloke next to them and, amazingly....money went up those lines of people and the beer and change came back!

I have your first album (yes, I still have a record player) and love it! I want more of your old stuff as well. I realise you have moved on from those halcyon days - but what about the fans that that were there in the early days? If I have to purchase vinyl, I will.

Thanks for reading this, and thanks for any response that may come back my way. Keep up the good work - eager to see you back 'round Sydney soon.

Craig (monsta) Montgomery
cpmonsta@iprimus.com.au
Hi Craig
Yep, There is a double album called 'The Age Of Rage 'which was recorded live at The REST a month before it was demolished and which was originally released through Sony on the 'True Blue' label. I have now regained the right to this album and it is available through any record shop on Shoestring Records or here at http://lisp.com.au/~patdrum/Pat%20Drummond%20Releases.html. It remains a pretty special memory for a lot of us. The last song from that album, "The Rest Is History" documents the entire history of that little Pub so any of us called home and for me says it all.
All The Best
Pat
---
Subject: Question about "Darling Downs"
From: Kayracer@aol.com wrote:
Hi from Kathryn Raistrick from Illinois:
Re; The Through The Cracks album and, specifically, The song 'The Darling Downs", Would you, when you have free time....., explain to me "a few hoops of wire on the roadway, slowing the truckers down..? I can't imagine this. Well, I can, but few of the pictures make sense and a few look pretty illegal. I understand "road trains", but the hoops of wire??

Would appreciate hearing from you.
Thanks.
KLR Illinois USA
Hi Kathryn:
"hoops of wire on the roadway", means exactly what you would think I guess, and, yes, it is very illegal....if they are caught laying it.
Many of the drover's along the open Australia stock routes have taken to putting a light weights coils of fencing wire on the road behind where a mob of cattle
is camped.
It's only a light weight wire so it does not do any damage the vehicle, however it makes quite a row when it catches in underneath your truck suspension. It is
an effective way of slowing traffic.
And The outback is, after all, along way from anywhere and most of these roads aren't policed.
All the best,
Pat
---
Subject:
CURRENT GIG GUIDE
From:
"Paul & Jenny" <turjen@austarnet.com.au>
To:
<patdrum@lisp.com.au>
Pat,


A person which I work with is a real heavy metal freak---but he knows I don't work too well with the heavy metal--so he brings another tape to bring to listen too on the way up to Newcastle from Wollongong---its your last tape from from the REST--he says---have you heard of this bloke---i say--PAT D!!!!!!---legend---so we are best mates---isn't it great when you hear things like this.

Thanks PAT

Stauno
E-mail Turjen@austarnet.com.au

---
Subject:
What a night!
From:
"amelanch" <amelanch@acenet.net.au>
To:
"Pat Drummond" <patdrum@lisp.com.au>
G'day Pat you won't remember me, My Name is Andrew Hodgson, We met at the 1997 (Songmaker?) Award dinner and presentation. Afterwards we all ended up back at Allan Caswell's Motel Room. Allan and Norma Murphy and yourself had a 'pass the guitar' and played nothing but new original songs 'till 4 in the Morning. It was a great night!

I've recently replaced Dave Crasswell in (Treacle Line,) we Toured Melbourne and Sydney recently and i happened to raise the Question;
(Why is it that Pat Drummond has never Recieved the Success he Deserves?) and Peter Scott Obviously remembered 'Cause he Just sent me
the News of your Election to the CMAA Board and the winning of the (Independant Country Music Artist 2000) Award.

So I just Wrote to Say Excellent Dude, Congratulations!

Look forward to seeing you in Tamworth again this Year.

Regard's Andy.
---
Subject:
RE: Award Wins
From:
Therese Schilt <tschilt@rosewood.fam.aust.com>
To:
"'patdrum@lisp.com.au'" <patdrum@lisp.com.au>
Dear Pat,
CONGRATULATIONS !!!
We are thrilled to hear that at last !!! your music has been recognised and appreciated. They comment on your last 12 months but this tribute should be to your last 12 + years.
Again - well done and we hope you and your family enjoy this moment!
Best wishes
The Schilt family
---
Subject:
Thank You

From:
"Guy E. Fraser-Hills" <gfraserhills@bigpond.com>
To:
<patdrum@lisp.com.au>
Dear Pat,

I simply wanted to write and say thank you for playing at Curzon Hall. It was wonderful to see you again after all these years, and it bought back
so many great memories.

I know that everyone had a fantastic evening. It still amazes me that you continue to find such inspiration. Without a doubt your music is greater than ever.

Thank you once again. I certainly hope to catch up again soon. If my wife and others from last week have anything to do with it, it may be every three months!! They want to organise something regularly now.

Warmest personal regards

Guy
---
Subject:
PETE DRUMMONDS SET UP

From:
"campbell cb robinson" <camrob1@bigpond.com>
To:
<patdrum@lisp.com.au>
Hi there Pat .My name is Campbell Robinson I am a drummer based in Melbourne.I absolutely love SIX DAYS IN DECEMBER . "The Rush" is one of the most beautiful songs I have heard.I have a question for your son Pete and would appreciate a reply.What size drums and cymbals does Pete use on that recording? and What brands?
Also is there much country drumming work in N.S.W... and is Pete going to be doing any clinics down here? Sorry to bombard you with questions but much appreciated.
Kindest regards .Campbell
Hi Campbell.
Thanks for the kind words about"The Rush". As to the rest, I'll hand you over to Pete.
All The Best
Pat
Hi Campbell,
Thanks for getting in touch with me, It's always a pleasure to get feedback from other drummers (such as yourself). It was a very rewarding experience to be involved in the making of Six Days, It was the first time that I felt I was able to contribute to the music in an interesting and subdued way. And, I'm glad that you enjoyed it. Obviously, that style of music is a different animal to the Bushwackers', energetic (and sometimes chaotic) blend of folk and rock, so it was a nice change to record some more acoustic music. Not, to say I didn't enjoy my time with the 'wackers, in fact it was definitely the most fantastic way to see the country, with great people, who imparted to me, so much of their knowledge about the industry; and the gigs were always a hoot.
I'm currently involved in any number of projects from pop to jazz to funk, and a lot of clinics. So, I'm not as involved in the country scene any more, but I do the odd country gig here or there and have been offered some touring with Tanya Kernaghan. I know that Steve Boyd has been very busy with Adam Brand, and Tanya, and he's a mate of mine here in Sydney.
As far as my set-up for the Six Days album. It was a standard five piece set-up as follows:
DRUMS: Pearl Masters Custom

20" Bass drum,
10"x 8" Tom
12" x 9" Tom
14" x 14" Floor Tom
14" x 4" maple snare
CYMBALS: Zildjian
14" K Custom Dark Hi Hats
16" Oriental Trash Crash
18" Oriental Trash Crash
20" K Custom Ride
I've just returned from SA and the Territory, performing drum clinics for my major sponsor, Pearl and I am heading to New Zealand in June for more of the same. Although nothing is scheduled at the moment, I'm sure that I will get to Victoria later in the year.
Thanks again for your interest, All the best.
Pete Drummond
---
Subject:
Thanks again!

From:
"Doug Smith" <aussie@interchange.ubc.ca>
To:
<patdrum@lisp.com.au>
Hello Pat.

You will not remember me. I live in Vancouver, Canada and was back in the old home town (Sydney) for Christmas.
My sister is Dot (and Brian) from Dural. I saw you play at the old Vickers pub. I was with my two daughters also, Tony and Vicky and Jill Howard.

I purchased a CD "LOCAL RAG"at the time and tonight I had it on. It brought back so many memories of the trip. Including the wonderful day out on the harbour (cruise) where you performed and celebreated your dads birthday. My daughters boyfriend got into the act as well as it was his b'day as well. Thank you for including him!

Anyway, I just want to say thanks to you for being a provider of good Aussie tunes. " Flicker of an eye" can bring a lump to my throat!!.

Keep up the good work.!!

Say hi to the regs at the Vickers, if you are doing a gig there anytime,

Regards.
from Doug and Barb in Canada.

---
Subject:
AN OLD SAKE HELLO!!!!!!!!!!!!!
From:
"Kylie and Trevor Arnold" <marcharnold@octa4.net.au>
To:
<patdrum@lisp.com.au>
G'day Pat!!

Have just catalogued my CD collection and couldn't pass the "old Rag' CD without giving it a plug on the player. "Living in the Territory' is now very apt as I am a permanent resident and loving the life. Goodness knows how you guys put up with city living in the old smoke................great place to visit but the tail end of a boeing 737 is more attractive (sorry but honesty is the best trademark!?#@$)

Seems you've been bloody busy the last decade! You've come a long way since the ol' Rest hotel at Milson's Point. Congratulations on recent awards at Tamworth
although my 'recent' is a bit belated! Great to see the family is doing well and natural extension occuring...........

Last I saw you was at the old 'butter factory' at Kempsey..dragged half the town to the venue and they loved you!

Haven't seen many decent folk artists here in Darwin so we tend to fish/dive/swim/golf etc in personal company.

I would love to hear you are coming to the Territory! If you do, give us a yell...........if you enjoy fishing, I'll tee up a trip with Alex Julius onboard my boat, the Bettyboo!

OK mate take care and look after the family...

Best regards

Kylie March
(The old young customs officer who came to her senses and got out!!!!!!!!!)
---
Fan Feedback pages 1 2 3 4 5 6 7 8 9 10
---