Fan Feedback pages 1 2 3 4 5 6 7 8 9 10
---
Subject:
Perfect Man

From:
mhaywood <mhaywood@camtech.net.au>
To:
patdrum@lisp.com.au
G'day Pat,
After seeing you at Mildura and Victor Harbour we loved your singing and sense of humour and had a great time at both venues.
We also loved Karen Lynne's beautiful voice. What a talent!
Congratulations on your well deserved award. We were there to actually witness your speechless moment!
We thought Karen would like this postcard to show what happens to a women when she waits for the perfect man!!
Cheers, from the Clayton Gang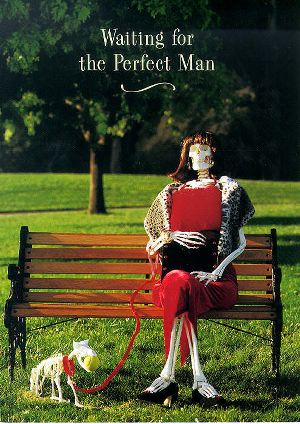 ---
Subject:
Mildura Country Music Festival,
From:
KAYLENE PITTAWAY <pit@mwsc.vic.edu.au>
To:
patdrum@lisp.com.au
Dear Pat,
I just wanted to congratulate you on your wonderful performances at Mildura again this year. I have heard many of your songs numerous times, but my enjoyment of them never diminishes. I also admire the love of this country that you present in your performances. Congratulations on the success of your most recent CD with Karen. The blend of your two voices is absolutely wonderful.
Thank you also once more for "The Naked Poets" CD. I now have all of you CDs. I shall eagerly continue to follow the gig guide on your website in anticipation that you may come to Melbourne sometime in the future. Thank you also for the enjoyment I have gained by learning all about your experiences via reading your newsletters. Perhaps I will have the opportunity to visit the Blue Mountains one day and see you perform in your local area.
Till then(or sooner!), Bye for now, from Kaylene Pittaway.
---
Subject:

From:
The Cobb-Clark Family <cobbclrk@coombs.anu.edu.au>
To:
patdrum@lisp.com.au
Dear Pat,
fantastic news on your winning the Independent Music artist of the year!
It could not happen to a more deserving folk singer.
Hope it's soon.
Take care and congratulations again
Brett
---
Subject:
"Oakdale"

From:
John Daly <jaydees4@yahoo.com.au>
To:
Pat Drummond <patdrum@lisp.com.au>
G'day Pat,
Just got on line. Thought I'd send short note to let you know we made it to Oakdale the New Years Eve you played there. BIG WHOOP I hear ya say. O.k. it was awhile back.
But I witnessed one of the nicest pieces of any of your gigs I've been to. You're DUET with your young daughter, Josie. Fanbloodytastic!!!! My hasn't she come a long way. I remember being at the Fitzroy Pub at Windsor some years back when you told us that (I think) 21 years after your last child Carol was pregnant again. My daughter, Samantha hasn't stopped singing about the "shark in the bath". Unfortunately we had to leave at ten and with the fireworks interupting you we didn't get much of a Drummonding. Never mind we'll catch up soon. Good luck at Tamworth and hope to see you soon.

And remember,
Life's a TRIAL.
J.D.
---
Subject:
Thanks

From:
"Aly Tanner" <litanner@optusnet.com.au>
To:
"pat Drummond" <patdrum@lisp.com.au>
Dear Pat

Our thanks to you once again for a fantastic night. The Toy Library committee is not large and we could never raise the money you help us to, on our own.
We had a great night and will soon be off shopping for lots more toys for the children of our members. What a great thing!!
We hope you enjoyed your time in Wagga Wagga. It was great to see you again.

love Alyxx
---
Subject:
Re: Updated Family Pics

From:
Craig Dawson <craigdaws@yahoo.com.au>
To:
patdrum@lisp.com.au
Hello Pat!

Long time no hear or see. Hope you and your mob are
going well.

I heard "The Rush" the other day on the radio and was moved something incredible. (Yes, I'll admit it -teary!) I don't usually follow these sort of songs but
this is brilliant! (I've Been extra good to my lady ever since!!) Every time I hear that guitar playing I click in anyway.

All the best.
Craig Dawson


---
Re: Children's Album

From:
"Tania Brown" <tania66@iprimus.com.au>
To:
<patdrum@lisp.com.au>
References:
1 , 2



Hi Pat
Looking forward to the next album, especially 'Turning 40 into 24', you know how much I enjoy that one!Jessica and Nathan have asked
me to put in a reminder about the kids album...I think they are hoping to hear it before they become parents...youth of today are so
impatient!!!!
Bye for now Tania Brown
Ok Tania

Er...ummmm...(prevaricate)... The children's album is considered to be an extremely important project ; may I even say vital; and, as such, one
with a high priority status in my government's forward planning and in the ...er ...fullness of time....er... when the requisite funds (which
one would need to be allotted to a project of this ...er importance....become available my administration will not hesitate to
give the ...er... greatest consideration to the early.... er...examination of the possibility of er... the immediate commencement
of the.... er....project.

I am sure that you are aware that there are many worthy and competing submissions in hand at the present stage and it is always difficult to
set priorities in a manner that .... er.... would please everybody; however if at any time you wish to contribute further please feel free
to ring my secretary on the subject I am sure we have some brochures or ...er something on the government's current plans.

(I think all of that means there's no funding):)

Pat


---

Re: Re Children's AlbumFrom:
"Tania Brown" <tania66@iprimus.com.au>
To:
<patdrum@lisp.com.au>
References:
1 , 2

I definitely see a career in politics in your future. The CMAA is only the
beginning! Your reply was truly inspiring and shows just what an art form
it is to deny everything, admit nothing and still get their vote.
Drummond for PM!!!
Tania




---
Subject:
Murder On The Ridge

From:
"Edward Single" <elsin@globalfreeway.com.au>
To:
<patdrum@lisp.com.au>
Hi Pat,

I was talking to a friend of yours while I was working in Griffith last month cant think of his name but he works for the railway, and being a great fan of your I was lucky that he had this email address so I could ask you a few questions. that have been bugging me about a song you sang on one of your albums
Murder at the ridge... As I worked at the ridge as a miner for 12 years and knew a chap by the name of (Name)
A couple of years ago there was a another death at the ridge of a bloke named Dave he was a nice chap and had a bit of a hunch back. He never had a bad word for anyone but I was in The Diggers Rest pub one day and (Name) came into the saloon bar with a heap of groceries and he had just put them onto a table and this Dave bloke came in and walked up to (Name) and decked him ... completely out of character for him.
(Name) picked himself up and proceeded to pick up all his groceries and placed them back on the bench and, lo and behold, back came Dave and decked him again. Anyway, about 1 year later Dave disappeared and after a prolonged search around his camp, which was out about the 10 mile field I think, anyway no sign of him anywhere.
Then some 10 to 12 months later they found Dave not far from his camp, and still intact I'm told and quite dark in color, as though he had been kept in a fridge or freezer for some time.
If he had of been out in the heat of the ridge for any time he would have been fly blown and rotted away but no he WASN"T!!
the other song was " going back to Narrabri" (The Cotton and The Rose) was the song about your self or again another chat with somebody in a pub W
I would dearly like to hear from you as I have a great love for your albums I had 3 of them but when moved from lighting ridge to Nambucca Heads where I now live I lost them will try to replace them wit CD now. well bye for now.

My Name is Ted Single and I'm 57 years old married with three grown up kids and have 5 grand kids as well .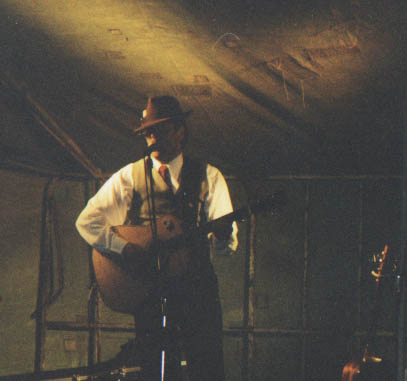 Well Ted ....... having had some four law suits against me so far this year, I think I'll just pass on the first question!!!!
Let me just say that The Lightning Ridge reputation as the Wild West Of Australia is not unfounded.
As to the second song "The Cotton and The Rose "is one of my brother, Geoff's Songs and I believe was written after a visit to the town about ten years back.
Pat
---
Subject:
Karoonda School Show
From:
Jenny Challans <challans@lm.net.au>
To:
"'patdrum@lisp.com.au'" <patdrum@lisp.com.au>
Hi Pat

I was thrilled to hear you were coming to Karoonda for a show
I can see by your schedule you are very booked but if you suddenly had a change of plans and could fit in a school session please contact me.
You have done a show at East Murray Area School before and it was a great success. Our kids get plenty of exposure to sporting things but our arts are sadly lacking.
Last time you came to School I signed the consent for both my boys (10 and 14 at the time) to go to your concert. They are both just
sports mad and both moaned about having to go and see a boring old singer. When they came home I asked them how it was - they both
raved on for about 10 minutes - especially about your spider song.
I think at your stage in your career you have enough fans without having to bust your insides but it's nice to know that you can get
reluctant 'know all boys' to listen to you - I bet there are many secondary teachers who would like the same success.
I think Through the Cracks is fantastic - I will be buying my own copy from you at Karoonda. At present I can only listen to it when
I work at a friends house - although last time I went I blew up his speaker. I have a feeling he will be hiding your CD next time I
go. I have to have Road to Damascus up full pelt so I can hear it all over the house.


Talk to you soon
Jenny Challans
---
Fan Feedback pages 1 2 3 4 5 6 7 8 9 10